Do You Wish You Had A Really Big Enes?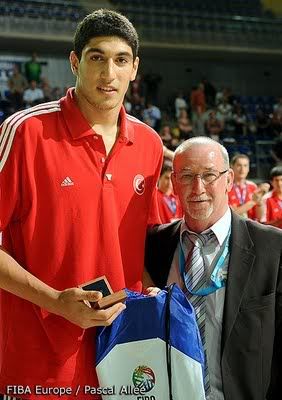 If your answer is yes, then you may have gotten your wish granted recently. As most of you know by now, Mr. Kanter decided to open his recruitment up again this week. UK was very much in pursuit of Kanter when he shocked us by committing to Washington (?!?!) and they'll be in the race again this go 'round. If you've forgotten what
Kanter's stats
looked like, let's take another look:
Stats:
Enes is 2.08 meters tall (that's 6'10" in American feet) and is rated a
5 star center
by Scout.com. He currently attends Stoneridge Prep in California.
His Game
: One of the things I hear most about Kanter, the former
Euro star and U18 MVP
, is his ability to defend and rebound but his offensive skills are far from lacking. He will be very strong in the post and seems to have the knack for sniffing out where the ball is going next. Combine that skill with his size and you can see why he routinely got into the 20's in the rebounding column. That same strength allows him to score easily in the post but Kanter is also said to be working on his face up skills, something he'll need in the NBA. Kanter is projected to be one of the top picks in the 2011 draft. One of the more complete scouting reports on Kanter is
available here
.
Enes Envy
: It looks like a few schools were jealous and wanted what Washington had. Enes may have felt his decision to go with Washington was a little premature as well. He's now opened it back up and
Florida State, Syracuse and Kentucky
are getting considered, according to Evan Daniels of Scout, who broke the story yesterday. Florida State seems to always be a thorn in UK's recruiting side so it is no surprise to see them on the list. I am, however, a bit perplexed by Syracuse being considered, mainly because they've already landed Fab Melo, another top post prospect. Kanter and Melo would make for a ridiculous post duo but kids rarely allow these coach's dreams to come true, fearing lack of playing time. Kentucky is certainly interested and has been since Kanter landed in the States last year. Expect them to be in it until the end. A prospect like Kanter can take any recruiting class from zero to hero but, with Kentucky looking to land other top prospects, we could be talking about taking a class for top 10 to legendary status.
Stay tuned throughout the week and we'll keep you updated on Kanter's situation. Since he arrived here from Europe there has been a little mystery tied to his recruitment, based largely on a lack of information. However, Evan Daniels has been THE expert on Kanter's situation and I hope to pass along a little update from Evan on Kanter's current situation to you guys soon.