Doron Lamb's mom taught him well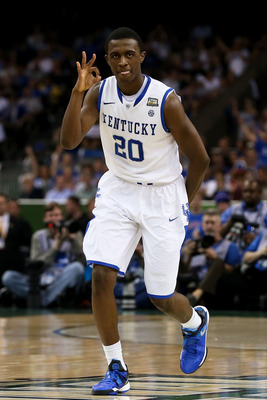 After being recently traded to the Orlando Magic, where he's surely spent a lot of time enjoying all that the Mouse as to offer, Doron Lamb has finally been getting a little press after being overlooked in comparison to the other Wildcat rookies this year. With that has come this interesting story out of the Orlando Sentinel about his basketball education:
Doron Lamb's mom taught him his renowned floater
. We always loved Doron's silky smooth offensive game, whether he was filling it up from three or busting the mid-range out and showing everyone what the lost art is all about. When he was in fifth grade, his mother gave him a lesson on how to not get blocked and thus began his development of "The Floater." Check out this excerpt:
"When I was young, I was going to the basket and I'd get my shot blocked all the time," said Lamb, a New York native. "My mom told me in the house one day, 'You have to bring your floater and shoot over the big guys.' "I really didn't know what the floater was, so she took me outside to the park. She had me doing drills and doing floaters. It worked."
Apparently his mom, Brigitte Grant, would stand outside on the court with a stick that he had to shoot over. That's some classic coaching and great parenting. Big ups to Mama Lamb for helping turn her boy into a scorer and thus giving us title #8. Like all mothers, she deserves some credit for her child's accomplishment.