Early notes from Friday morning at the Final Four
Good afternoon, friends. It's lunchtime at the Final Four, which means lukewarm lasagne and breadsticks! After a big meal at St. Elmo's last night, I'm sticking to the snack mix, thank you very much. Apparently Drew just woke up, so until he gets here, I thought I'd share some of my thoughts from a very odd morning in Indianapolis... ---
Friday morning at the Final Four is a bizarre thing.
Today, the NCAA invited area children to come hang out on the court and do the following things:
Scream
Dance
Look bored
Go through a bootcamp style workout led by a soldier in Afghanistan via video
Lay down during said workout and look bored
Scream
All the while, the University of Indianapolis Greyhound mascot and the Reese's...Reese's Cup walked around and acted a fool:
The Reese's Cup is clearly the star of the show, and was nice enough to take a picture with yours truly:
And I thought meeting Charles Barkley was cool. --- In between the dancing and the workout was
a concert by Austin Mahone
, who I've never heard of until today. This is what Austin Mahone looks like:
As you can imagine, and probably heard on the radio, the ladies LOVE him. By ladies, I mean preteen girls. One girl behind me couldn't EVEN handle being 400 feet from him, so she started crying: [video width="376" height="668" mp4="http://kentuckysportsradio.com/wp-content/uploads/2015/04/IMG_5680.mp4"][/video] Hang in there, girl. --- Meanwhile, the fans are filling in here for the open practices, which just started. Michigan State is on the floor, and will be followed by Duke, Wisconsin, and finally Kentucky at 3 p.m. Here's a picture of the crowd right now: [caption id="" align="alignnone" width="600"]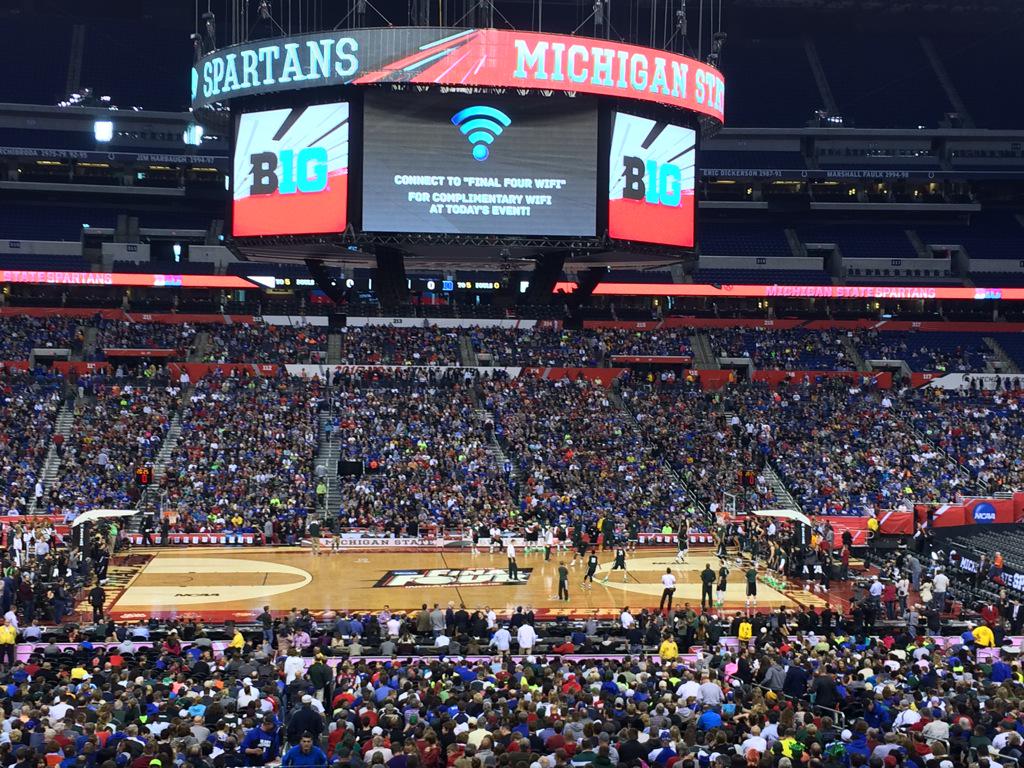 @Coach_BRamsey[/caption] From what I can tell, Kentucky still has a majority of the crowd, even though they don't take the floor for two hours. You people...well, you know. ---
Kentucky's media session begins at 2:15
, when John Calipari will take the stage along with a few players. At the same time, the five starters will head to breakout rooms while the rest of the locker room is open to the media. It'll be a frantic few hours, but we'll do our best to bring you all the action.