Early Positional Rankings Bode Well for NFL Draft Cats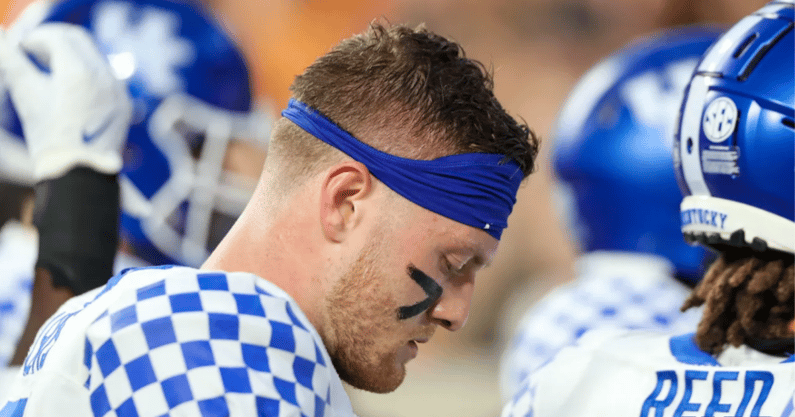 We are now 93 days away from the NFL Draft. Prospects are beginning to work out for specialty trainers in warm climates across the country. Others are gearing up for senior showcase games. In-between workouts, the professional lifestyle suits some well, like Will Levis courtside at the Lakers' game.
Meanwhile, NFL Draft analysts are putting on their thinking caps and projecting past a first round mock draft. The latest from Dane Brugler paints an optimistic picture for at least a pair of Wildcats. The Athletic's NFL Draft guru shared his top 15 players at each position in this year's NFL Draft. Three former Kentucky Wildcats made the cut.
The No. 14 cornerback? That doesn't sound great. Why would Valentine leave UK early?
While ranking that low may not sound ideal, Brugler believes 10 cornerbacks could be taken in the first 75 picks. That means if Valentine tests well this spring, he could climb into the second day of the NFL Draft. As for Rodriguez, you don't have to be a top pick to be a productive NFL tailback. Samaje Perine and Tony Pollard were fourth rounders. Elijah Mitchell was selected in the sixth round and scored a touchdown for the 49ers in the Wildcard against the Seattle Seahawks.
Colts are Early NFL Draft Consensus for Will Levis
Even though Indianapolis has still not decided who will be the Colts' next head coach, most NFL Draft analysts are pigeon-holing Will Levis into the AFC South. Last week we shared some mock drafts that had the former Wildcat in the top five, with one even trading up to take him at No. 1 overall. Even though he may not be a fit for the new coach, the NFL Network's Daniel Jeremiah sums up why so many believe he'll end up in Indy.
The tape for Levis is a roller-coaster ride. The strong-armed passer showed flashes of brilliance and the ability to avoid pressure and create; he also showed a penchant for turning the ball over (23 picks over his last two seasons). Colts GM Chris Ballard has always valued traits and upside. This pick just feels like a good gamble for Indianapolis. 
Only 93 more days of NFL Draft discussion. Enjoy it while you can.