Eddie Gran Loves Benny Snell's Confidence
Benny Snell's swagger was on full display at SEC Media Days.  The Kentucky running back put the league on notice by declaring, "I am the best running back in the SEC."  Snell doubled down by explaining why Benny Snell is the best in third person. https://twitter.com/MrsTylerKSR/status/1018964370947301377 Many embraced Snell's swagger, but some people worried Benny got a little too big for his britches.  His coach was not concerned at all. "I love it," said running backs coach and offensive coordinator Eddie Gran at yesterday's kickoff lunch.  
"Back it up and go play."
Kentucky's first back-to-back 1,000-yard rusher was named First Team All-SEC at the conclusion of SEC Media Days.  Snell spoke it into existence, but he has the numbers and work ethic to back up the big talk. "What you love about him is that he comes out here everyday and he goes to work.  He practices hard and gives everything he's got.  He's going to do that.  Whether he's the best running back in the country or not, that will remain to be seen. But you gotta love that confidence. He's going to give you everything he's got, so I'm okay with it." [caption id="" align="alignnone" width="1200"]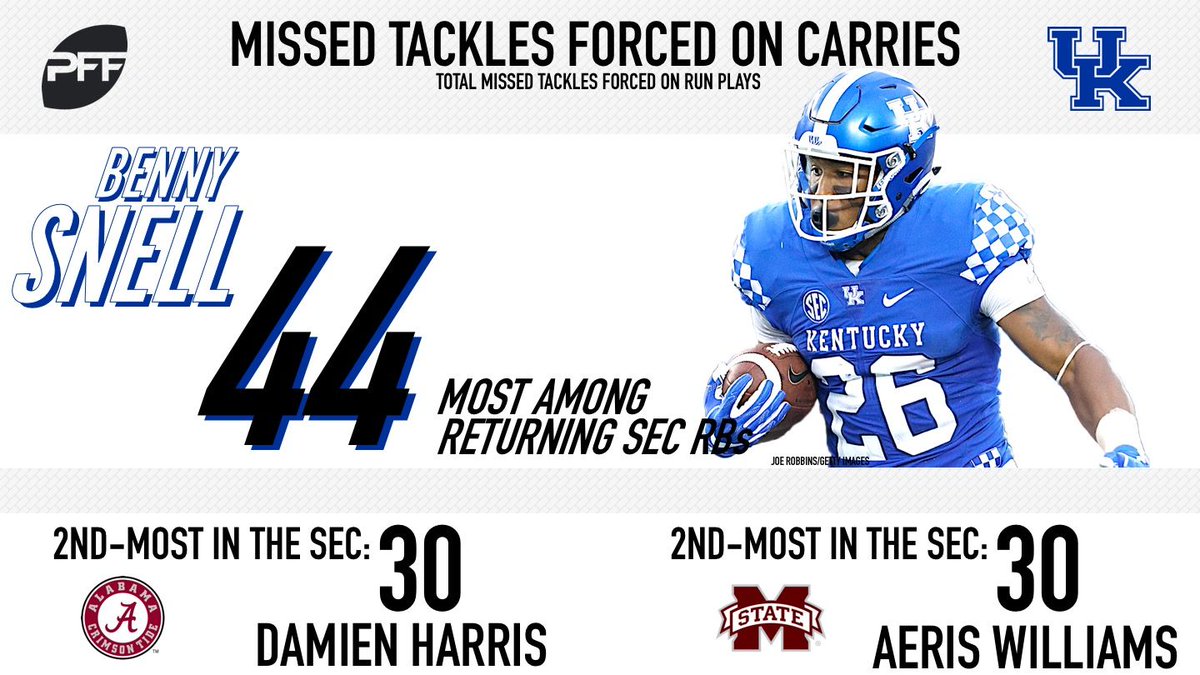 @PFF_College
[/caption] If Snell doesn't give everything he's got, two players fighting for playing time are ready to take his reps.  A.J. Rose had an excellent spring season and Sihiem King wants to make the most of his final year at UK. "They're going to push him. Everything's open," Gran said.  "You can't rest on your laurels.  It's time to move forward.  Benny did that in the middle of the season last year and he got better.  If he continues to do that, we'll be in great shape.  Those guys pushing him has been really good for that room." Rose stole the show in the spring game when he carried the ball 11 times for 134 yards and three touchdowns.  King missed out on the opportunity when he suffered a concussion, but Mark Stoops has seen something new from the speedster ahead of his senior season. "We knew he had it in him do that," Stoops said yesterday.  "It's been very nice to see him do it...to force us to play him.  You're starting to see that from him.  He's doing a lot of things well, particularly in a leadership role." Kentucky will add a pair of freshmen running backs, Kavosiey Smoke and Chris Rodriguez, to make Gran's meeting room one of the most competitive in the football complex. [mobile_ad]
Discuss This Article
Comments have moved.
Join the conversation and talk about this article and all things Kentucky Sports in the new KSR Message Board.
KSBoard