Eight Potential Kentucky Defensive Coordinator Candidates
Note: Originally posted after the news broke Friday, this morning Matt Jones reported House will in fact take the Chiefs' job.  While we wait for confirmation from UK, here are eight candidates to become Kentucky's defensive coordinator.  If I had my druthers, Brad White would get promoted to DC and hire Jon Sumrall to coach inside linebackers. 
---
This morning we woke to news from ESPN's Field Yates that Matt House is expected to become the next linebackers coach for the Kansas City Chiefs.  The man who helped transform UK's defense from 74th in scoring defense to sixth in just two seasons, losing House would obviously be a significant blow to the Kentucky football program, but it's one Stoops can overcome. The news is not yet finalized, leaving the door open for House to pull an Eddie Gran and return to UK.  If House does indeed go to the NFL for a chance to win a Super Bowl, there are more than a few capable candidates to fill the vacancy.
Mike Stoops
-- The first place fans typically turn to when there is a vacancy on Stoops' staff is to brother Bob.  That isn't going to happen, thanks to
Vince McMahon
.  However, Mike Stoops is a legitimate option.  Being an SEC defensive coordinator sounds more appealing than being an Alabama analyst. There are two reasons why I don't think it's a good idea.  First, Mike Stoops' defenses were never that great at Oklahoma.  Before he was fired, he only had one Top 25 scoring defense in seven years.  Second, Mark previously worked for his big brother Mike at Arizona.  Flipping those roles could end disastrously.
Steve Clinkscale
-- UK's secondary coach has one year of defensive coordinator experience at Cincinnati, but I doubt Coach Clink would be the No. 1 inside hire candidate.
Dean Hood
-- UK's special teams coordinator has head coaching experience at EKU and helped Wake Forest reach the Orange Bowl as the Demon Deacons defensive coordinator.  Hiring Hood might make sense from an X's and O's standpoint, but I can't foresee him being able to recruit as well as House has over the last two years.
Jon Sumrall
-- The Alabama native played middle linebacker at Kentucky under Rich Brooks in the early 2000s.  From 2015-17 he served as Neal Brown's assistant head coach.  Specializing in middle linebackers, Troy's defense ranked in the Top 25 nationally in scoring and total defense in 2017.  He served as Ole Miss' linebackers coach in 2018 and was a top candidate to replace Brown at Troy.  A rising star alumnus with an impressive resume, Sumrall checks all the boxes. [caption id="attachment_255832" align="alignnone" width="1986"]
Ole Miss Athletics
[/caption]
John Jancek
-- Currently the defensive coordinator at Colorado State, Jancek served on UK's quality control staff in 2017.  He previously called defenses for Butch Jones at Cincinnati and Tennessee.
Derrick Ansley
-- The former secondary coach left Stoops' staff to coach for Nick Saban.  After leaving Alabama, Ansley was scooped up by Jon Gruden.  Two questions come into play for Ansley: Would he want to leave the NFL, and are there still hard feelings after he began recruiting against UK at Alabama?
Bo Pelini
-- Give me this everyday and twice on Sunday.  Childhood friends of Stoops and Marrow, the former Nebraska head coach would make Wednesday interview sessions more entertaining than ever before.  Pelini has done something nobody else can say over the last 20 years: make Nebraska relevant.  If he can do that, certainly he can make sure the Cats have continued defensive success. Currently the head coach at Youngstown State, he took the Penguins to the FCS Title game in 2016.  A homebody, it would take some convincing to get Pelini to leave his hometown.  If anybody can do it, it's Mark Stoops.  Besides, Pelini was destined to coach Cats. [caption id="" align="alignnone" width="620"]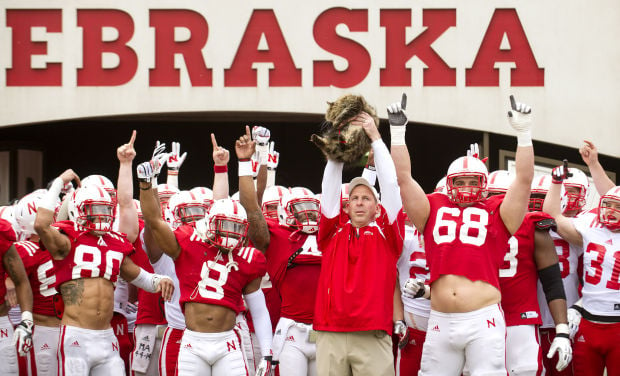 Lincoln Journal Star
[/caption]
Brad White
-- This hire would make the most sense.  The former Indianapolis Colts coach turned Josh Allen into potentially the No. 1 overall pick.  Other programs and NFL teams have taken notice and tried to pry him away this offseason.  A promotion to defensive coordinator would certainly keep him around a little longer. White has yet to reel in a ton of recruits, but he has the chops for it.  I've heard he's thoroughly enjoyed his time on the road, and he was able to convince a couple four-star kids from the northeast to visit for Junior Day.  White does not have the experience, but Hood and Stoops have more than enough experience to help White tap into unlimited potential. If UK does promote White, Stoops will still need an inside linebackers coach.  Jon Sumrall certainly fits that profile.  Purely speculative at this point, we first have to wait and see if House does in fact depart.  If so, we won't know who will be Kentucky's next defensive coordinator for at least a couple of weeks. [mobile_ad]