Eli Cox is Living the Kentucky Football Fan's Dream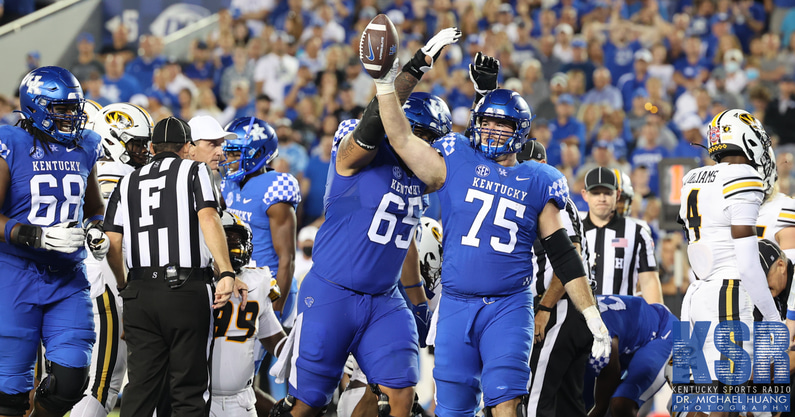 Eli Cox is just like us. Well, except for the fact that he's one of the SEC's premier offensive linemen in 2021 for a Kentucky Football team that is fighting for a spot in the College Football Playoff. But, growing up not even 30 minutes away from Kroger Field, Cox knew he wanted to be a Wildcat, and despite his lowly touted rating out of high school, Cox is making any Kentucky fan's dream come true.
The ESPN midseason All-American sat down with myself and host Max Duffy on the latest episode of the Pin It Deep podcast to talk about a plethora of things, but mainly the fact that he gets to live out the dream of being a Kentucky Wildcat.
Cox was born and raised in Nicholsville, Kentucky, 11 miles from Kroger Field. He said he even remembers following Luke Fortner's recruitment in late middle school/early high school (Luke Fortner has been here quite a while.) So when the time came for the two-star out of West Jessamine to pick a school, he knew almost instantly that all roads lead to Lexington.
"UK was my only power-five offer," Cox said on Pin It Deep. "I guess the only other school I was kind of considering was Cinncinati, just because it was close and obviously Luke Fickell is there, and they had a great program in the works. But in my head, UK was the only option.
"Growing up a UK fan, my parents are season ticket holders. When I was going through recruitment, I went to all the camps from like 8th grade until I ultimately graduated. It was the dream to come and play here. So getting the opportunity–as soon as they offered a couple of days later, I just had to sit on it and be like, 'oh my gosh, I really did get that offer. I called Coach (John) Schlarman, I called Coach (Eddie) Gran, and told them I was committed. This is where I wanted to play. "
Despite already being a fan of Kentucky, the foundation of the Big Blue Wall being paved by other Kentucky kids such as Drake Jackson and Landon Young also impressed Cox.
"I think it played a big hand–the culture our offensive line has at Kentucky. Not every school talks about their offensive line. Everyone knows it's important to football, even though it's not your glory position, but UK has done a good job with it. We want to talk about our offensive line, we're proud of our offensive line, and we want everyone to know how we play physically, how we play hard, and that was a unique thing for the offensive line to even have its own logo."
But of course, that foundation and recognition wouldn't be around for guys like Eli Cox had it not been for another Kentucky kid who loved the 'Cats–the late great John Schlarman.
"I think that speaks volumes to what Coach Schlarman did while he was at Kentucky," Cox added. "He was a Kentucky offensive lineman, born and raised in Kentucky, and played for and coached here; it was the amount of pride he carried in this offensive line. He would always say, 'if there's anyone you can count on (with) this football team, it's this offensive line, we can carry this team as far as we want to."
That belief from Schalrman attracted guys like Drake Jackson, Logan Stenberg, Landon Young, and countless others to build a foundation that gets stronger every year.
Cox made it evident that he is one of many lifelong Kentucky fans who have carved a career out of the path John Schlarman laid, and because of that, Cox is living out his dream as a Kentucky football player.
Listen to Pin It Deep's entire interview with Eli Cox here. He also spoke with the media on Tuesday, which you can watch through the video below.