Eliah Drinkwitz, Missouri refuse to gas up Kentucky matchup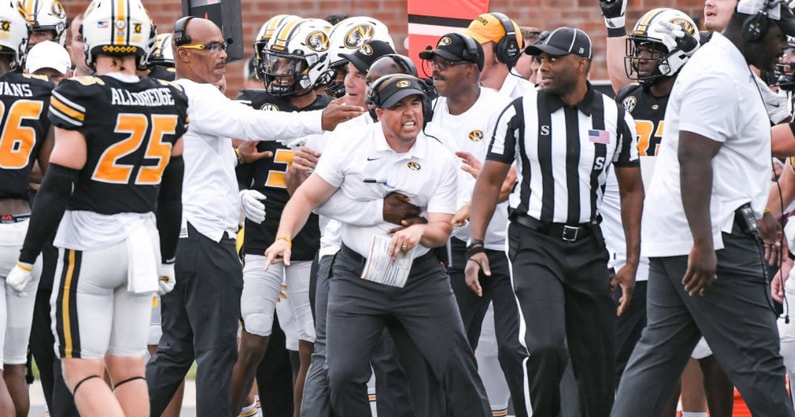 For the second week in a row, Kentucky's opponent is throwing out a lot of coachspeak. Eliah Drinkwitz is pumping the brakes heading into the Week 2 matchup.
The Tigers upset Kentucky in a 20-10 victory last October and celebrated like it was a seismic win. Drinkwitz knew that this was a game his program desperately needed to have. The 38-year-old coach confirmed that at SEC Media Days.
"I think the critical steps we took forward, obviously, in order to have a chance to win the SEC, you've got to win your division first. They hadn't beat Kentucky in five years," said Eliah Drinkwitz about Missouri. "For us to beat Kentucky, I think was a big step in the right direction.
However, the second-year head coach has been hesitant to compare the two programs this week leading up to the game.
"They're all big," Drinkwitz said Tuesday about the importance of the game. "Obviously, last year was a big game for us because we hadn't beaten them in five years and I think getting that off of our chest was good."
"Coach Stoops has been there for 10 years — 10 years. Recruited at a really high level and developed his players. To try to make a comparison of us and them right now I think is a little bit soon. I think we gotta control who we are. We gotta do what we need to do."
Part of the hesitancy to compare the two could be due to multiple factors. Kentucky appears to be highly motivated to win this contest and has a new offense that could provide Missouri some legitimate challenges. Plus, the defense had some issues slowing Central Michigan last weekend.
"There's a lot of red flags," Eliah Drinkwitz said about his defense. "I think it starts with tackling. Our tackling was very poor. I think we had some eye discipline issues. Guys in man-to-man who let their guys cut loose that may not have shown up on tape, but it's going to show up if we don't fix it.
"The biggest disappointment was tackling and explosive plays. The most exciting things was the sacks, the pressure on the quarterback, and the turnovers. But it can't be Jekyll and Hyde. Otherwise, against a team like we're fixing to play, that scoreboard is gonna light up real quick."
Scoring points is what Kentucky is trying to do. In their debuts, both offensive coordinator Liam Coen and quarterback Will Levis impressed many as the Wildcats threw for over 400 yards and put the ball in the endzone when not turning it over. However, the line of scrimmage could be the main reason for worry.
Kentucky has one of the best offensive lines in college football while a defensive line filled with former top-500 recruits looked to be the part while holding ULM to 1.6 yards per rush on non-sack attempts and providing a consistent pass rush. Eliah Drinkwitz believes the line of scrimmage battle could be the key to the game.
"When you go on the road, it's a trench football game. If you got any shot at winning football games in the SEC, you've got to win at the line of scrimmage," said Drinkwitz. "Especially on the road, you've gotta be able to run the ball when you want to. Not when you have to. So we got a big challenge ahead of us on that."
While Tyler Badie rushed for over 200 yards in the win for Missouri, the Tigers' offensive line allowed 11 non-sack tackles for loss and needed chunk plays to move the ball. Meanwhile, the defense created some havoc against Central Michigan but the Chippewas were able to post a 46.67 percent rushing success rate with nine rushes of 10-plus yards which all added up to 242 non-sack rushing yards. That could be a recipe for disaster playing a very good line of scrimmage team in a motivational spot
"We're nowhere near ready to play such a good team on the road," Drinkwitz said on Wednesday during the SEC teleconference.
We shouldn't fully take the bait on all of this coachspeak that Eliah Drinkwitz is throwing out. The Tigers will have some wrinkles for the Wildcats and should head to Lexington expecting to win the game. However, there are legitimate reasons for concerns.
Some of Kentucky's strengths appear to line up with Mizzou's weaknesses. If quarterback Connor Bazelak cannot outplay Levis, the Tigers could find themselves in a tough situation.
Drinkwitz is fully aware of the challenge and is refusing to give Kentucky any more bulletin board material heading into Saturday.
"I think it's a big test for us," said Drinkwitz.