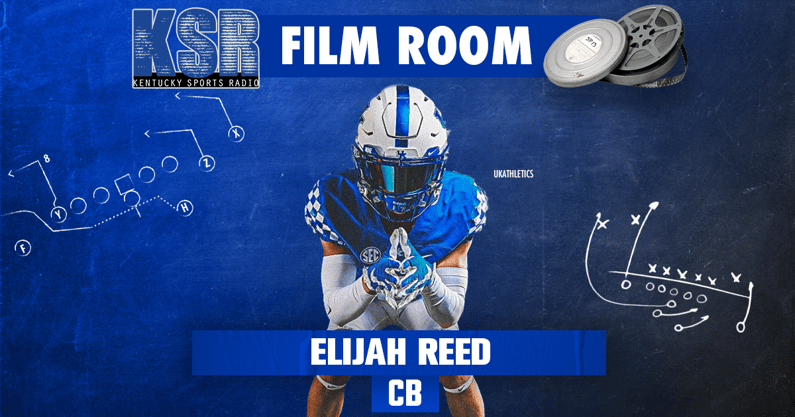 Football recruiting is a crazy business. A day after Aamil Wagner dropped a huge surprise, Elijah Reed delivered another.
The Louisville (Ky.) Pleasure Ridge Park defensive back announced on Friday morning that he will continue his football playing career at the University of Kentucky.
With offers from Purdue and Utah, Reed decided to stay close to home and head down I-64 to join Mark Stoops' program. Following an official visit for the Tennessee game, Reed wraps up his recruitment less than a week later and plays a spot that is all of a sudden a position of need for the program.
Now it's time to step into the KSR Film Room to see what Reed will bring to the table for defensive coordinator Brad White and defensive backs coach Chris Collins. Reed is a long cornerback who appears to have the potential to grow into the boundary position used at Kentucky.
At 6-3 with extremely long arms, Elijah Reed is going to be able to cover a lot of ground in a hurry. The big cornerback can turn big window throws into small window throws thanks to that length. He is also never out of a play thanks to those traits.
On a third-and-long, Reed gives up an inside release but is able to attach to the hip pocket of the receiver and run stride for stride. Once the ball is delivered, he is in a position to defend and close the throwing window. Speed, recovery, and ball skills are all shown in one rep.
There's no getting around it — Kentucky has had a lack of ball production on defense in 2021. The Wildcats are not getting hands on passes and have been unable to force fumbles. That has led to a bunch of issues as the program is currently dealing with a defensive slide.
Elijah Reed shows plenty of havoc plays on tape.
Playing for PRP, Reed was a special teams menace. The cornerback blocked kicks and was a legit weapon in kick coverage. On the punt return, the defensive back shows off speed and rips the football from the returner for the huge takeaway. The new addition has playmaking ability.
If Elijah Reed is going to play the boundary cornerback position at Kentucky, he will need to be able to play in press coverage. The Wildcats have been a heavy zone team under Mark Stoops but their corners still need to come up and make competitive plays.
Elijah Reed has that ability.
In press coverage, Reed gives up an inside release on the slant but does a very good job eliminating separation and diagnosing the offensive concept. The longer cornerback then finds the football and comes away with a pass breakup. Smooth play from a big cornerback.
Kentucky needs help at the cornerback position and Elijah Reed is the fourth player at that spot to join the class of 2022. However, it seems clear that the Wildcats are back to valuing size on the perimeter. Reed will bring that to Lexington.
The home state product will enter his first season of college a little rough around the edges. Reed has only played cornerback for one season and needs some time to add some strength to his frame. However, this is a player with a high ceiling.
Kentucky is working to upgrade the cornerback position. The commitment of Elijah Reed is just another example of that.