Elijah Reed relieved to play for his Kentucky home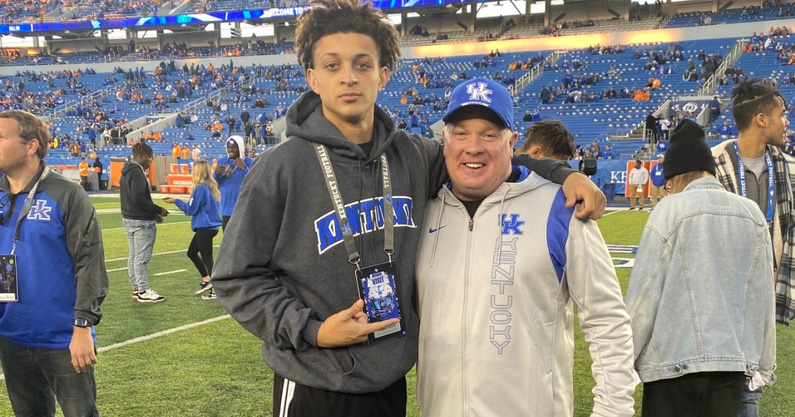 Elijah Reed thought this moment might never happen. A year ago his opportunity to play college football appeared to be gone. Hours after officially committing to Kentucky Friday morning, a sigh of relief from Pleasure Ridge Park said a thousand words.
"It's a huge relief, to be honest," Reed told KSR. "It's definitely been a long, long road. A huge relief."
You've heard prospects talk about the adversity they've faced on their long road to fulfilling college football dreams. Reed's road is longer and unlike any of his predecessors.
Senior Season Denied by COVID-19
The far-reaching consequences of the COVID-19 pandemic almost sidelined Reed from football forever. Entering his senior season at Louisville's PRP High School, Reed was a 6-foot-3 wide receiver trying to get on the radar of college football coaches. Instead of getting ten games to build a resume, he was limited to just five. The Panthers played only two games in the final six weeks of the season.
Reed thought his college football dreams were dead, but he did not quit chasing them.
"Not at all. I mean, pretty much right when the season got done, I went straight to working on it again, just getting whatever I could get out of it," he said. "I ran into Chris (Vaughn) and he talked to me about switching my position and then we got into that and it just worked out for the best."
Two Game Changers for Reed
The stars aligned for Reed at the right time. Shortly after he met Vaughn, the owner and operator of Louisville's Aspirations Gym, he got another opportunity. The Kentucky state legislature passed Senate Bill 128, allowing students to repeat a grade lost by the pandemic. Reed received a second chance while working with the trainer that helped dozens and dozens of kids find college football homes.
"A kid like that would've gone to summer camps last year, run fast — he is a 4.48 kid, he's a high 4.4 low 4.5 kid at that size — he would have generated a lot more attention last year," Vaughn told KSR shortly after Reed received an offer from UK. "Having the opportunity to come back, play another year and get in front of some more people is really going to let people see his true colors and give him some opportunities he wouldn't of had the year before."
College coaches saw a much different Reed when he took the field in the fall of 2021 as a super senior.
Move to Cornerback
Over the spring Vaughn convinced Reed to give defense a try. Cornerback fit him like a glove. At 6-foot-3, his length was exactly what Kentucky was looking for in the secondary. The UK coaching staff just needed tp see him consistently perform on Friday nights.
"They like how I adjusted, pretty much getting better every game. They saw that I put the work in and that I'm ready to work," Reed said.
"I've definitely learned more about the game in general, like just learning new stuff about football. I also learned a lot more about the position: how to go backwards, using my hips better, a bunch of stuff when it comes to cornerback."
Kentucky's interest drew attention from other schools. Michigan reached out frequently while Purdue, West Virginia, Utah and Illinois extended offers. He spent many weekends with the Aspirations crew in Lexington. Reed was amazed by the BBN when he was in the stands and on the field for the win over Florida.
"It's just a different feeling, he said. "That was crazy. Everyone stormed the field. That was wild."
He followed up those visits with an official visit for the Tennessee game. It essentially sealed the deal, fulfilling his dream to play college football.
"They spoiled me. It was pretty much as good as it could be, to be honest," Reed said. "It just felt like home, it felt like where I needed to be."
Putting Worries to Bed
Some defensive backs may have been deterred by the UK secondary's performance vs. Tennessee. Reed was not discouraged, nor did he see it as an opportunity to get on the field to play right away.
"Defense, it's such a tough thing. There's so many moments where you can have errors and this is little things that happen. So I mean, it can happen to anybody for real," he said. "They'll come back and they'll adjust to it and I think they'll be fine."
In addition to the pass defense, the BBN is worrying about one more big thing. Kiyaunta Goodwin will officially visit Florida State this weekend. Even though he's attended every UK home game, the nation's top-ranked offensive tackle is being pulled in a hundred different directions.
Reed knows Goodwin better than most. If you ever stop by Aspirations Gym, you'll likely see one, if not both players. The BBN may be worried about Goodwin's commitment, but Reed is not.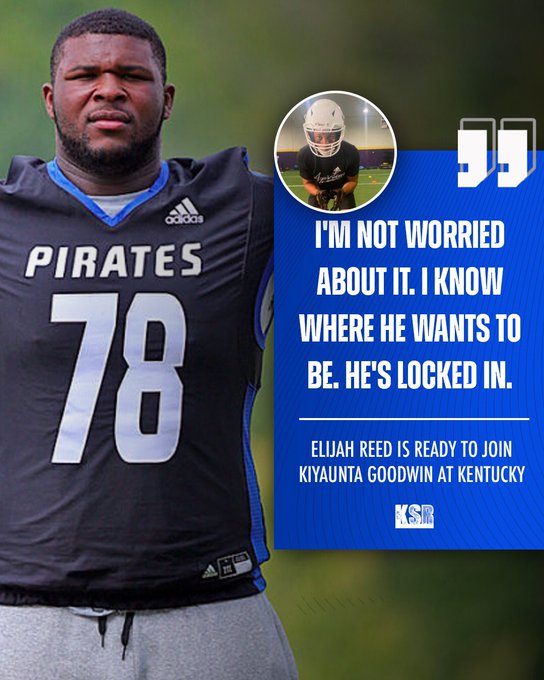 Reed and Goodwin could each be on Kentucky's campus for spring football as early enrollees. There's plenty of time down the road for the raw talent to learn how to defend SEC wide receivers. After months and months of hard work, today Elijah Reed gets to enjoy the fruits of his labor as a Kentucky Wildcat.