Émilien Pitre's Hot Start Fueling Kentucky Baseball Offense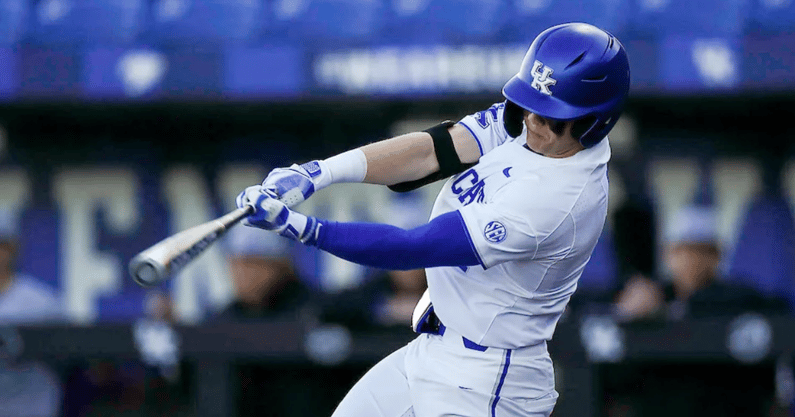 After being shut out in their first game of the season at Elon, the Kentucky offense has sprung to life. The Bat 'Cats have outscored opponents 15-4 over their last three contests (all wins). At the center of this offensive revival is sophomore 2B Émilien Pitre, who is hitting .412 through the first four games of the season.
After going hitless through his first two games, Pitre has turned it on in his second season as a 'Cat. All of last season, the Canadian played in just 11 games, failing to register a hit in just four at-bats. This season has been a complete 180. Pitre has seven hits in his first 17 at-bats, all singles. After not recording a hit in his first seven at-bats, he has seven in his last 10 at-bats, including a beautiful bunt down the third base line that made Evansville's pitcher so mad he got tossed.
Pitre's base knocks have repeatedly fueled the Kentucky lineup, leading to a hitting chain reaction. That'll help this team win some games. In addition to Pitre, the Kentucky pitching staff has been sensational through their first four games.
Kentucky Pitching = Lights Out
Sure, it's only been Elon and Evansville, but the Kentucky pitching has been incredible through its first four games of the season.
In 35.0 IP, the cumulative ERA for Kentucky's 12 used pitchers is 1.54 with more strikeouts (39) than hits allowed (35). That's pretty good.
Head coach Nick Mingione commented on his pitching staff following Tuesday's win over Evansville, saying "I give our team a lot of credit, we had some leaders step up when we first got back [on the field]." He continued, going on to say, "After that first weekend, we have thrown the ball exceptionally well. Since we've been back after that first weekend, you could see it coming. The guys just kept getting better and better and one thing that helps is that we've got two very talented catchers [Burks and Stanke]."
Keep it up Bat 'Cats. Kentucky will be back in action Thursday at Kentucky Proud Park against Wright State.
Discuss This Article
Comments have moved.
Join the conversation and talk about this article and all things Kentucky Sports in the new KSR Message Board.
KSBoard