Emma King shows promise amid Kentucky WBB losing streak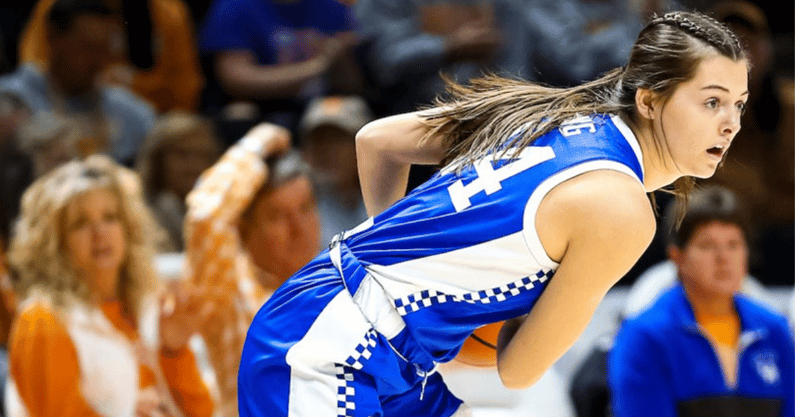 Although Kentucky may have lost on Sunday, Emma King came away a winner.
In the Wildcats' 63-54 loss to Ole Miss, King had her best performance of the season. The junior guard recorded five points, a rebound, an assist and a steal.
King's stellar performance came at just the right time. Kentucky was without Robyn Benton and Dre'Una Edwards in today's loss. As of right now, there's still no definitive timeline of when the players will be back.
Kyra Elzy on Emma King
With only seven healthy players on the roster, King stepped up. UK head coach Kyra Elzy took notice.
"I'm very proud of Emma. I gave her a hug in the back. Emma and I had a heart-to-heart, and she asked me what she needed to do for this team, and one of the things I told her was I love her work ethic. I love her toughness," Elzy said.
King's shining moment was a long-time coming. The Kentucky native started the first game of the season but never again found the starting lineup. In fact, King didn't even touch the court in three separate contests this season. Nonetheless, she kept her nose to the grindstone.
Her hard work paid off. The 5-foot-10 'Cat was involved in a couple of the team's biggest plays versus Ole Miss. King took a gutsy charge, scored a massive and-one, and even converted a clutch jumper.
"I needed her to be my hustle player, and I thought she stepped in and did that today," Elzy said.
Rhyne Howard on her teammate's surprise performance
Elzy wasn't the only one who took notice of King's showing. Kentucky's star player, Rhyne Howard, showed love to King during the postgame press conference.
"I'm super proud of Emma King," Howard said. "Whenever something was going on I would look up and see her there, and I'm just glad she's staying confident in herself."
King's contributions are becoming a pattern. The Ole Miss game is King's third contest in a row with 12 or more minutes. After today's performance, Howard wants to see more of King.
"I just keep telling her 'we need you, we need you' and stepping up to the plate and performing," Howard said.
Amid misfortune, King is a shining light. It's obvious that her teammates, coaches, and fans all respect her. Don't believe me? Just watch this clip.
Rhyne Howard may wear the crown, but Emma King was Kentucky royalty today. After all, the girl from Stanford, KY, knows a thing or two about Wildcat pride.
"She loves this program and understands the importance of playing at the University of Kentucky," Elzy said about King.
With the future uncertain for Kentucky WBB, prepare to see King become a more pivotal part of this team.
She'll have her chance to make an even more significant impact this upcoming week. The 'Cats will play three SEC games over the next seven days, starting with Auburn on Jan. 25 at 8 p.m. The game, which is a makeup from a previous postponement, will be radio broadcast on the UK Sports Network.