England and Russia Start World War III at Euro 2016
[caption id="" align="alignnone" width="730"]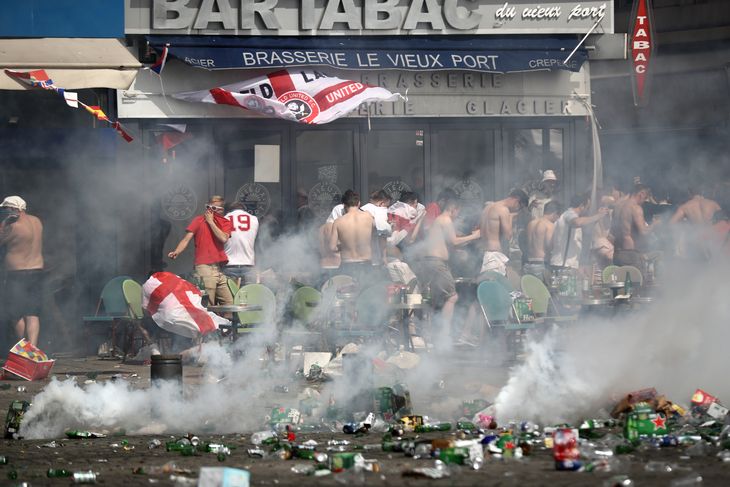 @SBNation
[/caption] "Drunk football fans start fight" is a common headline across the pond but drunk football fans are stepping up their game in France for Euro 2016. Security was increased ahead of the major soccer tournament that falls two years in between each World Cup.  The extra security measures were for terrorists, not drunks, but the drunks certainly need it. Before Russia and England squared off in Marseilles, things turned violent.  Not "UK is going to the Final Four, let's go to State Street" violent, this is bloody violence. [caption id="" align="alignnone" width="431"]
@NeyMarvellous
[/caption]
Their primary weapon is beer bottles.
#Marseille #Euro2016 #ANGRUS pic.twitter.com/nrjzF2LLWH

– La Provence à  l'Euro (@LaProvenceEuro) June 11, 2016
That doesn't mean they can't use the chair.
English and Russian hooligans are fighting all over Marseille: https://t.co/xbjp9HRgi9 pic.twitter.com/8XtTKbmJMc – Deadspin (@Deadspin) June 11, 2016
Police responded with water cannons and tear gas to contain the crowd.
Scene in Marseille as French police clash with fans ahead of the England vs. Russia game #Euro2016(via @Onefootball) pic.twitter.com/dKs8WEBNil – Alex Ogle (@Alex_Ogle) June 11, 2016
They responded to the water with fire.
"I'm scared of immigrants coming to the UK because I feel like we're losing our values" These values? #Marseille. pic.twitter.com/qM8IvLTAWd – Haidar Sumeri (@IraqiSecurity) June 11, 2016
It didn't end when they got to the game.
Violence continues in the stadium at the end of the England-Russia #Euro2016 soccer match pic.twitter.com/9mw3G6vimT

— BuzzFeed News (@BuzzFeedNews) June 11, 2016
The winner of the fight?  No one.  Russia forced a draw with a goal in the 92nd minute.