Kentucky Transfer Portal Watch: Michigan TE Erick All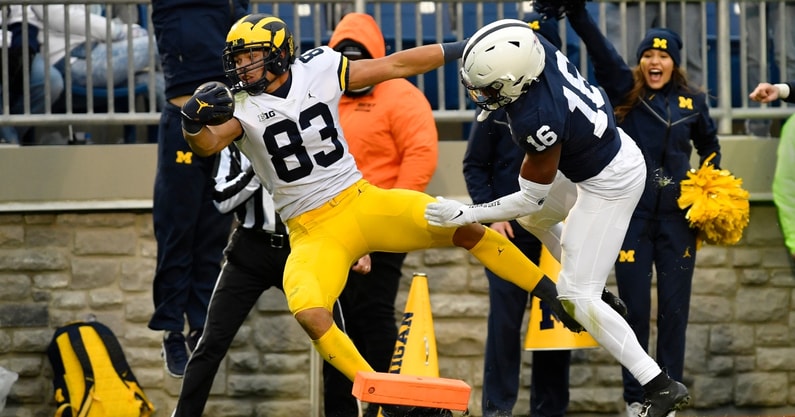 We are expecting a very busy transfer season from the University of Kentucky as Mark Stoops and his coaching staff look for roster upgrades in the transfer portal. Quarterback and offensive line will get most of the attention, but there are some other positions to monitor.
At tight end, the Wildcats are in good shape with redshirt freshman Jordan Dingle and true freshman Josh Kattus set to return in 2023 after solid seasons. However, depth is being tested in that room after Keaton Upshaw entered the transfer portal and Brenden Bates could conceivably move on after five years in the program.
With that in mind, Kentucky is assessing its options at tight end. KSR's Matt Jones reports that Michigan transfer Erick All will be a player that the Wildcats will pursue.
Erick All (6-5, 255) signed with Michigan in the class of 2019 out of Fairfield (Ohio) High. The four-star recruit played in 11 games with the Wolverines as a true freshman in 2019 and drew two starting assignments in the shortened COVID-19 season in 2020. All became a full-time starter in 2021 reeling in 38 receptions for 438 yards and two touchdowns.
However, All played in just three games in 2022 needing a some type of surgery that forced the senior to miss Michigan's Big Ten championship run that landed the Wolverines in the College Football Playoff for the second year in a row. The tight end entered the transfer portal on Monday and should receive heavy interest from Power Five programs. All will be a redshirt senior with two years of eligibility remaining in 2023.
The tight end transfer played football in high school with current Kentucky tailback JuTahn McClain. All played over 800 snaps during his time at Michigan. If the Wildcats stick with a pro-style approach under the new offensive coordinator, this transfer could be another intriguing weapon to use at the tight end position.
Recruiting never stops.