ESPN ranks Devin Booker as 10th best NBA player heading into '22-23 season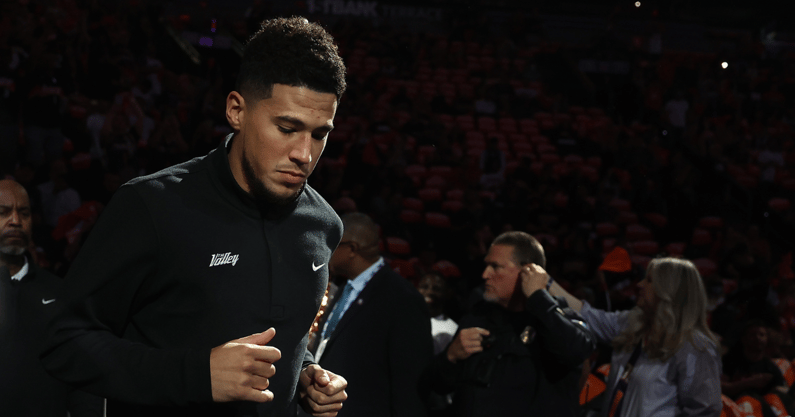 Another Kentucky Wildcat has made his claim as a top 10 basketball player in the world.
On Thursday morning, ESPN ranked Phoenix Suns guard Devin Booker as the 10th best player in the NBA heading into the 2022-23 season. Booker, who is about to enter his eighth season in the league, moved up five spots from his 2021-22 ranking. Of the 10 former Wildcats ranked among ESPN's top 100 players for this coming season, Booker is the highest.
Here's what ESPN had to say about Booker and why he broke into the top 10.
Why he rose five spots

Booker's ascendant year — an NBA Finals run, followed by an Olympic gold medal and leading Phoenix to a league-best 64 wins in the regular season — ended with a precipitous fall. The Suns were unceremoniously bounced from the second round of the playoffs, with Booker combining to shoot a combined 9-for-31 in Games 6 and 7 against Dallas.

But Booker's 26.8 points per game last season ranked No. 12 in the league, further cementing his reputation as one of the game's most lethal scorers. However, he'll take the next step by leveraging those scoring skills in crunch time. Last season, in the first nine minutes of quarters, Booker shot 48.5% overall and 42.1% from 3. In the last three minutes of quarters? He shot 41.8% from the field and 31.8% from deep.

Dave McMenamin, ESPN
Booker, 25, is coming off a 2021-22 season that saw him make his third straight All-Star Game appearance and his first-ever All-NBA First-Team. He averaged 26.8 points, 5.0 rebounds, 4.8 assists, and 1.1 steals in 34.5 minutes per game on a shooting split of 46.6/38.3/86.8.
Expectations are going to be at the highest they've ever been for Booker this season, who is also the cover boy for NBA 2K23. Following a run to the NBA Finals in 2021 and winning 64 regular season games in 2021-22, the Suns were knocked out of the playoffs during the spring in the second round by the Dallas Mavericks. Phoenix will be one of the few title favorites heading into the new season.
Kentucky Wildcats in ESPN's NBA Top 100 player rankings
No. 71 | Julius Randle, New York Knicks (previously No. 41)
No. 61 | Tyler Herro, Miami Heat (previously NR)
No. 54 | De'Aaron Fox, Sacramento Kings (previously No. 34)
No. 50 | Jamal Murray, Denver Nuggets (previously NR)
No. 48 | Shai Gilgeous-Alexander, Oklahoma City Thunder (previously No. 36)
No. 44 | Tyrese Maxey, Philadelphia 76ers (previously NR)
No. 23 | Bam Adebayo, Miami Heat (previously No. 21)
No. 20 | Anthony Davis, Los Angeles Lakers (previously No. 9)
No. 13 | Karl-Anthony Towns, Minnesota Timberwolves (previously No. 24)
No. 10 | Devin Booker, Phoenix Suns (previously No. 15)