ESPN updates recruitments of Lively, Wallace, Livingston, and Bona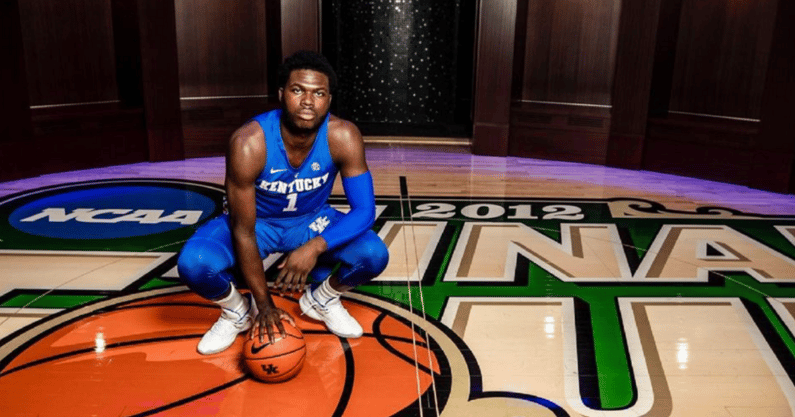 Kentucky basketball already hit a home run in September with the commitment of No. 1 recruit Shaedon Sharpe. Could more good news be on the way?
Serious buzz is growing with top-ten prospects Chris Livingston and Cason Wallace, with UK also in strong position with several other top prospects in the senior class. In a recent recruiting rundown, ESPN's Jeff Borzello broke down the latest with some of Kentucky's top targets and where things stand regarding a final decision.
Who could be next? Here's what Borzello had to say.
Dereck Lively II
"Lively doesn't seem as eager to end his recruitment as the other top-five prospects," Borzello said. "… This could shape up as a Duke vs. Kentucky battle, and could ultimately determine which school has the No. 1 recruiting class in the country."
Cason Wallace
"It's Kentucky that looks like the favorite heading down the stretch," he wrote. "The Wildcats have made Wallace their priority on the perimeter, and Nick Smith's canceled visit to Lexington last weekend cemented Kentucky's status as the frontrunner."
Chris Livingston
"Right now, Kentucky is garnering most of the buzz," Borzello said. "… John Calipari's program is in pole position."
Adem Bona
"Kentucky has long been perceived as the favorite for Bona, but the Wildcats' priority at the center spot is Dereck Lively," he added. "Bona could end up making a decision before Lively, however."
---
When discussing the race for the No. 1 class in the nation, Borzello expects things to come down to Kentucky and Duke for the top spot.
Should things unfold the way they are expected to, though, he favors the Wildcats to come out on top.
"Of the seven five-star prospects already committed in 2022, Duke has two and Kentucky has two," Borzello said. "The Blue Devils have the No. 1-ranked class and the Wildcats No. 3. Kansas, with two top-25 pledges and a third in the ESPN 100, sit at No. 2.
"But Duke and Kentucky seem poised to battle for the top spot, with Calipari's program likely having a leg up moving forward."
He closed things out with a quick overview of the class, with Wallace and Livingston seen as the next two dominoes to fall, followed by one of Lively or Bona joining the fold at a later date.
"The two five-star prospects seemingly closest to a decision, point guard Cason Wallace and forward Chris Livingston, have been garnering more and more Kentucky buzz in recent weeks," he wrote. "Five-star center Adem Bona is also viewed as a Kentucky lean … unless the Wildcats land No. 2 prospect Dereck Lively. Keep in mind Kentucky already has overall No. 1 prospect Shaedon Sharpe and five-star guard Skyy Clark."
Not too shabby, BBN.