Evening notes on the road to Houston for McDonald's All-American Week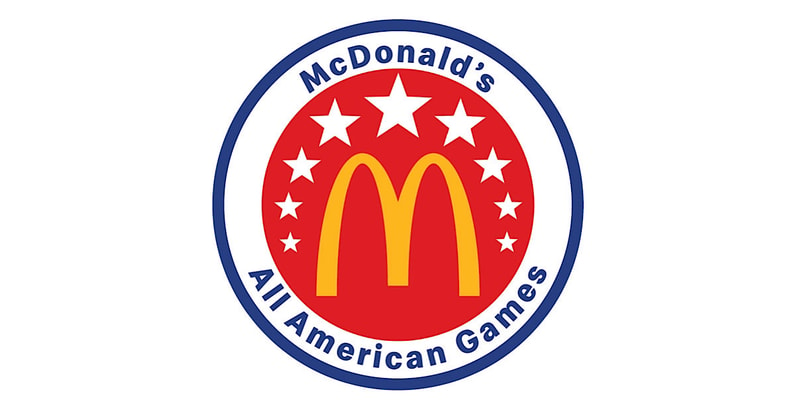 KSR is back on the road this weekend — to Houston, in fact, the site of this year's Final Four. Kentucky basketball won't be there, but four future Wildcats will be, as DJ Wagner, Justin Edwards, Aaron Bradshaw and Reed Sheppard are all set to participate in the McDonald's All-American Game on Tuesday. The most prestigious all-star event of the year, it's a chance for all four to compete against the nation's best, with all eyes on the pair of practices leading up to the event.
To be totally transparent, the game itself doesn't matter. The players don't try and it ultimately turns into a full-court layup line leading to an absurd six-figure final score between the two sides, very few outliers over the years. Practices, though, are awesome, wildly competitive with elite players bringing the best out of one another in front of scouts and media. Those start tomorrow morning.
Let's roll through the schedule:
Sunday:

McDAAG Girls and Boys Practices: 9:30-11:30 a.m. ET

Monday:

McDAAG Girls and Boys Practices: 10 a.m.-12 p.m. ET
Media Day: 1 p.m.-5:30 p.m. ET
POWERADE Jam Fest: 7:30 p.m. ET (ESPN2)

Tuesday:

McDonald's All-American Games

Girls – 6:30 p.m. ET (ESPN2)
Boys – 9 p.m. ET (ESPN)
It'll be three vs. one in terms of future Wildcats, with Wagner, Edwards and Bradshaw suiting up for the East squad and Sheppard the lone representative on the West.
EAST
Kwame Evans Jr. – Oregon
Aaron Bradshaw – Kentucky
Justin Edwards – Kentucky
Stephon Castle – UConn
Elmarko Jackson – Kansas
Cody Williams – Colorado
Aden Holloway – Auburn
Sean Stewart – Duke
Matas Buzelis – G-League Ignite
DJ Wagner – Kentucky
Mackenzie Mgbako – Duke
Xavier Booker – Michigan State
WEST
Omaha Biliew – Iowa State
Ron Holland II – Texas
Andrej Stojakovic – Stanford
Mookie Cook – Oregon
Isaiah Collier – USC
Bronny James – Undecided
Brandon Garrison – Oklahoma State
Jeremy Fears – Michigan State
Ja'Kobe Walter – Baylor
Reed Sheppard – Kentucky
Baye Fall – Arkansas
Jared McCain – Duke
The head-to-head battle between Wagner and Isaiah Collier will be one to watch, the two best on-ball guard talents in the class. The former is seen as the better scorer and creator while the latter gets the nod as the superior playmaker and facilitator. An opportunity for Wagner to prove he's the No. 1 guard in the class.
And what will Sheppard do against the nation's best? He's struggled in camp settings, but these practices are a bit different, more team-oriented than other events. But he's still going to need to assert himself and find his own scoring opportunities, not look to fit in with the crowd. He's a hell of a player, certainly Kentucky quality. Time to prove it on the biggest stage.
Will future teammate Edwards take on that matchup? He took pride in that one to open their senior campaigns in Louisville last fall — both played well, but the Philadelphia native took home the win. Round two in Houston? Or will Edwards take on fellow Klutch partner Bronny James, the lone uncommitted player in the event? (He won't participate in Media Day interviews, so don't expect any updates on his recruitment, unfortunately.) Some intriguing wing battles coming with Holland, Stojakovic, Cook, Walter and McCain all on the West.
Bradshaw will face off against Arkansas pledge Baye Fall, known for his motor and clean-up abilities inside. The Kentucky signee will have to keep his motor humming to keep up there, but he's got the clear skill advantage. Without many true bigs on the West, it'll be a chance to see just how versatile the 7-foot-1 center really is — John Calipari recently talked about rolling out a twin-tower lineup with Bradshaw and Ugonna Onyenso next season. He's got a nice face-up game, but enough to be a true stretch four? Guess we'll see.
Recruiting notes
Calipari and associate coach Orlando Antigua have been on the recruiting trail to open the offseason, making multiple stops in recent days to see prospects in 2023, 2024 and 2025.
The duo started with a trip to see five-star sophomores Alier Maluk and Maleek Thomas on Thursday, followed by one to see Justin Edwards on Friday, watching the Kentucky signee win a state championship in Pennsylvania. And then Saturday, they traveled to New York to watch five-star junior Boogie Fland and five-star sophomore Danny Carbuccia in the state tournament, followed by a trip to watch five-star junior Flory Bidunga in the Indiana state finals, I'm told.
Bidunga and Fland are two of the program's top priorities in the junior class, joining Tre Johnson and Billy Richmond. They're also starting to ramp things up with Lyon County star Travis Perry again, Calipari personally extending that offer and prioritizing the state's all-time leading scorer. 2025 five-star Darryn Peterson is also a reclass candidate and a situation Kentucky is monitoring closely.
No new names to keep an eye on yet, but those are certain to come this spring.
Stay/go decisions
Brennan Canada is expected to announce he's returning to Kentucky for his final year of eligibility to open the week, followed by a relatively quick announcement from Jacob Toppin — he's extremely likely to turn pro. Cason Wallace will, as well. Oscar Tshiebwe may build more public suspense, but the chances of him returning to school are slim-to-none. Should (and when) that is made official, I would anticipate a farewell tour of sorts across the state, a chance to say goodbye to the Wildcat legend with autographs and pictures. Don't expect a similar send-off for Sahvir Wheeler, who is expected to explore his options elsewhere.
Daimion Collins is still technically a toss-up, but my expectation is he will hit the portal and transfer closer to home, likely somewhere in Texas. Chris Livingston and Antonio Reeves will test the NBA Draft waters before coming up with a final decision, both 50-50 situations. CJ Fredrick has taken a step back to evaluate his options, deciding whether to hang it up or return for another season. The latest buzz? He's never had an injury-free offseason in Lexington where he could focus on training rather than rehab and recovery. That's an intriguing possibility, one I expect the senior guard to ultimately take advantage of. No final decision, but trending that way.
Ugonna Onyenso is the interesting one. He said himself he intends to return to school, but outside influences make his situation a bit more complicated. Kentucky will fight like hell to get him back for a sophomore season, but it remains a toss-up, unfortunately.
Expect Adou Thiero and Lance Ware back in Lexington.
Coaching changes
KT Turner is on his way to UT-Arlington, where he's already in the process of finalizing his coaching staff. Brad Calipari was a rumored addition for the Mavericks, but that's not going to happen. In Turner's place in Lexington, I'm told Josh Pastner is interested in the job and has reached out to Kentucky about the possibility. Former Temple coach Aaron McKie was a rumored option, but that hasn't gained much traction and likely won't. Derek Kellogg remains a target and could join the staff in some capacity, one worth watching.
Bruiser Flint was in deep discussions with Manhattan for the head coaching position, but they're now expected to go a different direction. Same with Temple, who expressed early interest, but things haven't progressed much from there. One way or another, Flint remains interested in returning to the head coaching ranks this offseason.
Could other changes take place on Kentucky's side? It's not being ruled out. Recruiting has been strong, but scouting and development simply have not been where they need to be and will have to be addressed either way. Far too many resources at the school's disposal not being utilized for what is required at a place like this. An emphasis on player relationships has to be made, as well.
A few other notes: Riley Welch may be in line for a full-time assistant job elsewhere this offseason — a valuable scouting and practice resource, placing a greater emphasis on those ongoing struggles. Among student assistants, Tyler Ulis is expected back and Rajon Rondo remains an option — he's still taking classes at UK and conversations are ongoing about joining Calipari's staff. Nothing has been finalized, but a situation to monitor nonetheless.
---
That's all for now. Back in the morning for McDAAG practices. Go Cats.
Discuss This Article
Comments have moved.
Join the conversation and talk about this article and all things Kentucky Sports in the new KSR Message Board.
KSBoard