Every Emotion Experienced Firsthand from a Historical Win in The Swamp
Jim Valvano once said, "If you laugh, think and cry, that's a heck of a day."
Saturday was a heck of a day in The Swamp.
---
The day began like every day in Florida: humid and miserable.  Gainesville was transformed into hot cluster before thunderstorms rolled into the area four hours before kickoff and promptly calmed the masses.
Was the storm an omen for good things to come? I could not decide.
Four hours before kickoff my brain was firmly knotted into a pretzel.  On paper, Kentucky had the talent to compete with Florida.  Strip off the logos and put this game at Kroger Field, and I'd be convinced the Cats were going to roll.  But, The Streak.
Even though I did all my usual superstitions — hold your breath while crossing a bridge, one pregame beer and one bourbon — I remember the heartache from 2017.  I also remembered all too well the last miserable trip to Gainesville.  I could not remove the many bad memories from the numbers.  My brain thought Kentucky could win, but my heart was unsure.
Confused on how to feel, laughter was the best medicine.  The first Kentucky fans I saw roaming around outside of Ben Hill Griffen Stadium were making their first ever SEC road trip.  The quartet is now famous.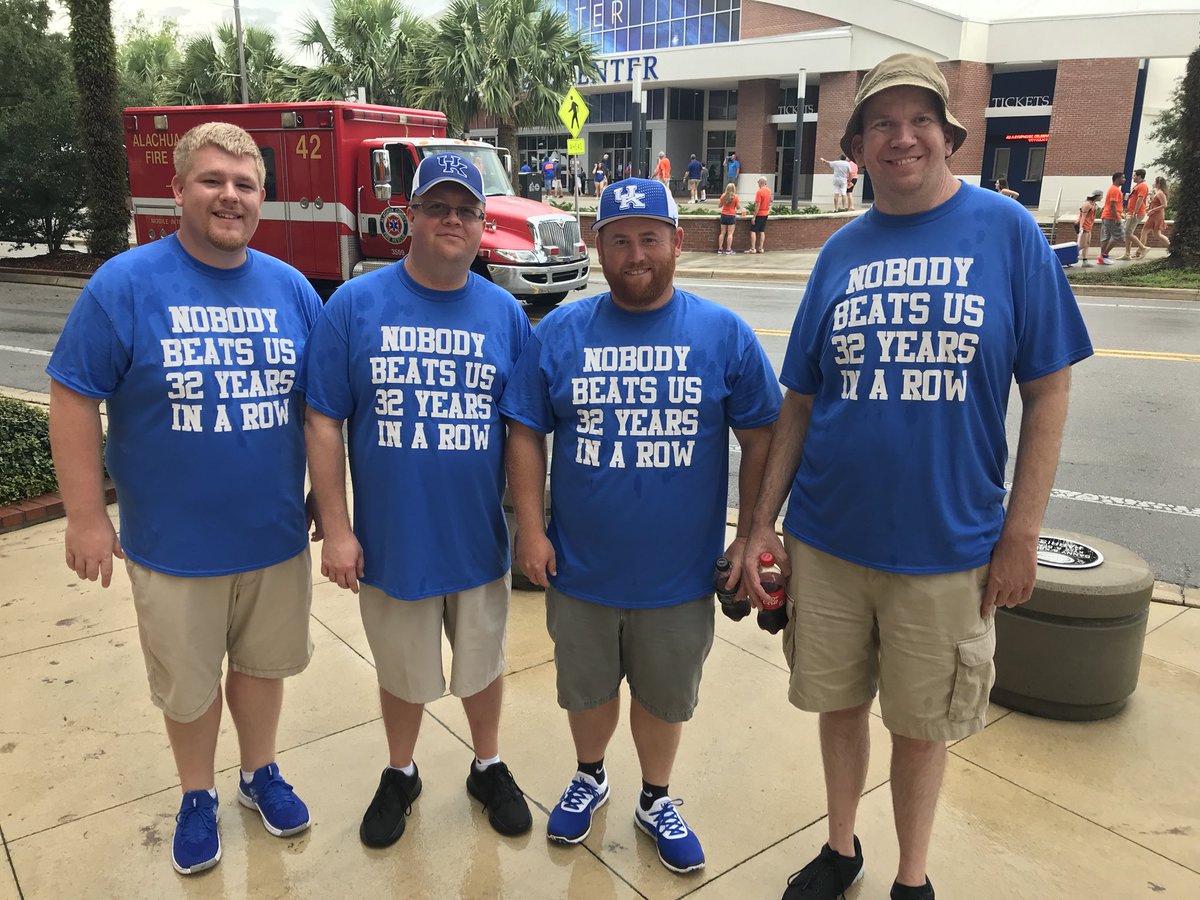 A good laugh is just what I needed to forget about the past and enjoy the present.  As I made my way to the Cat Walk, close to a hundred people had already gathered 30 minutes early.  It was refreshing to hear, "C-A-T-S, CATS, CATS, CATS!" chants as the players arrived to the stadium.  I was prepared to enjoy a cup of Kool-Aid.
Before I departed for the press box, I talked to a few road game regulars and some family friends, Steve, Sue and Tim.  "Let's get a picture to prove we were here when The Streak was snapped."
I was happy to oblige, but I let out a little chuckle and thought, "Good one."
---
As kickoff approached, the Kool-Aid quenched my thirst for a Kentucky win.  The uneasiness in my stomach felt right.  It was going to be a long night, but I was ready to see the Cats go toe-to-toe with the Gators.
When the ball was kicked off, I was thrust into a night of back-and-forth turmoil, unlike anything I've ever experienced as a diehard fan covering Kentucky football as a member of the media.
The Kentucky defense stuffed the run, but surrendered a pair of third and longs.  "They CAN'T let Franks convert third and long. They just can't!"  Florida gained enough momentum for me to worry, until the defense held and forced Florida to punt.
Kentucky's offense methodically moved the ball down the field before Terry Wilson found David Bouvier for a 29-yard touchdown pass to complete a 91-yard drive.  Wilson found Bouvier after he scrambled right to extend the play.  Instead of tucking it and running the ball, Wilson remained patient and kept his eyes downfield.  That development gave me the all the confidence I needed…until turnovers.
"It was too good to be true."
Two turnovers in Florida territory are bad.  Under-throwing a receiver in the end zone to keep at least three points off the scoreboard could have been catastrophic.  It was the type of mistake that had become commonplace in the series, one that would surely bite the Cats in the butt in the second half.
Despite the setback and Terry's two early mistakes, to say I was feeling confrontational entering the second half was an understatement.  I was prepared to fight every single person who wanted Terry pulled.  He was doing things nobody else could do and obviously gave UK the best chance to win.  All I could do is pray the offense made the most of the first drive.
They did.
Ninety yards, all on ground.  The exclamation point, a 24-yard Terry Wilson keeper, quickly shut up the haters and losers.  That only amplified my passion when the following possession was a 78-yard drive made completely through the air.  Wilson's 54-yard bomb to Bowden was the big play Kentucky needed to put the Florida defense on its heels and open up the floodgates for Benny Snell.  The plan was back on track.
As the clock ticked, my body began to tighten.  I started to feel my muscles ache as I tensed up more and more as the game drew near a conclusion.  During timeouts, I stretched and refilled my water bottle (instead of refilling the cup, because that was unlucky).  When the fourth quarter began, I prepared for the longest 15 minutes of my life.
As I recall the fourth quarter, the anxiety returns.  The stress was unlike anything I've ever experienced.  My neck stiffened, my belly turned and my body perspired uncontrollably.  I lived and died with every single play.
"It's going to happen," my brother-in-law (a Notre Dame fan) texted me after Kentucky downed Max Duffy's punt at the one-yard line.
"Hush your mouth," was all I could do to try to prevent any sort of jinx.  I feared that was not enough when Florida found a way to turn a third and 28 into a touchdown.
The touchdown was by no means a nail in the coffin, but the two-point conversion could be disastrous.  It should have been.  The Florida man in motion was left stranded, wide open in the right corner of the end zone.  I lost the ball, "Did Franks throw it?"  I panicked, until the ball sailed to the left corner of the end zone and off Josh Allen's outstretched hand.
Disaster averted, for now.
"Benny's got this," I told myself as Kentucky began the quest to run out the clock.  All they needed was a few first downs and Florida would not have enough time for a miraculous, heartbreaking comeback.  When Bunchy Stallings destroyed a puny Florida defender, I almost jumped out of my seat.
"WE GOT THIS!"
Still, I refused to begin typing a quick postgame post.  I could not jinx it.  Not even when Josh Allen knocked the ball free from Franks' hands did I believe the game was over.  After the the official confirmed the ruling on the field, my anxiety turned into jubilation.
"THEY DID IT. THEY ACTUALLY DID IT."
As quickly as I could, I sprinted toward the field.  I tried to take a picture of the scoreboard, then pressed record.  The first person I spotted was Benny Snell.  With tears in his eyes, he opened his arms to embrace Rock Oliver.  The band began to play My Old Kentucky Home.  Then it hit me.
I was standing on Steve Spurrier Field after a Kentucky victory next to the greatest UK running back to ever wear a UK uniform.
"Weep, no more my lady!"
I did not weep.  I soaked in every second of that moment, one I will never forget.
The next few hours were filled with indescribable joy.
Mark Stoops' ideology and mentality were validated.  Kash Daniel's childhood dreams had been fulfilled.  Benny Snell's uncontrolled excitement echoed throughout the bowels of Ben Hill Griffin Stadium.
Sleeping could wait.  An unforgettable night could not end prematurely, even as a 12-hour drive loomed.
---
As I entered cruise control on I-75, my body felt like it played a football game.  The aches in odd places from my tense night in The Swamp quickly subsided once I reflected on the night before.
Ten minutes into the postgame podcast, I had to press pause and pull over to the side of the road.
Tears flooded my eyes as I thought of all the demons Kentucky exorcized in one game.  I've suffered through a Florida loss in every year of my young life, but those tears weren't for me, they were for all of the Kentucky football players and coaches who worked tirelessly to represent the Commonwealth.
There were tears for Jared Lorenzen, who has been forced to relive that painful memory annually for the last 15 years his life.  They were for Freddie Maggard, a man that has dedicated his entire life to the Kentucky football program.  They were for the equipment managers and administrators who never quit believing.  They were for Benny Snell, Terry Wilson, Kash Daniel and every player who has ever been doubted by their own fans.  They were for Josh Paschal and, more than anyone else, they were for John Schlarman.
Kentucky's native son grew up watching the Wildcats.  He played for the Wildcats.  He experienced loss after loss after loss.  Determined to change the program, he joined the staff as an assistant coach. Cancer tried to stop him and failed.  Kentucky won on the backs of his players who smashed Florida apart one play at a time.
The Streak that prevented the program from moving forward was finally gone, washed away with sweat and tears.
---
I laughed. I thought. I cried. It was a heck of a weekend in Florida.
[mobile_ad]