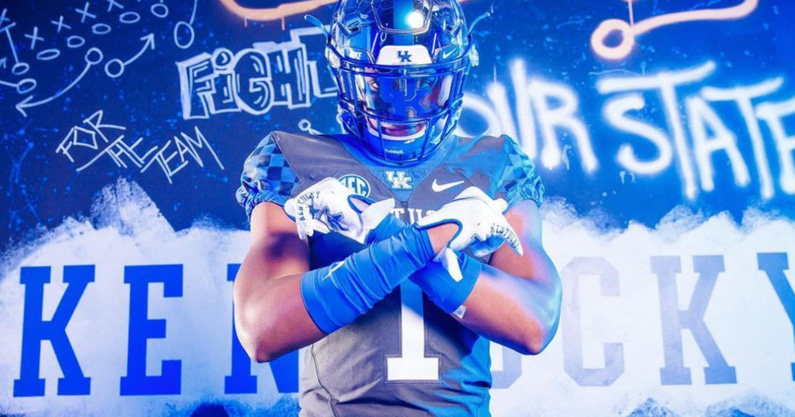 Kentucky enters the 2022 season with a loaded inside linebacker room. At outside linebacker, the Wildcats have two established starters and a bunch of talented true freshmen. Making sure these two positions reload moving forward starts with recruiting.
Defensive backs coach Chris Collins and defensive coordinator Brad White just recorded a seismic win on the trail.
Suwanee (Ga.) North Gwinnett linebacker Grant Godfrey decided to end his recruitment on his birthday by committing to Kentucky over Tennessee and Wake Forest. The top-300 prospect also received heavy interest from Louisville, South Carolina, and Vanderbilt.
The basketball player brings a frame with length to the football field and has the athleticism to play and exceed in multiple roles on defense at the next level. What has Kentucky added in Grant Godfrey? Let's step into the KSR Film Room to find out.
Grant Godfrey will come to Kentucky as an off-ball linebacker that will likely settle into the Will position in Kentucky's hybrid three-down scheme. However, his most interesting trait could be positional versatility. The four-star prospect could give defensive coordinator Brad White a schematic chess piece to use to match offensive personnel groupings.
Lined up as a Sam linebacker in North Gwinnett's four down front, Godfrey then comes down on the line upon the motion to match the offense's unbalanced formation. From a three-point stance, the defender sets the edge in the run game and makes a stop to give the defense a win. The newest Kentucky commit can succeed at both off-ball and EDGE.
Grant Godfrey's older brother, RJ Godfrey, will play hoops for Clemson this season. The Kentucky commit also plays basketball, and that athleticism from the hardwood does show up on tape. The linebacker can move very well for his position.
On a zone drop, Godfrey does a good job of staying home and keeping his eyes on the quarterback. Once the pocket is broken, the linebacker flashes some change of direction and can win the battle to the sideline. The play ends in a sack and shows Godfrey's off his range as an off-ball linebacker. The newest Kentucky commit has the potential to be a sideline-to-sideline player.
Kentucky utilizes a zone-heavy defense, and on passing downs sometimes the Wildcats will try to get creative with pressure packages. The Wildcats will often use "creeper" stunts to create a different look for the offensive line to protect against. In this package, the defense still only uses four rushers, but a second-level player will come as a rusher after not showing blitz pre-snap. Grant Godfrey has the potential to be a very good blitzer.
On the snap, North Gwinnett brings Godfrey as a fifth rusher from his Will position as the linebacker shoots through the A-gap. The linebacker shows great burst as he's able to sneak by the back in pass protection. The play ends before it begins as Godfrey engulfs the quarterback for a sack. Kentucky will ask its off-ball linebackers to contribute to the pass rush. Godfrey is a player that can enhance some of White's pressure packages.
For the third time this cycle, Kentucky has gone into the traditional SEC footprint and landed a blue-chip prospect. That is something that shows the growth of the program as now high school recruits believe in what the coaching staff in Lexington is selling in head-to-head recruiting battles with conference foes. The latest has an easy-to-see comp.
Jamin Davis came to Kentucky in the class of 2017 as a tall but slender off-ball linebacker prospect with a good frame and sideline-to-sideline range. However, there were some weight concerns. The three-star prospect was able to fill out in Kentucky's strength program before developing into a first-round pick in four years at Kentucky. Grant Godfrey is a similar prospect coming out of high school.
The Greater Atlanta native has some bonafide athletic traits to go with a frame that should be able to add good weight. Looking forward to three years down the road, this should be a player that can play at 230-plus pounds with the same speed and explosiveness he possesses now. That could turn into a very productive player.
Grant Godfrey has been sold on the Jamin Davis blueprint and White's background in talent development at Kentucky.
Similar to Davis, don't be surprised if Godfrey is used some at Sam linebacker early in his career to give Kentucky a different look at the outside linebacker position. In the end, the prospect should end up off-ball as an athletic, rangy linebacker who has the required burst and instincts to make plays in the box to go along with the chance to be a real asset in pass coverage due to his physical traits.
Kentucky has recorded a big recruiting win, and Grant Godfrey found an obvious fit in the SEC.