Film Room: Jamarion Wilcox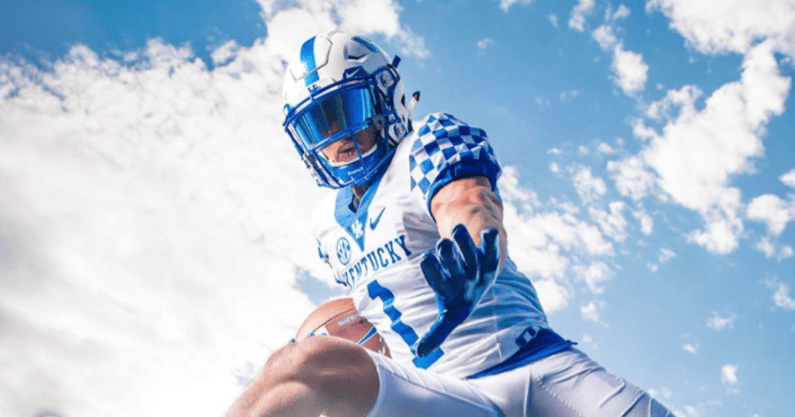 Tailback was a position of need for Kentucky in the 2023 recruiting cycle. The Wildcats had to find a quality high school running back in this class. UK did just that by landing Douglasville (Ga.) South Paulding senior Jamarion Wilcox on National Singing Day.
The Peach State prep star rushed for over 2,000 yards in 12 games as a senior averaging 9.0 yards per rush. That big year resulted in heavy recruiting interest from Auburn, Clemson, and Ohio State. Fortunately, Kentucky started to recruit this three-star prospect heavily in the summer before his senior year. That long relationship paid off in the end.
Wilcox will go down as one of the biggest recruiting wins for Kentucky in this cycle. Now it's time to see what the tailback will be adding to the offense. The undersized tailback has great contact balance and the skill set needed to succeed as a slashing zone runner.
Let's roll the tape.
The first thing that stands out with Jamarion Wilcox is that this is not an easy tailback to get to the ground. Consistently, Wilcox is able to bounce off tackles by absorbing hits and keeping run plays alive. This is his best skill set.
In both gap scheme (top) and zone scheme (bottom) reps, Wilcox does a great job of extending plays by absorbing contact. The rising senior runs with a good base and is slippery when hits come with the ability to bounce things to the outside. This allows the rusher to create explosive plays and turn bad gains into good gains.
Jamarion Wilcox is hard to tackle, but he's also good in space.
After turning the corner, Wilcox is able to flash some wiggle to make defenders miss in space as the high three-star prospect can provide a home run element on the ground.
However, a tailback must get into space first. Sometimes, something must be created out of nothing. Jamarion Wilcox can create with the ball in his hands even if he created the problem.
On what appears to be an inside zone run to the left, Wilcox veers right into the boundary and runs into two unblocked defenders. Then the raw athleticism takes over.
Wilcox has very good cut skills as a rusher and that allows him to bend this run back inside. The tailback hits a defender in space with a juke and then makes another sharp cut that almost breaks another tackle. Despite an initial bad read, Wilcox is able to create a big play thanks to twitchy, explosive athleticism.
All signs point to this being a big-play tailback in college football. However, there is also strain shown on tape.
The tailback runs with great effort and that allows Wilcox's explosive traits to create explosives.
Jamarion Wilcox can provide explosive runs
Creating chunk plays in the running game has been an issue for Kentucky over the last two seasons. Chris Rodriguez Jr. was an efficiency machine that did a good job of avoiding negative plays, but it has been a while since the Cats had a true home run hitter in the backfield.
That might not be the case anymore.
Jamarion Wilcox is not a true burner, but the signee can break tackles upon contact, make defenders miss in space, and has adequate speed to provide some breakaway runs. This could be just what the doctor ordered.
Kentucky enters next year with many questions about running back. There could be a role for Wilcox under new offensive coordinator Liam Coen as a rookie. If the Wildcats remain committed to establishing the wide zone, the true freshman could be a good scheme fit thanks to his burst, contact balance, and explosiveness.
There is a lot to like about Jamarion Wilcox.