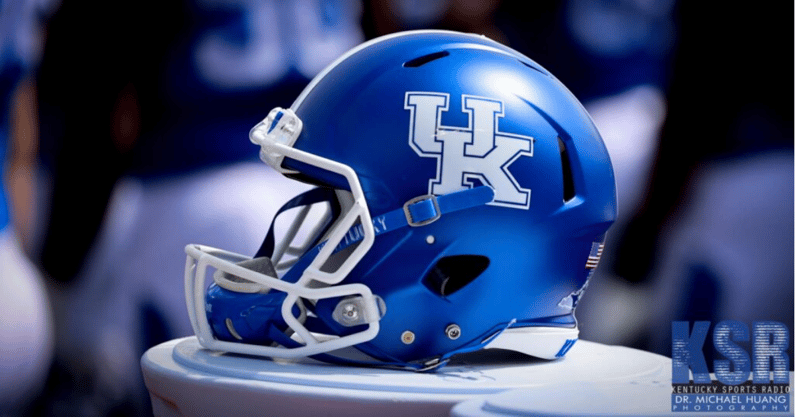 Marquan McCall could give Kentucky a consecutive draft pick at nose tackle in the 2022 NFL Draft. The Wildcats are hopeful that Quentel Jones will be another one 4-5 years down the road.
On Thursday, the Wildcats recorded a Peach State recruiting win when Jones pledged to Kentucky. The 6-foot-2 defensive tackle out of Fort Valley (Ga.) Peach County High will sign with Wildcats after considering Miami, Mississippi State, and Tennessee
What will Jones bring to Anwar Stewart's position room? Step into the KSR Film Room to find out.
At over 300 pounds, Quentel Jones has the size requirements to succeed as a zero technique at the SEC level. The interior defensive line prospect can hold up at the point thanks to his brute size and strength. However, Kentucky needs a nose man that can move. Whether being used on a stunt or chasing down outside runs, nose tackles must have some type of foot speed.
Jones can scoot a little bit.
On the twist stunt, Jones shows some mobility and ultimately ends the play with a tackle for loss. Size, power, and agility can be a great trio for nose tackles.
In the run game, nose tackles must plug gaps and demand double teams while creating stalemates at the line of scrimmage. Their job is to gobble up space and blockers so defensive teammates can make stops for minimal gains. However, this position has value in the passing game as well.
Quentel Jones will never be a high sack or QB pressure player at Kentucky, but he can collapse the pocket on passing downs.
On the dropback from the shotgun, Jones gains leverage from the jump and pushes the right guard in the quarterback's platform. That throws off the timing of the play and creates a QB hit for the defense. Creating for others is what playing the nose tackle position is all about.
Quickness, quickness, quickness. Nose tackles can often be the largest humans on a football field, but these players must have a twitchy element to their games. Mainly, players must get out of a stance and strike quickly. The ability to do this prevents offensive linemen from winning early with their hands.
Jones' twitchiness gives him a chance to gain the upper hand early and often.
After getting a great jump on the snap, the center is unable to stop the momentum of the zero technique. Jones easily moves into the backfield after the left guard fails to give his teammate any help in pass protection. Winning early allows Jones to record a pressure and an early throw from the quarterback.
Quentel Jones shows quite a bit of playmaking potential on tape. Who doesn't love a touchdown from a big man?
After starting for four years, Quinton Bohanna moved on from Kentucky and is now playing for the Dallas Cowboys. Marquan McCall missed four games this season but has returned to give Brad White's defense some strong play at nose tackle. However, the senior could be moving on to the NFL after this season.
Second-year players Josaih Hayes and Justin Rogers have flashed potential, but Kentucky must start building for the future. That is where Quentel Jones will come in.
With size and quickness, the rising senior will have a chance to make an impact at the next level. The high three-star prospect will need to work on the intricacies of hand placement, leverage, and striking ability to help him maneuver around blocks and work through double teams. However, the potential is there.
Jones is a twitchy 300-plus pounder who possesses playmaking ability at the zero technique. Those types of prospects are typically hard to find.