Final Four loaded with Blue Bloods following Saint Peter's exit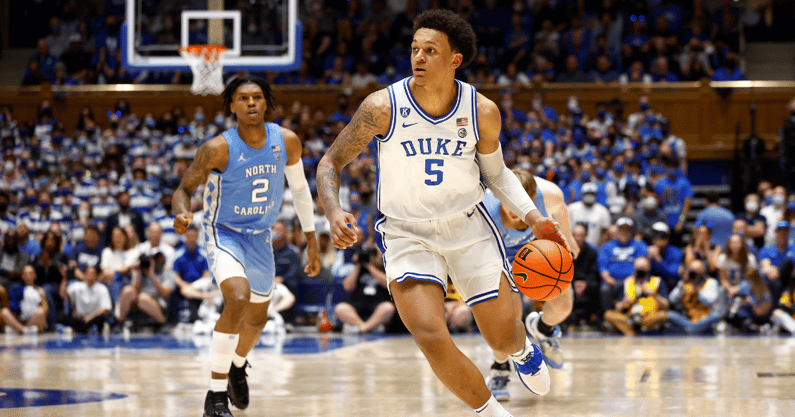 The Peacocks crashed back down to Earth as their Cinderella run in the NCAA Tournament came to an unsatisfying end. But as a result, we have our 2022 Final Four teams all locked and loaded — and it's not going to be all that fun to watch from the BBN's perspective.
With North Carolina's 69-49 victory over 15-seed Saint Peter's on Sunday afternoon, the Tar Heels join Duke, Kansas, and Villanova in this year's NCAA Tournament Final Four. Basically, three of the five all-time Blue Bloods along with the most successful postseason program of the last half-decade. Notably absent? The Kentucky Wildcats…
Here's how everyone got here and who they'll play next.
Elite 8 matchups
No. 5 Houston 44, No. 2 Villanova 50
No. 4 Arkansas 69, No. 2 Duke 78
No. 1 Kansas 76, No. 10 Miami (FL) 50
No. 8 North Carolina 69, No. 15 Saint Peter's 49
Final Four matchups
Saturday, April 2 (New Orleans, LA)
Both games on TBS
6:09 PM EST | No. 2 Villanova vs. No. 1 Kansas
8:49 PM EST | No. 2 Duke vs. No. 8 North Carolina
Interestingly enough, this will be the first time ever that Duke and North Carolina matchup in the NCAA Tournament. The two programs have met over 250 times in a rivalry that spans 100 years, but not once in the Big Dance. Typically, the selection committee pits them on opposite sides of the bracket from each other. For the first meeting to come in the Final Four AND in Duke head coach Mike Krzyzewski's final season at the helm is the storyline for a documentary they're probably already working on at Disney headquarters. Remember, UNC smacked the Blue Devils in Coach K's final game at Cameron Indoor Stadium. Revenge will be heavy on Duke's mind.
Another not-so-fun fact: North Carolina passed Kentucky for most all-time NCAA Tournament wins with 130. So that's neat.
Villanova and Kansas will be quite the matchup, as well. Nova head coach Jay Wright holds an elite 20-3 record in the NCAA Tournament since 2016, including two national championships in 2016 and 2018. That's quite a dominant run and it isn't slowing down. The Jayhawks will look to give head coach Bill Self a shot at his second national title with Kansas and his first since 2008. According to Sports-Reference, this will mark just the 10th all-time game between these two programs, with Villanova holding a 6-3 series lead, including winners in five of the last six (all coming since 2013).
The national championship game is scheduled for Monday, April 4 at 9:20 p.m. EST on TBS.