FINAL: Kentucky MBB shrugs off slow first half, handles Albany 86-61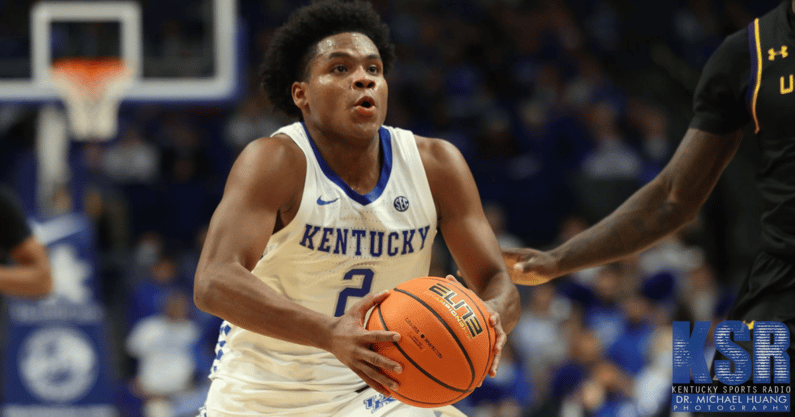 The Great Danes of Albany (0-5) put up a valiant effort in the first half, but No. 10 Kentucky Men's Basketball (4-1) proved why it's a top 10 in the nation. The Wildcats shrugged off a slow first-half start to roll over Albany, winning 86-61 on Monday night in Rupp Arena.
While foul trouble wasn't as big of an issue early on against Albany as it was against Ohio, the numbers still stacked up quickly. Oscar Tshiebwe was tagged with his first personal around the 17-minute mark and then his second around the five-minute mark of the first half.
With the team's starting center battling foul problems, Washington stepped up as UK's scoring leader for the second game in a row. The budding freshman star went for 13 points and three rebounds in the first half. As a team, UK shot nearly 60 percent from the floor while holding Albany to under 36 percent. However, nine turnovers from the 'Cats compared to just three for the Great Danes kept the score close.
At the halftime break, Kentucky was ahead 37-28, dominating the glass to the tune of a 24-9 advantage.
Out of the intermission, UK turned up the heat. Albany battled throughout the first several minutes of the second half before the 'Cats began to slowly grow its lead. A 43-35 Kentucky advantage ballooned to a 61-39 lead over an eight-minute span.
This all happened while Tshiebwe and Daimion Collins were both playing with three fouls. Albany would make one more mini-run down the stretch, but Kentucky wasn't phased. UK went on to cruise to a 25-point win.
Tshiebwe still managed a double-double of 12 points and 14 rebounds despite finishing the night with four fouls. Washington powered UK in the scoring column with 20 points on 7-14 shooting to go along with six rebounds and three assists. Keion Brooks Jr., Kellan Grady, and Sahvir Wheeler all hit double-figures in scoring, as well.