FINAL: Kentucky shows plenty of potential in 108-56 preseason win over Dominican Republic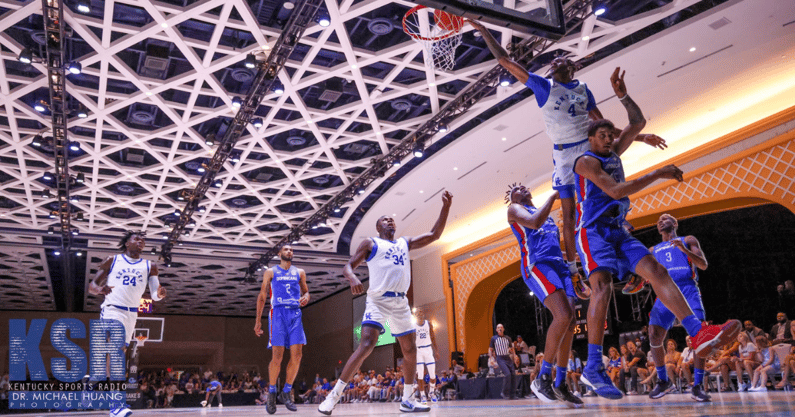 Even though the game won't count in the official record books, Kentucky sure did give the Big Blue Nation plenty to look forward to this upcoming season.
On Wednesday night, the Wildcats men's basketball team steamrolled through the Dominican Republic 108-56 down in the Bahamas. It was the first of four preseason contests for Kentucky this week as part of the program's Big Blue Bahamas Tour.
While it was still an exhibition, it was an impressive outing for the 'Cats against older competition. Kentucky ran out to an early lead and never looked back, leading by 30-plus points throughout most of the second half.
Associate head coach Orlando Antigua took over head coaching responsibilities in place of John Calipari for the preseason opener. Of the 10 players who played significant minutes under Antigua, nine of them finished with at least six points while six of them registered double-figures.
Only CJ Fredrick, who is on a minutes restriction and ramping back up to full strength, failed to score. Starting point guard Sahvir Wheeler contributed six points and four assists. He did leave in the first half due to an injury but would return after halftime.
It was an all-around effort for Kentucky, with several players taking control of the action throughout the night. After a rough opening stretch, freshmen Chris Livingston and Cason Wallace began to steal the show. Livingston went for 11 points, eight rebounds, and three assists on 4-7 shooting (3-4 from distance) while Wallace added 15 points, five rebounds, three assists, and two blocks on 6-13 shooting.
Reigning National Player of the Year, Oscar Tshiebwe, finished with 17 points and six rebounds on 8-11 shooting in his 22 minutes of action. Daimion Collins and Jacob Toppin also stuffed the stat sheet, but it was their highlight plays that stole the entire show.
Toppin's night came to a close with eight points, four rebounds, two blocks, and three steals in 20 minutes of action. Collins was even more impressive, registering 15 points, five rebounds, five assists, and two blocks on 6-9 shooting. Again, it was only an exhibition matchup, but Collins played lightyears ahead of where his game was back in the winter.
Illinois State transfer Antonio Reeves showcased his sharpshooting ability with 12 points on a 4-5 shooting clip from beyond the arc. Lance Ware finished with 11 points and two rebounds on 5-8 shooting in his 16 minutes. Freshman Adou Thiero was the surprise of the night, adding seven points, three assists, three blocks, and two steals.
As a team, Kentucky shot 57 percent from the field and an efficient 11-26 from deep (42 percent) while turning the ball over just five times. The offense was grooving all night, but it was the defense that shined. UK forced the Dominican Republic into 18 turnovers (resulting in 30 fastbreak points) and a 33 percent overall mark from the field.
Next up for the 'Cats will be a matchup against Tec de Monterrey (Mexico) on Thursday night at 7:00 p.m. EST on the SEC Network.