FINAL: Kentucky steamrolls Carleton University 118-56 in third game of Bahamas trip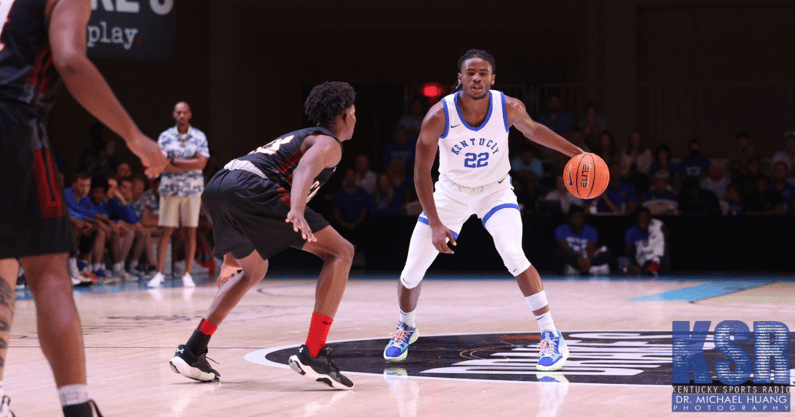 Outside of the opening two minutes, Kentucky obliterated Carleton University (Canada) in what was arguably the Wildcats' most impressive win of the week so far.
On Saturday night, UK steamrolled through Carleton by a final count of 118-56 in the third of four games on the program's Big Blue Bahamas Tour. After the score was tied at 4-4 early on, Kentucky breezed through the rest of the first half, taking a 55-19 lead into the break before cruising to the 62-point victory. It was a 3-point shooting exhibition in the second half for the 'Cats, as the team shot 11-18 from beyond the arc across the final 20 minutes.
The competition wasn't up to par, but watching this team get hot and completely dominate the opponent sure was fun. Kentucky will play one more game on Sunday at noon EST against the Bahamas National Team to close out the four-game trip.
It was the Jacob Toppin show from start to finish for the 'Cats. The senior forward finished with a game-high 27 points on 11-14 shooting, including a lethal 5-6 clip from distance, to go along with two rebounds, six assists, one block, and two steals. Illinois State transfer Antonio Reeves wasn't far behind, contributing 23 points, three rebounds, and two assists on 8-12 shooting (5-8 from deep).
Sahvir Wheeler and Cason Wallace also finished in double figures. Wheeler went for 17 points and six dimes on 7-9 shooting while Wallace added 15 points (6-9 shooting), three rebounds, four assists, and five steals. As a team, Kentucky shot 59 percent from the floor overall and 15-30 from distance. Carleton was held to just 39 percent shooting and 3-18 from beyond the arc.
Check out the final stats below.