FINAL: Kentucky WBB cruises past Mississippi State 83-67 in SEC first-round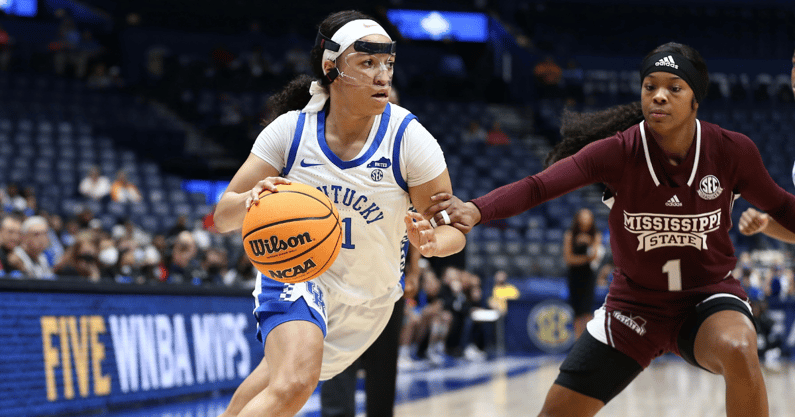 It was Jada Walker's first-ever SEC Tournament game, but you wouldn't have known it from her performance.
Kentucky Women's Basketball advanced to the quarterfinals of the 2022 SEC Tournament on Thursday night after easily knocking off the Mississippi State Bulldogs by a final score of 83-67 down in Nashville, TN. Walker, who was recently named to the SEC's All-Freshman Team, finished with a career-high-tying 21 points along with eight rebounds. Kentucky has now seven straight games.
Junior forward Dre'Una Edwards wasn't far behind her with 18 points and 14 rebounds, her fourth double-double over her last six contests. Senior guard Rhyne Howard did more of her work early on, finishing with 14 points, three rebounds, four assists, and two steals.
Howard came out ready to extend her Kentucky career at least one more game. Her 'Cats shot off to a quick 8-2 lead as she and Walker were controlling the offense early. Mississippi State would fight right back though, countering with an 8-0 run that pushed the Bulldogs ahead 14-10. The MSU advantage would reach as many as seven in the first quarter before settling on 21-16 heading into the second.
After establishing herself in the opening minutes, Howard took over to begin the second frame. She poured in a total of 10 points throughout the period as Kentucky utilized a 12-2 that put the 'Cats in front by five. The Wildcat defense was forcing plenty of turnovers, particularly out of the press, that allowed the lead to build. UK controlled the game 38-30 at the half, shooting 49 percent from the field while forcing MSU into 10 turnovers.
Out of the locker room, Walker decided to put on her best Rhyne Howard impression. She scored seven points before the first media timeout could break the action as Kentucky would rattle off an 8-0 run to go up 53-38. UK continued to keep Mississippi State at bay throughout the rest of the third period, taking a 57-44 lead into the fourth.
Kentucky came out in the final frame looking for the kill, starting with a 6-0 run that forced an MSU timeout. The lead would eventually break 20 points as the 'Cats cruised to the 16-point victory. Howard didn't score in the second half, but she didn't need to. Dre'Una Edwards added 16 of her 18 points over that span to make up for it. Despite shooting just 2-12 from 3-point range, UK finished with a 53 percent overall field goal clip.
It sure won't get any easier for the 'Cats though, as the two-seeded LSU Tigers, ranked No. 6 in the country, are up next in the quarterfinals. Tipoff is scheduled for Friday night at 7:00 p.m. EST on the SEC Network.