FINAL: Kentucky WBB falls to Louisville 64-58 in rivalry game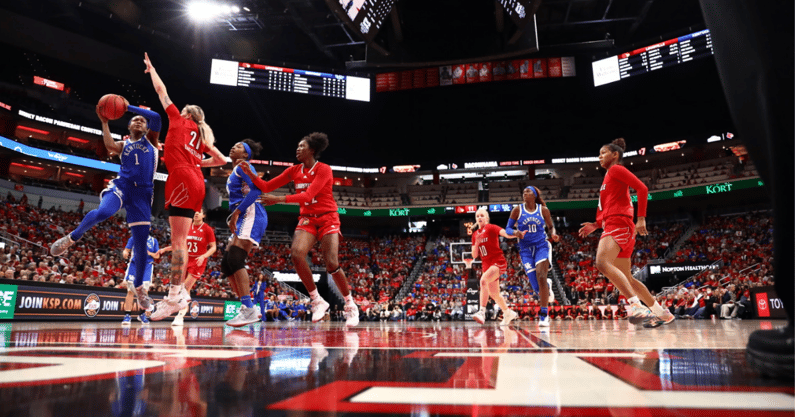 For the fifth straight time, Kentucky Women's Basketball lost against their in-state rival. On Sunday afternoon, the No. 14 'Cats fell 64-58 to the Louisville Cardinals. From the tip, Kentucky appeared disoriented and they never fully recovered.
One player who did come to play for the 'Cats was Dre'Una Edwards. The star forward led the 'Cats with 14 points and 14 rebounds. As a squad, Kentucky shot 39% from the field and 23% from beyond the arc.
Kentucky's nerves were evident early. The team struggled to find their pace as they turned the ball over six times in the first period. The 'Cats' slow start allowed the Cardinals to jump out to an early lead. After going on a 7-0 run in the quarter, Louisville headed into the second frame with a 19-13 lead.
Things got heated in the second period. The Cardinals picked up two technical fouls after a couple heated exchanges with 'Cats. Spurred on by the newfound energy, the 'Cats went on an 8-0 run. Although the team committed another six turnovers in the quarter, Kentucky headed into halftime narrowly leading Louisville 33-32.
Kentucky looked like they'd been in a frozen meat locker during their halftime break. The 'Cats didn't score for the first six minutes of the second half. Thankfully for Kentucky, Louisville wasn't too hot, either. The Cardinals went 5-16 from the field in the period. In spite of Kentucky's nightmarish period, they crawled into the final frame only trailing 44-39.
In a change of pace, the final frame was electric. After an early injury in the quarter, the Cardinals were forced to play a small lineup. Kentucky took advantage. The 'Cats' bigs went to work, with Dre'Una Edwards and Treasure Hunt collectively scoring 17 fourth-quarter points.
Fueled by the paint points, Kentucky finally took back the lead with 3:37 left in the quarter. Nonetheless, Louisville wasn't willing to lay down. The Cardinals rattled off a 6-0 run and slowly squeezed out a 64-58 victory.
Outside of Edwards, Hunt and Robyn Benton were major contributors for the 'Cats. Hunt had 14 points and seven rebounds, while Benton added 13 points of her own. For the second straight game, Rhyne Howard had a below-average performance with just nine points on 3-13 shooting.