FINAL: Kentucky WBB makes statement win over West Virginia, 83-60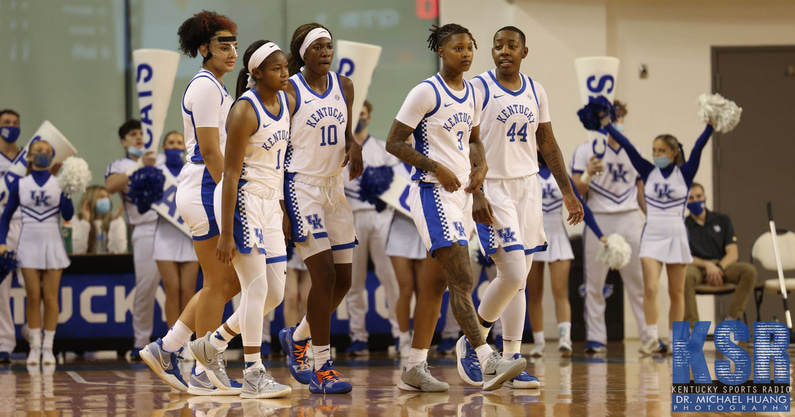 On Wednesday night, Kentucky Women's Basketball picked up their toughest win of the season, yet. More importantly, they did it in style.
The No. 16 Wildcats (5-1) defeated the West Virginia Mountaineers (4-2) 83-60 in front of the largest home crowd of the season. The win marks Kentucky's fifth victory at Memorial Coliseum this year.
Reigning SEC Player of the Year Rhyne Howard led the way for the 'Cats with 27 points, seven rebounds, four assists and three steals. Even more impressive, the star 'Cat barely came off the court, playing 34 minutes in the contest. Here's how the 'Cats conquered the Mountaineers.
How Kentucky WBB blew out Mountaineers
As expected, the first quarter was back-and-forth. In just the first 10 minutes of the contest, there were five lead changes. Howard hopped out to a quick start, going 2-4 from beyond the arc in the first period. Nonetheless, the 'Cats headed into the second frame trailing WVU 17-16.
Unfortunately for the Mountaineers, Howard's hot hand was seemingly contagious. The 'Cats shot 5-7 from beyond the arc in the second period, including Treasure Hunt's first 3-pointer of the season. Powered by their hot streak, the 'Cats outscored WVU by 10 points in the second quarter to go into the half leading 40-31.
If WVU was hoping things would get any easier in the second half, they were in for a rude awakening. Kentucky's defense was everywhere. In the third period alone, the 'Cats had six blocks. Kentucky Women's basketball was slowly pulling away heading into the final 10 minutes of the contest.
The 'Cats put the Mountaineers out of their misery in the fourth. Racking up eight more second-chance points, Kentucky Women's Basketball asserted their dominance. When the dust settled, the 'Cats triumphed 83-60 over WVU.
Of course, Howard didn't pull off Kentucky's astounding victory by herself. Edwards recorded a double-double with 19 points, 10 rebounds and a jaw-dropping six blocks on the night. Jada Walker added 13 points, as well. As a team, Kentucky Women's Basketball shot over 50% from both the field and beyond the arc.
Kentucky Women's Basketball's next contest will be against Merrimack this upcoming Sunday at 2 p.m.