First-year PG Jada Walker earning rave reviews from Kentucky WBB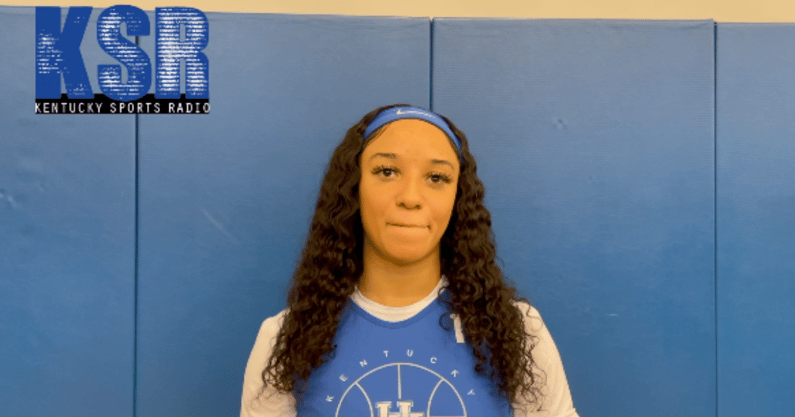 Kyra Elzy will lead a veteran-ladened squad into battle this season, but with a full offseason and a year of head coaching experience now under her belt. Four seniors and three juniors (two of them redshirts) help make up the 10 scholarship players, including the favorite to win SEC Player of the Year for the third year in a row, Rhyne Howard.
There will be heavy reliance on the vets to get the 'Cats back on track after a poor finish to the 2020-21 season. The starting lineup expects to feature all four seniors and one redshirt junior: Howard, Blair Green, Jazmine Massengill, Robyn Benton, and Edwards. Experience (and conditioning) will be key to staying consistent throughout a long season.
With that in mind, the roster is admittedly slim. There are just 10 scholarship players plus one walk-on. Only one of those 10 is about to embark on their first collegiate basketball journey; a shy young woman by the name of Jada Walker. But if you ask her teammates, she doesn't play or act anything like a freshman.
"She's a beast. She's gonna get after it. She be amazing me every day in practice," Redshirt junior Dre'Una Edwards said of Jada Walker.
"Jada has been very impressive. She's the fastest person on the team, if you haven't noticed," Senior Robyn Benton added. "She's very slick with her moves. Like yesterday, I thought she was going to get blocked but she slipped in on in there. But she's done that in practice a lot. She's very impressive."
Jada Walker is a 5-foot-7 first-year point guard out of Richmond, VA. She came to Lexington when Matthew Mitchell was still the head coach, committing back in May 2020. Walker is here to replicate the production of recent Matthew Mitchell point guards who thrived in his system; Jaida Roper, Taylor Murray, and Chasity Patterson, just to name a few.
Elzy, who was given no time to recruit for the 2021 class before being thrust into the head coaching position, honored the commitment and brought Walker on as the lone rookie. It's not like Walker was some unheard-of name, though. She was a four-star prospect and top 70 recruit in the nation before picking UK.
Walker can hoop with the best of them. She has wasted no time proving herself to her new coaches and teammates.
"We love Jada. She's been a great addition to our team," Elzy said during Media Day on Monday morning. "She's the lone freshmen. But she does not play like a freshman. You know, she arrived on campus and she was like, Coach, what do you need for me? And I was like, there's three things I need for you to be coachable. I need for you to play hard, and I don't want you to back down just because you're the lone freshman and trust me, she does not back down.
"One of our first practices, she's going on a fast break. She got fouled, they slammed her head into the backstop, she picked the ball right back up and she got to halfcourt and started the offense again. So she brings a toughness, a high motor and there's something to be said about a coach's kid, you know, they just have a different type of toughness about them."
Both of Walker's parents are basketball junkies, which has made adapting to the college game a bit easier for her. But not everything has come easy so far. Learning to play a much faster brand of basketball is challenging for most. Luckily for Walker, if she doesn't quite understand something at practice; she just calls up mom, who has several years of experience coaching college basketball.
"Especially when I don't get something I can call my mom on the phone and say hey can you help me understand the movements and different things?" Walker said at Media Day.
She goes to Elzy first and foremost for advice, make no mistake. But having a reliable confidant to help build off what the head coach says is just another advantage.
Walker learning her role
Speed, toughness, and defense are her self-described three best attributes (and she's got a good-looking shot, too), which could lead to early playing time. Considering Kentucky has just one other true point guard on the roster in Jazmine Massengill, playing time for Jada Walker might come out of necessity. During Sunday's Blue-White Scrimmage, she was the second player off the bench.
But Walker isn't vying to see the court for 20-plus minutes during the season-opener. Right now, she's soaking in anything and everything that comes her way.
"Really just a learning role," Walker said at Media Day about how she expects to fit in. "I know Rhyne (Howard) is in her prime right now, so I'm really excited to just learn from her and playing with everyone else as a team. Coming in, bringing whatever the team needs, if it's points, if it's defense, steals."
Walker referenced former Wildcat Chasity Patterson, who is now playing professionally after two years in Lexington, as someone she's watched plenty of film on recently. Walker sees comparisons between the two, particularly when it comes to playing intense on-ball defense.
If Walker in year one can be even half of the defensive mind that Patterson was as a senior, she'll be on the right path. It'll take time though–she's still just a rookie.
Walker admitted she was nervous to speak in front of multiple cameras and strangers, but she gained confidence as the questions flowed in and her answers poured right back out. With the sole exhibition game on the schedule just 10 days away, there isn't much time to shake off any anxiousness.
"Those nerves have to go away," Walker said. "Because when I step on the court it's go-time. I just have to be prepared to do what I have to do to stay on the floor and help the team get a win."
Walker has yet to play a single minute of college basketball yet, but she'll be ready once that day arrives.