Five Kentucky Baseball Names You Need to Remember
[caption id="attachment_222866" align="alignnone" width="5613"]
Photo by UK Athletics
[/caption] The first pitch of the Kentucky baseball season will be thrown
today at 5:00 in Spartanburg, South Carolina
.  Two wins away from the College World Series in 2017, here are five players who could carry Kentucky to Omaha in Nick Mingione's second season at Kentucky.
Sean Hjelle
In 2017 the 6'11" right-handed pitcher became the first ever Wildcat to win SEC Pitcher of the Year.  The Cats' closer successfully moved into the starting rotation and brought home 11 wins, the fourth-most ever in a UK season.  The Preseason All-American will get the start tonight wearing this incredibly large size 17 shoe. [caption id="" align="alignnone" width="800"]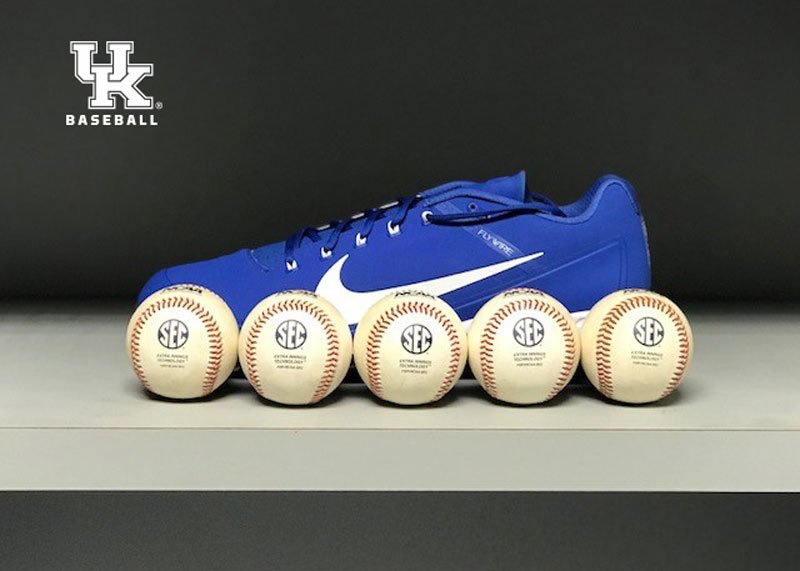 @UKBaseball
[/caption]
Justin Lewis
The 6'7" right-handed pitcher turned down a six-figure MLB signing bonus to return for one more year at Kentucky.  Lewis has a 3.19 ERA through two years, the sixth-best career ERA in school history.  Last year he was just six outs away from a perfect game. Hjelle, Lewis and lefty Zack Thompson create Kentucky's three-headed starting pitching monster that could be the best in all of college baseball.
Alex Rodriguez
[caption id="" align="alignnone" width="2000"]
One Shot | BACKGRID
[/caption] No, not that A-Rod.  Kentucky's A-Rod is a JUCO transfer that should make some noise in his first year at UK playing a variety of positions in the infield as a defensive specialist.  The season-opener is also A-Rod's Birthday.
Kole Cottam
A catcher who could also be asked to replace Evan White as UK's first baseman absolutely crushed the ball last year.  Cottam hit .319, slugged .505, hit 7 dingers and drove in 44 runs. Kentucky has a lot of guys who can hit the ball hard, but few are more clutch than Cottam.  In three Regional elimination games he went 5-for-11 with a double, triple, home run, four runs and six RBIs, including the go-ahead two-run double in the final game against N.C. State.  
He's poised for an excellent 2018 season
.
Tristan Pompey
If you watch just one Kentucky baseball game, Tristan Pompey will probably become your favorite player.  An elite athlete, he makes plays all over the outfield.  When it's his time to enter the batters box, he can do just about anything from either side of the plate.  He can bunt a single or blast a grand slam.  Pompey has rare athleticism and versatility, and that's why he's a preseason All-American. [mobile_ad]