Five of Mark Stoops' Best Monday Quotes, presented by Eckrich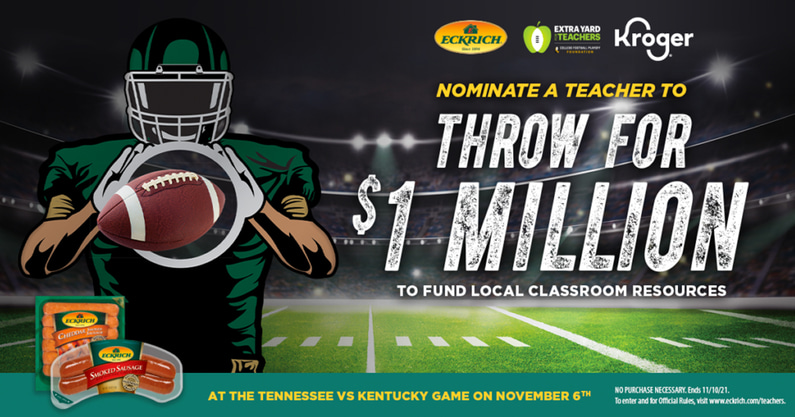 Before we get to Mark Stoops' Monday comments, a quick reminder from Eckrich about its million-dollar challenge for teachers.
Eckrich is proud to present the $1 Million Challenge for Teachers! This 2021 college football season Eckrich, in partnership with Extra Yard for Teachers and Kroger, will invite a local teacher (and true hero) onto the field at the Tennessee vs Kentucky game on November 6th.
These lucky teachers, randomly selected from a list of entries, will have a chance to throw a football through a target to win up to $1 million dollars in donations to fund local classroom projects. Nominate a teacher here for a chance to throw! Make sure to nominate your teacher by October 27th.
Thanks, Eckrich. Now where were we? Oh yeah. Stoops.
Earlier today Mark Stoops held his first Monday press conference in two weeks to catch everyone up on Kentucky Football after the bye week. He was clearly rested and recharged after the week away, and if there were ever a Swaggy Stoops, today was the day. He was cutting up with the media and very loose at the podium, showing more personality than we normally get out of him in these settings.
If you haven't already seen Monday's pre-Mississippi State press conference, these are five of his best quotes from the day. The full video of the conversation with Stoops is conveniently located at the bottom.
1. No candy breakdown, only Mike Leach can do that.
Kentucky's opposing coach this week, Mike Leach, went viral over the weekend for his interview following Mississippi State's win at Vanderbilt. Leach was asked about candy corn and he turned it into a minute-long rant about Halloween candy, as only he can.
Today, KSR's own Nick Roush asked Mark Stoops about his favorite candy and Stoops coach-spoke his way out of it, but ended it with a self-depricating joke.
"I knew that question was coming," Stoops replied, before passing on the opportunity to mimick Leach. "You can tell by me, I'll eat any candy," he added with a laugh.
2. "I'll let Mike Leach be Mike Leach."
Mike Leach came up again later in the press conference when Stoops was asked if he has any non-football tangents he'd like to go off on. Stoops declined.
"Nobody wants to listen to Mark Stoops try to be Mike Leach," he said. "Sorry, you get a boring press conference."
Stoops' press conference was not boring at all.
3. Josh Ali and Marquan McCall, so you're telling me there's a chance?
"We will see," Stoops said of potential returns for two of his injured starters. I feel like there's a chance, yes."
It's a big "we'll see" week on the injury report.
4. Cowbells are "a pretty good deal for them."
It's not Mississippi State week without a question about the cowbells. Stoops replied, "I definitely think they are a factor. I'm still lobbying for some deal here. Get that deal going and blow a bunch of air horns or something the whole game. It's a pretty good deal for them."
Air horns in Kroger Field? We're in.
5. On his name being mentioned for others jobs…
Stoops' press conference concluded with a question about other jobs. "I'm not getting into all that," he said. "I'd rather have it this way then saying you're trying to run me out of here."
Hear everything below.