Five Stages of Grief for the 2015 Cats
For the first time since 1996 I will not be watching college basketball's national championship. I just can't do it. The wound is still the fresh. The pain is still too real. Last night
Johnathan Miller mentioned
Kentucky fans working through the five stages of grief rather quickly but for myself, it is still a struggle to cope and reach acceptance. Join me as I try to collect my thoughts and find some closure on the 2015 Cats:
1. Denial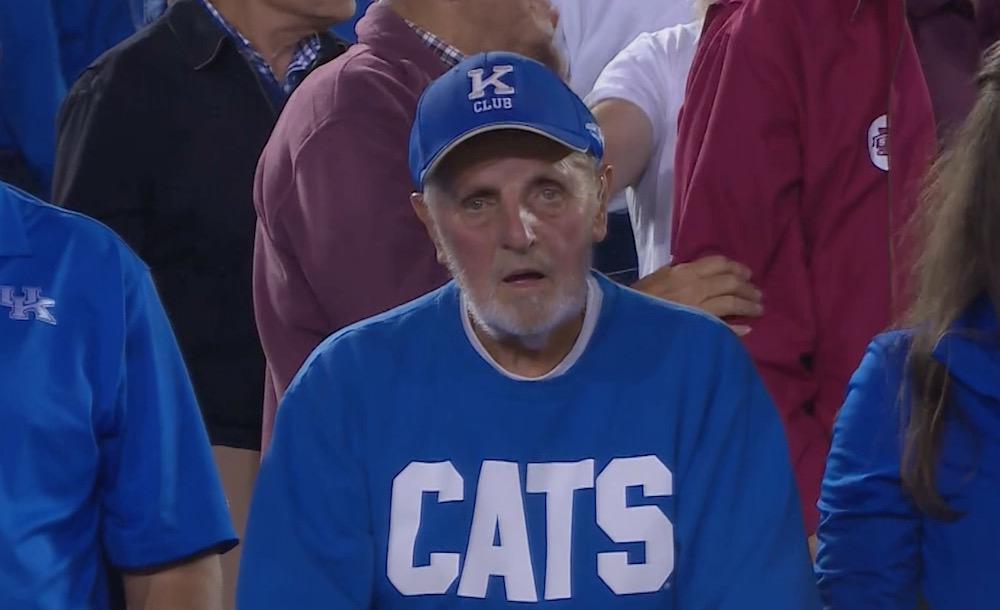 Yesterday, was spent in a complete state of shock. It couldn't really be all over, could it? We've all been watching this team since they debuted in the Big Blue Bahamas last
August and witnessed them grow into an absolute juggernaut
. Now this group will likely never assemble on a basketball court again. We all knew it would come to an end eventually but as the dreams of a ninth title were brought to an abrupt close malaiase swept over the big blue nation. Now what? NBA playoffs are still weeks away and baseball has so many games it's impossible to follow
. I guess I could go back an rewatch some DVR'd games of the historic run this team went on.
2. Anger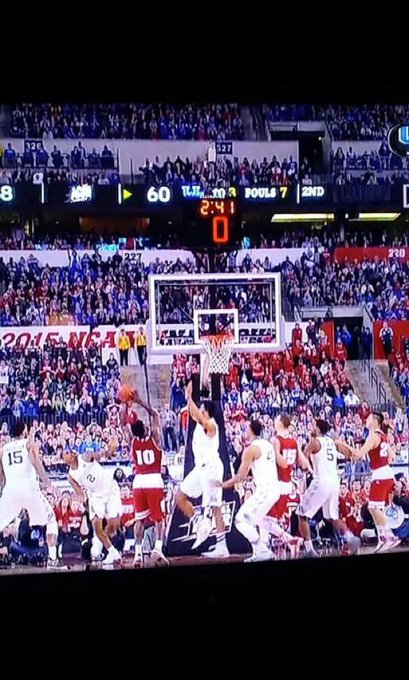 Why didn't the refs call the shot clock violation? Why didn't we stay aggressive with four minutes to go? Why didn't we keep playing zone against UConn last season?
Why couldn't John Wall make a three-pointer in the Carrier Dom
e? Why did Bogans have to roll his ankle in '03? Why did Anderson have to tear his ACL? Why didn't Pitino guard the inbouds? Why, why, why!? This should have been our championship!
The team deserved it
. They were a brotherhood on the court and class acts off of it. It just isn't fair that this team isn't cutting the nets down tonight.
3. Bargaining
"A Final Four is still a major accomplishment, right?"
Dean Smith: 11 Final Fours - 2 Championships. Rick Pitino & Roy Williams: 7 Final Fours - 2 Championships. Tom Izzo: 7 Final Fours - 1 Championship. Coach Cal: 6 Final Fours - 1 Championship.
Winning a title is a hard thing to d
o and we should take pride in the fact we were one of 3 elite level teams that made it in to the Final Four this year. Plus we completed an unbeaten regular season, posted an NCAA best record of 38-0, and beat several of our rivals along the way. Even if we didn't win it all this has been one amazing year.
4. Depression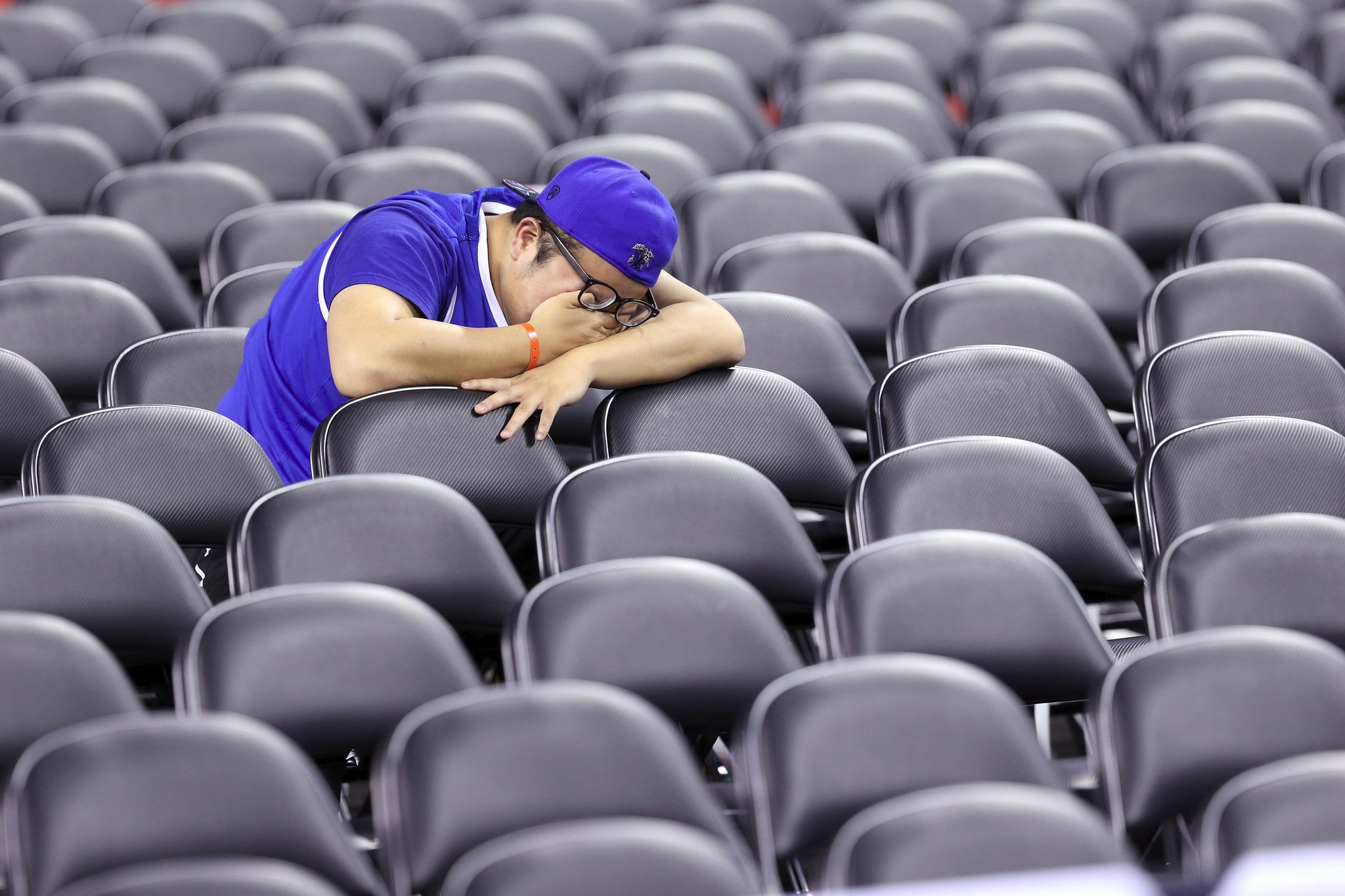 "I'll never watch college basketball again"
Will I ever be able to watch Kentucky basketball and not think of the 2015 Cats? Oh the 2018 Kentucky team beat Kansas by 9? I remember the team that broke the Jayhawk's will in the second half en route to a 72-40 stomping. Remember when we held a UCLA team that made the Sweet 16 to 7 points in the first half and then a week later beat the Cards on their home floor? This team was so beloved that it made the disappointing end even harder to take. Will I allow myself to pull for a team this hard and risk the heartbreak that comes with it? What's the point of even watching next years team because I know I'll never see a record like this again. I will never see another team like the 2015 Cats.
5. Acceptance
[caption id="" align="alignnone" width="431"]
We may take hits but we bounce back[/caption]
I may not personally be at this stage yet but I know that one day it will come.
The future is still insanely bright for Kentucky. Ulis, Poythress, and Lee are all likely to return to give Kentucky major talent to accompany Final Four experience. Isiah Briscoe, Charles Matthews, and Skal Labissiere highlight a stellar class that could add Brandon Ingram, Stephen Zimmerman and more. That doesn't even include the possibility of Booker, Lyles, or the Twins coming back. As long as Cal is in Lexington the good times are going to keep on rolling. Four Final Fours in five years has been an amazing ride and in the words of Coach Stoops "We're just getting started, bro". Kentucky basketball has been a force for the past 70 years and things aren't showing any signs of slowing down. We'll be back on that stage once again and the highs of that banner will erase this temporary low. Go Cats.