BREAKING: Ugonna Kingsley Onyenso commits to Kentucky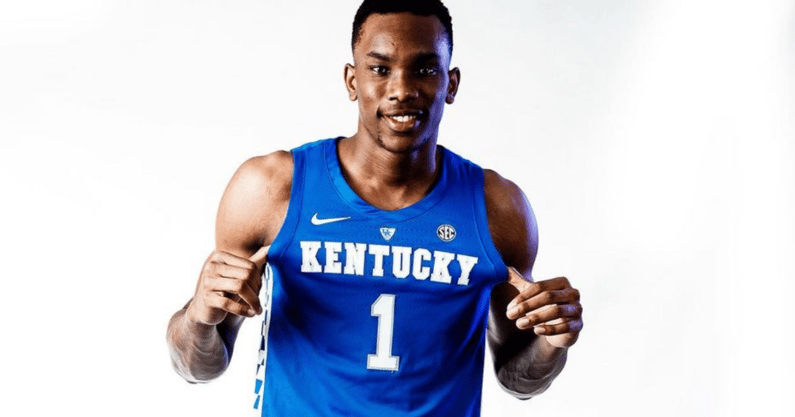 Five-star center Ugonna Kingsley Onyenso is a Wildcat, choosing Kentucky over Oklahoma, Oklahoma State and Tennessee on Monday. The 7-foot, 230-pound prospect out of Nigeria has also reclassified and will join the UK basketball team for the upcoming 2022-23 season.
Onyenso announced his future plans live from NBA Academy Africa in Senegal.
"My reason for choosing Kentucky is because I know I'd fit in their style of play, their positionless offense and how fast they play," Onyenso told On3. "I know I'd fit in their system of play because they play my kind of game."
By reclassifying to 2022, the five-star center joins fellow five-star prospects Cason Wallace and Chris Livingston, along with four-star guard Adou Thiero in Kentucky's recruiting class.
Onyenso is rated as the No. 18 overall prospect and No. 3 center in On3's player rankings for 2022. Though raw offensively, he's known as the best shot-blocker and overall defender in all of high school basketball with tremendous upside.
"What I do best is blocking shots and getting rebounds," Onyenso told KSR in June. "I know I'm the best defender in the country, I'm a great shot-blocker. … My game is mostly helping my team defensively. That's what I do best, playing good defense and protecting the rim. My offense is evolving — I know that for sure — but when I'm on my court, what I do best is help my team by playing great defense."
Growing up playing soccer in Nigeria, Onyenso didn't start playing basketball till he was 12 years old. Making his way to the United States and pushing to improve his game, he's used Milwaukee Bucks superstar Giannis Antetokounmpo as a role model for his own journey.
"Giannis, that's kind of my mentor. I study him," Onyenso told KSR. "We kind of have the same situation, him growing up and looking at myself, I can see the similarities. It's not even just about basketball, it's his life off the court, as well. I study that too. I see myself in his story."
Now, Onyenso's story will continue in Lexington.
At the time of his commitment, Kentucky had a 97.6 percent chance to land the Putnam Science Academy Standout, per the On3 Recruiting Prediction Machine. Though his finalists included Oklahoma, Oklahoma State and Tennessee, Onyenso previously received scholarship offers from Kansas, LSU, Texas Tech, Illinois, Ole Miss, Georgetown, Georgia, Providence and California, among others.
Onyenso joins the program he's had his eyes on from the very beginning.
"I've been wanting to go to Kentucky all my life, even before coming to the states," Onyenso told On3 in June. "I know it is a good program for athletes, a lot of their guys are pros. I know Oscar Tshiebwe is also from (Africa), it means a lot he has had great success there."
What will expectations be for the 7-footer in year one? Minimal. There was a clear understanding during the recruiting process that Onyenso would be brought along at his own pace, battling against other elite talent — namely Oscar Tshiebwe — in practice and working with Kentucky's strength and conditioning program to prepare for the 2023-24 season. The defense is there now, but he understands he needs time to develop on the other end of the floor. It's why he favored the Wildcats' pitch of patience and growth over immediate playing time at other schools.
Kentucky's goal is to help him turn that potential into production as a multi-year talent. Let Tshiebwe, Daimion Collins and Lance Ware anchor the center position with Onyenso on the bench in year one. Use him if necessary — or if he's simply too good to keep off the floor — but focus on getting him ready for next season.
While Onyenso will be joining the program this year, he will not be able to join the Wildcats on their upcoming trip to the Bahamas, sources tell KSR. Though it'd be a great opportunity to see him in action and build early chemistry with teammates, there are simply too many hurdles to clear in time before the trip. Instead, the focus is now on getting the 7-foot center on campus, enrolled in classes, and acclimated to life as a student-athlete.
The good news? Onyenso's academics are in order, with sources telling KSR that his reclassification comes with zero hiccups. He may not be able to join the team in the Bahamas, but it will be smooth sailing from there when the Wildcats return home and practice at the Joe Craft Center resumes.
A deep Kentucky basketball roster just got deeper.
Welcome to the family.