Five things to watch for in Kentucky's Blue-White Game on Friday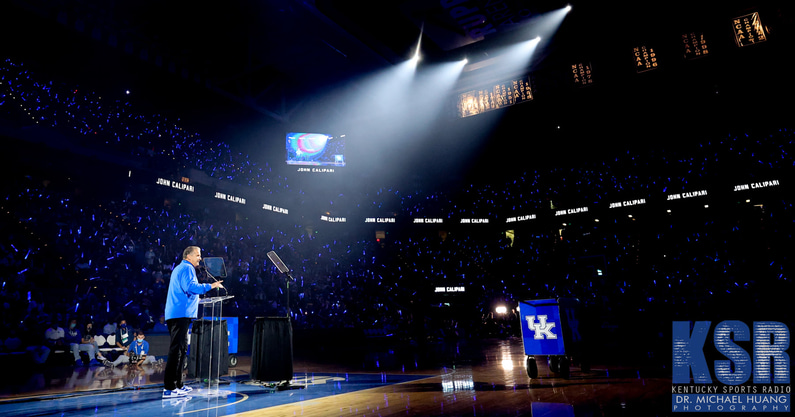 Big Blue Madness is all about entertainment, an introduction to Kentucky basketball season. It's a chance for fans to meet the players and hear from John Calipari for the first time.
Kentucky's annual Blue-White Game, though, is where the real fun begins. It's the first time fans get to see the team in a competitive setting and get a feel for early standouts and potential surprises. It's also the last preseason event of the season before exhibition games start and the regular season tips off in November.
So what should fans be watching for this evening? Here are some of KSR's early storylines to keep a close eye on as you follow along.
Who will be this year's surprise standout?
First it was Darnell Dodson in 2009 with 26 points, then Terrence Jones and Doron Lamb in 2011 with 52 and 31 points, respectively. Kyle Wiltjer dropped 28 points in 2012, with Ryan Harrow and Jon Hood also adding 20 and 17 points, respectively. Then you've got Derek Willis with 21 points and eight rebounds in 2013, Skal Labissiere with 18 points and 11 rebounds in 2015, Isaiah Briscoe with 39 points and 10 assists in 2016, EJ Montgomery with 21 points and eight rebounds in 2018, and Nate Sestina with 22 points in 2019.
Some of Kentucky's biggest stars have dominated in the Blue-White Game, certainly. John Wall had 25 points and 11 assists, Brandon Knight added 37 points, Anthony Davis finished with 27 points, 13 rebounds and four blocks, Karl-Anthony Towns had 20 points and 13 rebounds, and Tyler Herro went off for 34 points.
But make no mistake about it, this event has had some misleading box scores that shifted expectations for individual players going into the season. Some of the program's biggest stars have struggled, while some end-of-bench players have put up big numbers. It happens every year.
Who will put up strong numbers and live up to the hype? How many — if any — misleading performances will we see? Will any eventual stars struggle in their first live settings of the year?
Who will emerge between Sahvir Wheeler and TyTy Washington?
It will be out with the old and in with the new at the point guard position for Kentucky this season. UK signed five-star prospect TyTy Washington and added Georgia standout Sahvir Wheeler this offseason, with both set to battle for the lead guard position. If they fit well together — and they both believe they do — we'll likely see them on the floor at the same time. Wheeler is known as the better playmaker and facilitator, while Washington is the better shooter and scorer. There's room for both.
Will Calipari separate the two to see who emerges, or will he play them together to see how well they mesh in a live setting? Davion Mintz and Kellan Grady have spent time at point guard throughout their respective careers, so the UK head coach could toss them both on the opposing team to see who would best fit as the team's backup.
We've also seen Calipari work with a three-guard lineup — Ashton Hagans, Tyrese Maxey and Immanuel Quickley being the most recent example in 2019-20 — so whoever emerges as that third option could end up starting alongside Wheeler and Washington to open the season.
Calipari has made it clear that he's confident in this group of guards across the board, but all eyes are on the lead guard position going into the Blue-White Game. Point guard was a clear position of weakness in 2020-21, and the program is leaning on Wheeler and Washington to be plug-and-play fixes in 2021-22.
Oscar Tshiebwe takes over the center spot
John Calipari said Oscar Tshiebwe has set a goal of averaging 20 rebounds per game this season. His teammates say they leave practice with bruises due to his physicality. The 6-foot-9, 255-pound center is a monster among men, and for the first time this season, Kentucky fans get to watch him in a live setting.
20 rebounds per game sounds like a lot for the regular season — he's averaged 8.9 per contest in two years at West Virginia — but is it unrealistic to think he could reach that number this evening? For comparison's sake, Josh Harrellson hauled in 26 rebounds in the Blue-White Game back in 2010. Terrence Jones (16), Nick Richards (16), Dakari Johnson (14) and Karl-Anthony Towns (13) all finished with ridiculous rebound totals, as well.
Tshiebwe is set to anchor the center position for a Kentucky team loaded with 3-point shooters. Offensive rebounds and clean-up buckets will be there for the taking, making him an instant double-double threat in Lexington.
Given the setting, it'd be a shock for Tshiebwe to miss the double-digit rebound mark this evening. 20 boards may even be a realistic goal.
Is the Bryce Hopkins hype justified?
Enough talking, it's time to see what Bryce Hopkins can do.
Whispers of Hopkins standing out in workouts began this summer and grew louder as preseason practices ramped up in the fall. Tasked with transforming his body upon arrival, the freshman forward slimmed down and added muscle. His athleticism, speed and endurance improved while building on his strongest asset as a player, skill.
The coaches have raved about him and his teammates swear up and down that he's going to be an instant impact player. Now, it's time for the general public to see what all the fuss is about.
Hopkins came in as a consensus four-star prospect, but he has clearly outplayed his ranking behind the scenes in practice. How will that translate to live game action? We'll see if the hype is justified starting tonight.
Will CJ Fredrick get some run?
We saw what he could do as a Hawkeye, shooting nearly 50 percent from three in two years at Iowa. We've seen him in limited settings as a Wildcat, too, winning Kentucky's 3-point contest at Big Blue Madness last week and participating in non-contact drills at Pro Day and open practice.
To this point, though, we've not seen CJ Fredrick in a live setting in Lexington.
When asked about his return from injury — he underwent leg surgery back in July — Fredrick told reporters that his biggest priority is to be back to "100 percent" for Kentucky's season-opener against Duke on November 9. After returning to live practice this week, though, he didn't rule out playing a few minutes in the Blue-White Game on Friday.
"I think that's going to be a conversation with the trainer and me, depending on how sore I am the next couple of days," Fredrick said Wednesday. "I'm going to continue to ramp up. If I feel good, I'll probably go out there for a little bit and play. If I'm still sore and need more time to rehab, I'll take it off."
It's been a couple of days and the Blue-White Game is finally here. Will Fredrick take the floor or will the wait continue?
---
Kentucky's Blue-White Game will tip off at 7 p.m. ET at Rupp Arena. The event will also be televised live on SEC Network, with Tom Leach and Mike Pratt calling the action on the radio on the UK Sports Network.