Florida defeats No. 2 Tennessee before Kentucky matchup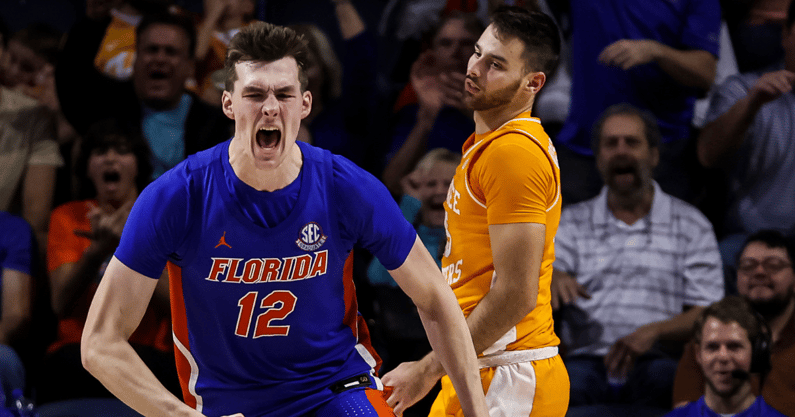 Just looking at their record, it'd be easy to overlook the Florida Gators. Sitting at 13-9 with losses to Florida Atlantic, Xavier, West Virginia, UConn, Oklahoma and Kansas State in the non-conference, then Auburn and Texas A&M (2) in the SEC — a very meh resume that included just one ranked win vs. No. 20 Missouri on Jan. 14.
Then came Wednesday, where the Gators hosted No. 2 Tennessee in Gainesville and sent the Volunteers home with a statement 67-54 victory.
Down six midway through the second half, Florida stormed back against the nation's top-ranked defense with a 17-2 run and 29-10 overall. The Gators held the Volunteers to just one field goal in their last 10 attempts, with no buckets in the final 2:34 of action. UT would end up shooting just 27.9% from the field 19-68) and 20% from three (5-25) while UF finished 43.8% from the field (21-48) and 35% from three (7-20).
Individually, senior forward Colin Castleton scored a game-high 20 points — 16 in the second half — to go with nine rebounds and three assists. Fifth-year point guard Kyle Lofton added 14 points, four assists and four rebounds.
"This was a desperation game. We have a tough schedule with this little stretch we have here, and we've got to win some games. We all know that, everybody knows that," Castleton said after the win. "Just having that grit, that toughness, coming down with rebounds, going for loose balls — which we didn't [earlier] in the second half when they were getting on their run — but we were able to just claw, and fight and we came out on top."
With the win, Florida moved up to No. 41 in the NET, just outside Quad 1 status for Kentucky when the Gators come to Lexington on Saturday. The Wildcats sit at No. 35 overall.
"I think it's affirmation that we can beat anybody when we play to our capabilities," coach Todd Golden said. "Obviously, we played very well tonight and that'd be a high standard to hold us to on a nightly basis, but now we've shown the capacity to do it. The belief stems from that. It's not about potential anymore. We proved we can beat one of the top teams in the country."
The Gators average 71.5 points per game and allow just 64.5, with teams shooting just 39.1% from the field overall (No. 11) and 30.4% from three (No. 41). Not great offensively (No. 144 overall), but they've got the No. 8 defense in all of college basketball, per KenPom.
Looking for his first statement win as the team's head coach, Golden got it in the form of a double-digit victory over the Volunteers.
"It was just an awesome night for us and our program and for our guys," he added. "I'm really happy for them that they get to enjoy this."
One of the toughest schedules in the nation, they've got another test coming against the Wildcats on Saturday, with tip-off scheduled for 8:30 p.m. ET on ESPN.