Flyin' To Hoop In Dayton; Brandon Knight & Coach Cal; Notes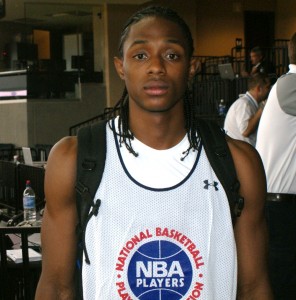 As you guys know, I like to work out the schedule of big events for you guys so that you get to see the optimum amount of UK targets, don't miss any UK games and know everything you need to know to get there. This time, when I was working through
the Flyin' to the Hoop event in Dayton, OH
,  I stumbled upon something that you might be even more interested in. By working out the schedule and knowing for sure that there is no way that Cal would allow Brandon Knight to play right in his back yard and not make an appearance, I'm pretty much willing to put my KSR paycheck on the line (which transfers to about 0.00001 Euro) in saying that
if you follow my schedule, you'll be able to see Coach Calipari and his staff up close and personal
. Here's how I know: UK plays AT Auburn during Brandon's first game on Saturday at 4:45pm, which leaves
their only opportunity to see Mr. Knight play on Monday at 1:15.
Plus its MLK day so I know you're off and have no excuse for missing this opportunity. Go see Brandon Knight and the entire UK staff on Monday. Here's the
games that UK fans won't want to miss
and all the info you need on attending:
Saturday
4:45 pm Princeton (OH) vs Pine Crest (FL) - Brandon Knight/Pine Crest
8:15 pm Findlay Prep (NV) vs Cleveland Benedictine (OH) - Nick Johnson and Winston Shepard/Findlay Prep
Sunday
1:15 pm Huntington Prep (WV) vs Kettering Alter (OH) - Justin Coleman/Huntington Prep
8:15 pm Whitney Young (IL) vs Dunbar (OH) - Sam Thompson/Whitney Young
Monday
1:15 pm Pine Crest (FL) vs Jefferson (OH) - Brandon Knight/Pine Crest
- The NCAA has passed a rule that prohibits the hiring of those associated with a recruit for a two year period before or after the player enrolls at the school. Not sure if this will have any retroactive effect on the Marquis Teague situation (I'm assuming it won't) but two things do come to mind: (1) There'll be issues with skirting the definition of "associated" with a player and (2) There still seems to be no rule against hiring them for basketball camps or getting them jobs at other schools. Still though, its probably a good step toward "cleaning up" that part of the game...if you really cared about that.
- 2K Sports sat down with recent Maryland decommit Terrence Ross, who is a very big target for UK.
- Michael Gilchrist is better and will be ready to play for St. Patrick's matchup with Findlay Prep on Monday at the Hoophall Classic in Springfield, Mass.
- The St. Patrick's game against Findlay Prep on Monday and Saturday's matchup between Doron Lamb's Oak Hill team and Jared Sullinger's Northland team will both be aired on the ESPN family of networks.