Folly Beach's Monday Morning Wakeup
Mondays are Mondays, but this one is especially rough for this blogger. Not only are we all coming to terms with another demoralizing football loss, I'm coming off one of the better weeks of vacation I can remember. My husband and I packed the car up with our dog Gatsby and took off for the Low Country of Charleston and Folly Beach for a week. It was our first trip to the area, and we were pleasantly surprised by the amazing food, sights, and unbelievable weather. We ate, drank, swam, and paddle boarded our way through the week, only to arrive back in Nashville Saturday afternoon just in time to witness an emotionally draining loss to Florida. The loss itself wasn't surprising -- after choking vs. Southern Miss, not many of us expected anything different -- but the manner in which it went down truly bothered me. I've seen a lot of bad losses to Florida in my life, but seeing Mark Stoops and his team look totally out of sorts was disturbing. Florida may be bigger and better, but in year four of a rebuilding effort, that's no excuse for the pitiful performance Kentucky turned in. Even in the darkest of days, I can manage to come up with a silver lining, but I can't think of a single thing the Cats did well on Saturday. We've all gotten used to empty promises from Kentucky Football before, but given the money and effort put in to the program in recent years, something's gotta give. With that in mind, let's go over today's agenda...
Mark Stoops will address the media at noon
Stoops was at a loss for words after Kentucky's 45-7 loss in the Swamp. After a day and a half of reflection, will he have anything more to say? I somehow doubt it, but tune in at noon to find out. We'll have a live stream on the site, and a recap from our trusty football writers. The new depth chart will also be released around 11 a.m.
Kentucky opened as a 19-point favorite over New Mexico State
Before you say, "Too high," New Mexico State is ranked #121 out of the 128 teams in the FBS. Still too high? After the past few weeks, I can't really argue with you.
The real question: How many fans will go to the game?
According to our very unscientific poll on KSR last night, 43% of you think the attendance will be 25,000 or less on Saturday, a depressing but telling prediction. It's worth noting that Saturday is Heroes's Day at Commonwealth, so all active, reserve and veteran members of the armed forces along with police, firefighters and first responders can receive two complimentary tickets. That may boost numbers, but man, something tells me the turnout will still be very, very low. Enough of that sadness...
Hey! Things are happening in basketball recruiting!
John Calipari was a busy man this weekend, visiting Mohamed Bamba, Kevin Knox, John Petty, Trae Young, and PJ Washington during the first days of the fall recruiting period. Tony Barbee also checked in on Hamidou Diallo. Knox narrowed his list to five after the visit: Kentucky, Duke, Florida State, Kansas, and North Carolina. Young, Calipari's most coveted recruit in the class, raved about the visit Saturday evening, tweeting that it went "great" and he's "really looking forward" to coming to Lexington soon. He will take his official visit to UK in mid-October for Big Blue Madness, but has hinted he might take an unofficial visit to Lexington before then to spend some time with the coaching staff.
Avery Williamson wore his 9-11 tribute cleats
[caption id="" align="alignnone" width="430"]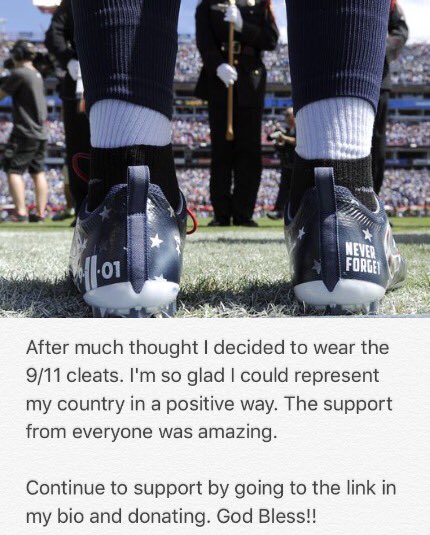 @AWilliamson54
[/caption] If you haven't been following this story, Williamson teamed up with True Blue Customs in Lexington to design a pair of September 11 tribute cleats, but the NFL threatened to fine him for wearing them because it's a uniform violation. Because that is yet another moronic move by the NFL, Avery wore them anyways. Several New York and New Jersey police associations have offered to pay Avery's fine from the NFL, and he plans to auction the cleats off for Operation Warrior Wishes. (For more information on the auction,
click here
.) Good on ya, Avery.
KSR in an hour
If you haven't read Matt's piece from last night about Mark Stoops and Mitch Barnhart, I suggest you do so. Something tells me it may come up.