Former Kentucky DT Abule Abadi-Fitzgerald among latest WWE recruits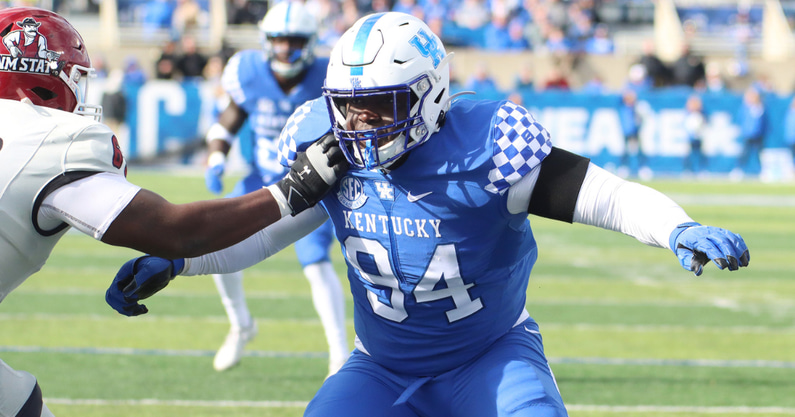 From the gridiron to the ring, Abule Abadi-Fitzgerald continues to make a career out of his 6-foot-6 frame.
On Tuesday, it was announced that Abadi-Fitzgerald, who was a defensive tackle at Kentucky from 2017-21, has joined the WWE as one of the organization's newest incoming recruits. The Nigerian native first began his journey as a professional wrestler earlier this year and will now have a chance to perform in a WWE ring down the road.
Coming out of high school as a consensus three-star recruit from Victory Christian Academy's (FL) class of 2017, Abadi-Fitzgerald redshirted his freshman season at Kentucky before being elevated to a practice player in 2018. During his redshirt sophomore season in 2019, he began to see the field for the Wildcats, totaling four tackles in four games. He made one appearance in 2020 before having his best college season as a redshirt senior in 2021. Abadi-Fitzgerald registered 13 total tackles, including 2.5 sacks, in addition to one forced fumble this past season.
Not far removed from his final game in a Kentucky uniform, Abadi-Fitzgerald had moments this spring where he wondered what the next step would be. He discovered that the WWE might just be his next calling.
"God's given me a chance to be successful," he told KSR back in March. "I want good things to happen and it's happened. When you trust in God he does crazy things for you unexpectedly. It's almost always in the midst when you feel like things aren't going your way or you're very confused on what you're going to do or where you're going to end up.
"That's where I am right now. I was like where am I going to be? What am I going to do? You have a little anxiety, worrying, worrying, worrying, then the other day, I chose God and he leads the way. He always surprises me and brings out something good in the worst situations. Thank God for that."
After idolizing the likes of Triple H and John Cena during his younger days in Nigeria, Abadi-Fitzgerald is now one step closer to making his dreams a reality.