Former Kentucky guard Jemarl Baker enters transfer portal (again)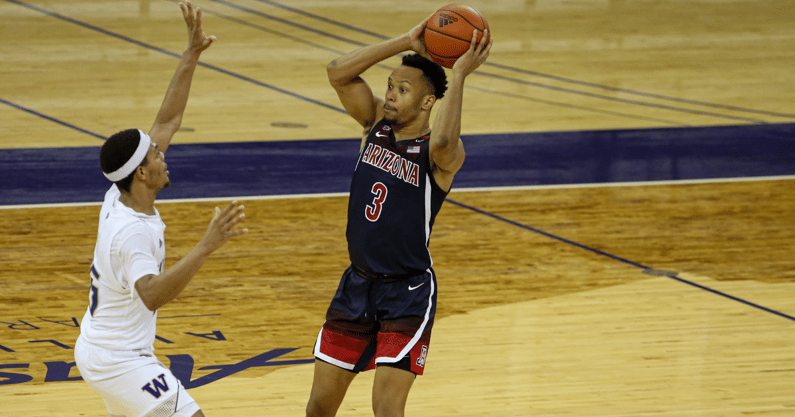 Remember Jemarl Baker? Yes, the same Jemarl Baker who signed with Kentucky out of high school in 2017 and is set to turn 25 years old in June? Who has played for three different colleges across six years?
He's back in the portal searching for his fourth home to close out his seventh and final season of college basketball as a graduate transfer. No seriously, the 6-foot-5 guard is still playing. I swear.
Baker started at Kentucky in 2017-18, missing the entirety of his first season after suffering a torn meniscus. He then missed time as a redshirt freshman, playing 28 games in year two for the Wildcats, averaging 2.3 points in 9.1 minutes per game.
Baker then entered the transfer portal at the conclusion of the 2018-19 season, ultimately taking his talents to Arizona for his second stop. There, he averaged 5.7 points, 2.3 rebounds and 2.3 assists in 19.3 minutes per game as a redshirt sophomore while dealing with lingering hip issues, shooting 34.3 percent from three and 82.6 percent from the line. As a redshirt junior in 2020-21, Baker averaged 12.0 points, 2.8 rebounds and 1.8 assists in 12 games before missing the remainder of the year with a broken wrist.
The Menifee, CA native hit the portal for a second time that offseason and decided to head home, transferring to Fresno State. He played just five games with two starts in 2021-22, averaging 8.6 points, 3.6 rebounds, 2.0 assists per game before suffering a season-ending knee injury. Then he played in 28 games as a sixth-year senior, averaging 12.5 points on 39.2% shooting and 32.7% from three while adding 3.0 rebounds and 2.9 assists in a career-high 31.8 minutes per contest.
Six injury-filled years later, Baker is back in the portal in search of his fourth and final home as a seventh-year graduate senior.
Discuss This Article
Comments have moved.
Join the conversation and talk about this article and all things Kentucky Sports in the new KSR Message Board.
KSBoard