Former Trinity linebacker Stephen Herron announces transfer from Stanford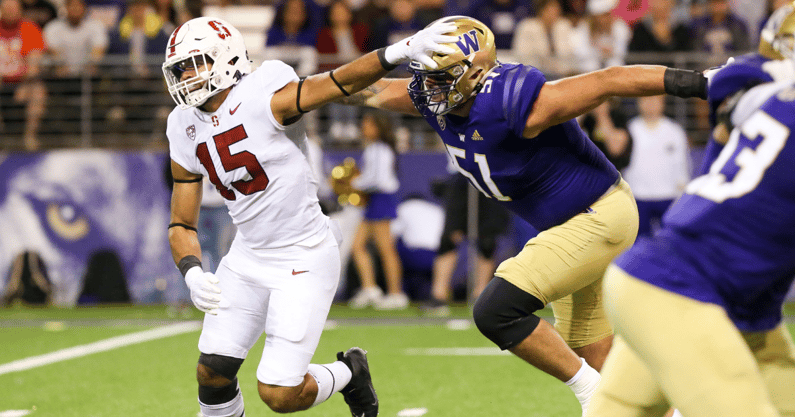 Stephen Herron, who starred at Louisville (Ky.) Trinity during his high school days before a four-year career at Stanford, has announced that he will put his name in the transfer portal.
Herron, who played all 12 games for Stanford as a senior in 2022, broke the news on social media Wednesday night. The 6-foot-3, 235-pound linebacker will enter the portal on Monday, Dec. 5 as a graduate transfer and will have two years of eligibility left. Herron was considered a four-star recruit and top 150 prospect in the 2019 class out of Trinity under head coach Bob Beatty.
Why is this notable? Because Kentucky was one of the first schools to recruit Herron when he was still under the radar at Trinity. He took multiple visits to Lexington throughout his process and formed a connection with the late John Schlarman, who was the Wildcats' offensive line coach at the time.
Herron's recruitment eventually blew up in the summer of 2016 when an offer from Ohio State came in. He was later extended scholarships by the likes of Oregon, Michigan, Georgia, Alabama, and Texas, among others, before eventually landing with Michigan in July 2017. Herron remained committed to the Wolverines for nearly a full calendar year before flipping to the Stanford Cardinal in July 2018 and signing with the program that winter.
During his tenure at Stanford, Herron played just three games as a freshman in 2019 (retaining his year of eligibility) before stepping into a larger role as a sophomore in 2020, playing six games and starting two. He then appeared in eight games as a junior in 2021, including four starts, leading the Cardinal in sacks that season with 3.0.
This year as a senior is when Herron developed into an impact player. He totaled 37 tackles during the 2022 regular season, 18 of them solo with 5.5 sacks and two forced fumbles. However, Stanford never won more than four games in a season since Herron arrived in 2019. Cardinal head coach David Shaw resigned from his position on Nov. 27, hours after his team's final game of the season, and now Herron is looking for a change in scenery too.