Former UK Teammates Derek Willis, Dakari Johnson Face-Off in Summer League
[caption id="" align="alignnone" width="560"]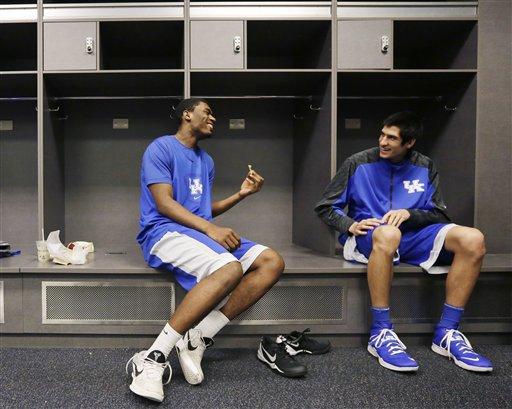 Eric Gay | AP
[/caption] The last time Derek Willis and Dakari Johnson officially shared the same court, it was on college basketball's biggest stage.  This afternoon in Orlando the two tried to woo NBA executives in the Summer League. Willis' Pistons blew a big late lead to fall to Johnson's Thunder 92-91.  Reliant on others to set him up for open outside shots, Willis still found a way to be active.  In one short stretch he had a rebound, a steal that led to free throws, an assist, then another rebound.  The steal almost resulted in a poster to end all posters.
Derek Willis ain't scared. He goes hard to the rim but takes a lick. pic.twitter.com/uS5mYJ653H

– Nick Roush (@RoushKSR) July 1, 2017
Willis finished with 2 points (o-for-1 from behind the three-point line), 2 rebounds, 2 steals & 1 assist in ten minutes of action. Wearing the OKC blue, Dakari Johnson was dominant inside.  
The former UK center had an 18-point, 10-rebound double-double
.  These are the type of plays Kentucky fans have seen before.
Dakari Johnson is a Grown Ass Man pic.twitter.com/Z04VmGI0uc

– Nick Roush (@RoushKSR) July 1, 2017
Dakari doing what Dakari does best: offensive board to the right-hand hook. pic.twitter.com/imFEE3oOsn

– Nick Roush (@RoushKSR) July 1, 2017
That's not the type of play that's kept Dakari in the D-League.  Johnson needs to prove that he can be consistently active in the post and run the floor.  He did just that today.
BEAUTIFUL two man game ends with a soft left-handed finish from Dakari pic.twitter.com/eRMGeORpTJ

– Nick Roush (@RoushKSR) July 1, 2017
Contrary to popular belief, Dakari Johnson CAN run the floor pic.twitter.com/pCa95PFoPO

– Nick Roush (@RoushKSR) July 1, 2017