Former UK Volleyball star Madison Lilley is coming home to join the coaching staff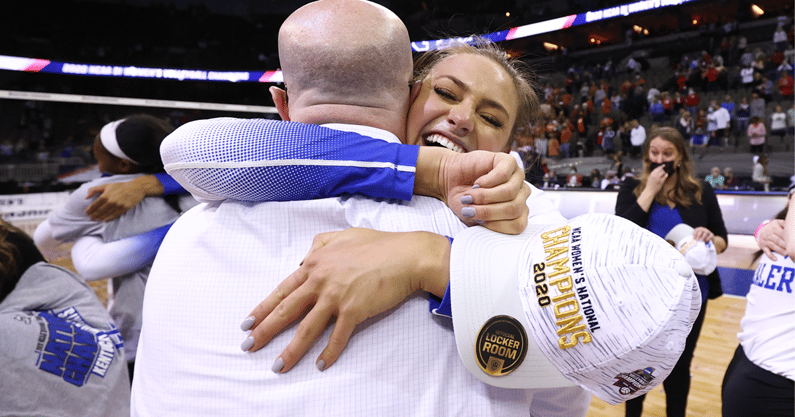 Kentucky Volleyball added a familiar face to its coaching staff by adding a new assistant from the program's recent and very successful past.
Madison Lilley, the 2020-21 National Player of the Year, will return to Lexington as a full-time assistant on head coach Craig Skinner's coaching staff. Lilley will become the third full-time assistant coach effective July 1, 2023, per UK Athletics' announcement.
As a player, Lilley helped Skinner's Kentucky Wildcats win the school's first-ever national championship in April 2021. Her many individual accomplishments, including the NPOY award and four All-American seasons, make her the most accomplished volleyball player ever to represent the University of Kentucky. She was also the SEC's first Female Athlete of the Year from volleyball, the same year UK won the SEC's first national championship.
"We are pumped to have Madison join our staff," Craig Skinner said of the hire in a statement through UK. "Her career as an All-American, national champion, and years playing professional volleyball will be a huge asset to our program and players.
"Talking to her during the process, she expressed how playing pro really helped her understand the value of coaching and the type of impact you can have on people in that role. Having another alumna back in the program also means a great deal to me and we are all excited to get to work this summer."
Kentucky Volleyball's 2023 schedule
Earlier this month, Kentucky released its entire 2023 schedule, featuring ten appearances in Rupp Arena while Memorial Coliseum undergoes much-needed renovations.
2023 Kentucky Volleyball Schedule
Aug. 25 (F) – vs. Colorado State
Aug. 26 (Sa) – @ Northern Colorado
Sept. 1 (F) – PITTSBURGH
Sept. 3 (Su) – @ Pittsburgh
Sept. 8 (F) – vs. Houston
Sept. 9 (Sa) – SMU/Purdue
Sept. 13 (W) – @ Louisville [KFC Yum! Center]
Sept. 17 (Su) – @ Nebraska
Sept. 22 (F) – LSU
Sept. 24 (Su) – TENNESSEE
Sept. 29 (F) – @ Georgia
Oct. 1 (Su) – @ Alabama
Oct. 6 (F) – @ Missouri
Oct. 8 (Su) – OLE MISS
Oct. 15 (Su) – @ Tennessee
Oct. 20 (F) – MISSISSIPPI STATE
Oct. 22 (Su) – ARKANSAS
Oct. 27 (F) – @ LSU
Nov. 3 (F) – @ South Carolina
Nov. 5 (Su) – @ Florida
Nov. 8 (W) – @ Auburn
Nov. 12 (Su) – GEORGIA
Nov. 16 (Th) – TEXAS A&M
Nov. 19 (Su) – MISSOURI
Nov. 22 (W) – @ Arkansas
Nov. 25 (Sa) – FLORIDA