Former Wildcat Dre'Una Edwards says Kyra Elzy is preventing her from playing at Baylor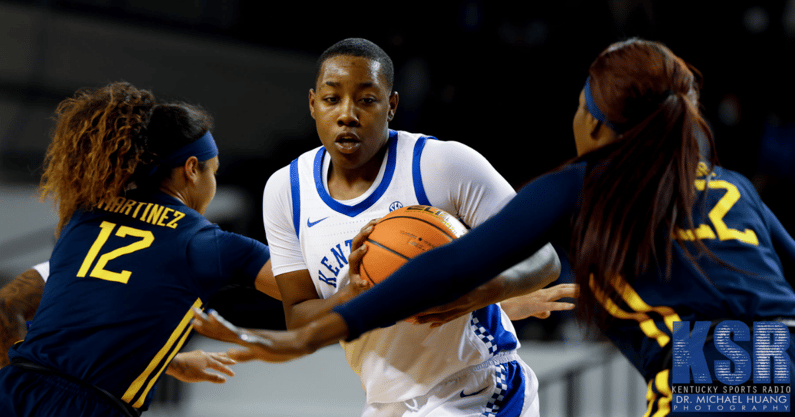 Dre'Una Edwards was the Kentucky women's basketball program's hero last March, drilling a game-winning 3-pointer vs. South Carolina in the 2022 SEC Tournament title game to win the school's first conference championship since 1982.
Fast forward 10 months, and the 6-foot-2 forward is now in an active battle against her former program, claiming head coach Kyra Elzy is the reason she is not yet eligible to play at Baylor.
Edwards entered her name into the transfer portal on March 25 and committed to the Bears a month later on April 27. 14 games into the 2022-23 season, though, she has not yet been cleared to play for her new school. She claims Elzy did not sign off on a final waiver that would grant her immediate eligibility to compete her senior season.
"I know there have been a lot of questions about my eligibility and why I am not playing, and I want to give an explanation why," Edwards wrote in an official statement. "First off, I left Kentucky because I personally decided that I needed a new start. I gave all that I had to Kentucky and wore the uniform with pride. But I wanted a change because I knew a change would be great for me.
"Entering the portal, I knew that I would not be eligible right away because this is my second transfer. The NCAA has other rules in place that could help me see the floor this year with Baylor if I met the requirements and Kentucky would allow me to play. My first requirement was to make sure I was eligible academically by making sure I am continuing progress towards my degree. I didn't qualify as a grad transfer, but I have been working extremely hard in the classroom and I was able to rally 33 credit hours in the last six months, ending the fall semester with a 3.6 GPA and a spot on the Big 12 All-Academic Team. …
"The next and final step is for Kentucky and head women's basketball coach Kyra Elzy to sign off on a final waiver. I was hopeful Kentucky would sign off to let me compete this season, as they have told me before that they hope nothing but the best for me. But instead, they will not sign the waiver. With that being said, this is where I stand now in hopes that they change their mind."
Edwards spent three years at Kentucky and played two, averaging 9.7 points and 6.1 rebounds in 2020-21 before emerging as one of the top players in the SEC in 2021-22, averaging 16.8 points, 8.4 rebounds, 1.1 steals and 1.0 blocks in 29.0 minutes per contest.
Her time in Lexington came after a standout freshman season at Utah, where she was named the Pac-12 Freshman of the Year before transferring to Kentucky.
In response to Edwards' public statement, UK Athletics released a statement of its own, claiming Baylor presented a waiver that didn't accurately describe how things unfolded with the standout forward in Lexington.
"We were asked by Baylor to sign an NCAA No Participation Opportunity form, certifying that Dre'una Edwards would not have had an opportunity to participate if she had stayed at Kentucky," UK Athletics told KSR's Grant Grubbs. "That would not have been correct; Dre'una would have had the opportunity to participate if she had stayed. Dre'una transferred with the understanding that she would have to sit out unless she graduated, which she did not do."
Baylor's academic policies state a minimum of 60 semester hours must be earned in residence — i.e. on campus — and upper division courses must also be taken in residence as a senior, thus making the graduate transfer route nearly impossible.
The Next, who also spoke with Edwards on the matter, reports that signing off on No Participation Opportunity forms is "typically a formality," adding that coaches understand they "may someday need the same courtesy" when trying to add players through the transfer portal.
"Honestly, I wasn't expecting that this will be the reason why I'm sitting out," Edwards told The Next. "I would think it was the academic waiver that would have paused my eligibility. … It definitely does feel unfair. But you know, just saying, life isn't fair a lot of times, so that's how I've got to look at things at times. Even though it does hurt my feelings that I feel like I played my heart out [for Kentucky]."
She acknowledges she "made mistakes" at Kentucky: "I'm not downplaying any of that." Edwards does, however, feel she's grown as a person since her time in Lexington and believes the way she "(played her) heart out for them" should impact the school's decision, hopefully in her favor.
"I would just ask [Elzy]: What's the reason?" Edwards told The Next. "And why is she doing this? What does she feel like she's getting out of this? I say that would be my question."
Baylor head coach Nicki Collen said Thursday that the school knew Edwards' immediate eligibility was not guaranteed when they signed her this past offseason. They talked about worst-case scenarios as it relates to academics, understanding that transferring credits at Baylor gets complicated and that path would be unlikely no matter what her grades were.
She feels, though, Edwards' efforts in the classroom and behind the scenes as a teammate should be applauded and potentially rewarded.
"When I think about everything she's done, I'd love to see her be rewarded because she's a kid who loves the game," Collen said. "She doesn't cheat the game. It's not in my hands and it's never been in my hands. She's done what she can do, but I'd love to be able to see her play."
Not a great look.
Discuss This Article
Comments have moved.
Join the conversation and talk about this article and all things Kentucky Sports in the new KSR Message Board.
KSBoard