Four reasons Kentucky is favorite to repeat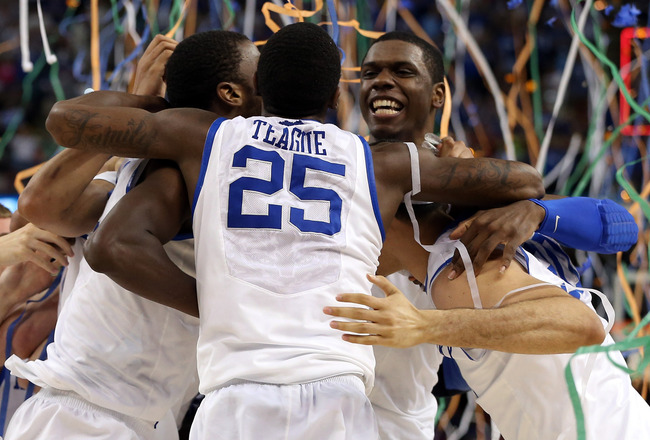 (Getty Images/Jeff Gross)
The Bleacher Report is great, and it's been even better reading this season with the success Kentucky had on the court. Articles are constantly making the site headers about the Wildcats and Calipari, and Eric Vincent wrote an article today detailing
four reasons Kentucky will be favorites to repeat as Champs
.
1. Recruits
It's pretty obvious this one, but Calipari goes after the best of the best. And more often than not, he gets his guys and builds championship teams around kids fresh out of high school.
Any doubts still circling around the heads of rival fans or green-eyed competitors about Calipari's formula have been crushed
. You can win with one-and-done's. In fact, you can win 38 games with one-and-done's. You can be one of the best offensive
and
defensive teams in the nation with one-and-done's. And you can be a favorite to win back-to-back titles with one-and-done's.
Kentucky will lose Anthony Davis, Terrence Jones, Michael Kidd-Gilchrist, and other stars to the NBA next season. Even after all their achievements, the Wildcats already have a promising group of recruits capable of duplicating last season's success. Archie Goodwin, Alex Poythress, Will Cauley and  Nerlens Noel are four of the top 40 rated prospects on Rivals.com, and all have committed to playing for Kentucky next season.
There isn't another coach in the country that can do what John Calipari can: Be the best recruiter imaginable, be a coach players love to play for, build a winning game plan, and basically start from scratch every 12 months. It is incredible what he has done at Kentucky so far, and the fact he loves what he does so much is the reason it's so fun for us fans.
2. Calipari finally got his first
It may have been understated in the media — but the fact John Calipari was without a title to his name was his one real drawback from his Hall of Fame r
é
sum
é
.
Now that weight has been lifted and any pressure of living up to his predecessors at Kentucky has vanished. It's time to just go out and coach.
It's not a guarantee that he and the Wildcats will return to the promise land, but the path to a successful career gets a bit easier after lifting that monkey off your back. As the defending champs, Kentucky will get everyone's best shot next season. Champions always earn a target on their back the following year, and teams look to make an example out of them. However, after finally winning that first title, Calipari is able to stop wondering about when the first will come and can now just coach his team.
It may sound trivial, but you only need to look at how giddy Calipari was hoisting the trophy. True, any college coach will be ecstatic winning it all — the pinnacle of the entire college basketball season — but I, along with many of my colleagues, have never see Calipari that happy.
He looked like he wanted to jump from here to the moon after stepping off the team bus in Rupp Arena during the victory celebration
. Calipari wanted that title to his name, and now he's got it.
3. Weak SEC
The SEC was down a season ago, while prospects were fairly high. Florida looked dominate, Vanderbilt was seasoned, Mississippi State was loaded with talent. And of course, Kentucky was Kentucky. But all-in-all the conference did not live up to even modest expectations. Looking ahed, it seems likely we'll see more of the same.
Outside of Kentucky, the Southeastern Conference is likely to lose lots of its star players to the NBA (Bradley Beal, Arnett Moultrie, Jeffery Taylor, John Jenkins). These were some of the best players in the country, and will be a huge loss as the SEC will look to rebuild some of its teams. As long as Calipari continues to recruit strong, the SEC will continue to struggle to keep pace with Kentucky.
Kentucky is in a league of its own in rebuilding — rather, reloading — its team. But the rest of the league will suffer in losing some of this talent. Surely Tennessee will be up as Cuonzo Martin did an exceptional job with that team last season. Anthony Grant and Alabama look to continue the Crimson Tide's rise in the college basketball world. Arkansas will enter year two of the Mike Anderson era hoping for a return to former glory. And of course, we await the arrival of Frank Martin at South Carolina. There is a lot to be excited about in SEC basketball, but it might just have to wait another couple of years.
4. Calipari teams just win
All we do is win. Calipari has an uncanny knack for having winning teams, no matter what. His overall head coaching record is 505-151 (77%), putting him on pace to finish among or better than coaching legends like Mike Krzyzewski, Jim Boeheim, and dare I say, Adolph Rupp. In 20 years as a college head coach he's had only one losing record — his very first season at Massachusetts. By his fourth year he had the Minutemen in the Sweet Sixteen. Since then he's never looked back.
Whether it's Massachusetts in 1995-96, Memphis in 2007-08, or Kentucky last season, Calipari knows what it takes to win, and he brings that winning attitude everywhere he goes. Winning has become contagious in every locker room Calipari enters. He knows what it takes to win, and it only makes life easier when playing with a high-quality roster.
Do the math.
If Calipari keep this up and retires at Kentucky after ten years, we may be talking about one of the greatest coaches in the history of the game
. History in the making folks, are we are a part of it as the Big Blue Nation.