Frederick Douglass HC Nathan McPeek talks Ty Bryant's commitment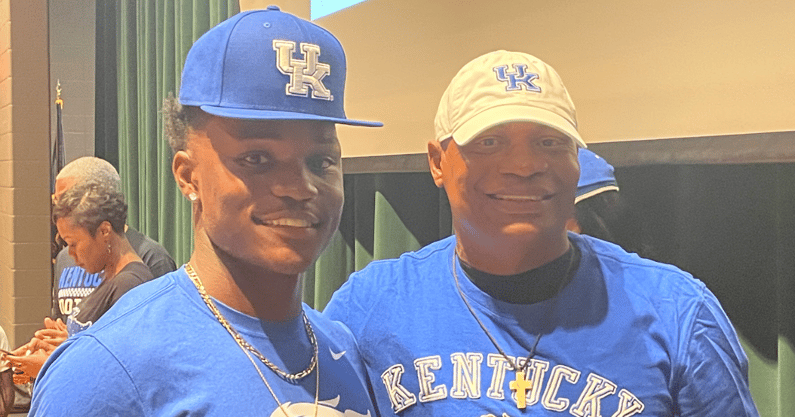 On Thursday afternoon, Ty Bryant committed to play football at Kentucky over Cincinnati. A day later, he recorded a pick-six and six tackles on defense in a 27-14 win over Bryan Station.
It was the 2021 season-opener for Bryant and his Frederick Douglass High School teammates, and the first game for him as a future Wildcat. Suiting up as a defensive back, the high school junior didn't let the pressure of being a Kentucky commit affect his game.
Bryant's 47-yard pick-six came in the second half, just before a minor cramping issue gave him fits. The plan, according to Frederick Douglass head coach Nathan McPeek, was to use Bryant more on offense had he not been dealing with an injury.
"I think he was good," McPeek told KSR about Bryant's play on Friday. "The week was pretty taxing on him even though it was a good thing. I think that might have possibly contributed to the cramping issues. He's a pretty self-accountable kid. He comes from a great family with great values so hopefully he'll get that hydration issue fixed this week."
Despite missing some of the second half, Bryant was still named the Frederick Douglass Defensive Player of the Week.
Bryant's connection to Kentucky was no secret
His father, Cisco Bryant, played under former Kentucky head coach Jerry Claiborne from 1983-85 as a wide receiver. The younger Bryant is also good friends with Kentucky freshman Dekel Crowdus, who came from Frederick Douglass, along with Dane Key, a four-star class of 2022 wide receiver at Douglass. Beyond that, Kentucky has always been Bryant's dream school.
"I knew a couple of days prior to the date," McPeek said about when he knew which school Ty was choosing. "But I know Kentucky has always been high on the list because of his dad and his family and being a UK guy. I knew they were always high on his list and obviously he was born and raised here. It feels like the program is going in the right direction with Coach Stoops and Coach Marrow so I think it was a no-brainer for him."
Also mixed into Bryant's decision to pick Kentucky was reclassifying from the class of 2022 to the class of 2023. He didn't turn 17 until last week and wouldn't have even been 18 years old by the time he arrived on campus had he not moved back a year. Along with his family, Bryant also had conversations with his head coach about the decision.
"We had several conservations," McPeek said about the reclassification. "Obviously it's a family decision but from my point of view, he's a very mature young man. So I told him whatever you decide is really up to you and I said there are pros and cons to doing it.
"But I said if you want to do it, selfishly that's great for me, but I don't want to do anything that's not good for a kid. I always want to make sure they're on point on what they want to do with their future and there's a lot of money at stake."
Speaking of money, Bryant committing to Kentucky opens up an avenue of marketing and branding that he might not be able to go down at another school. Name, image, and likeness legislation can help Bryant make money off of his brand as a local and legacy player.
"Everybody around here kinda knows him, knows his background, knows him since he was a kid, so that's definitely a plus for him and his family," McPeek added.
No pressure
Shortly after his commitment, Bryant told the media that he doesn't feel any pressure coming to Kentucky and following in his father's footsteps. But he'll be playing in front of people that he's known for his whole life. However, if the goal is to play football at the highest level, it doesn't get any better than the SEC.
"I think it's great for the family," McPeek said. "And anytime you get a chance to play in your own backyard and where you're from, that can be tough sometimes because of the hometown crowd and hometown area but when you get a chance to play in the best football conference in the country, you jump at that opportunity.
"And it is the best football conference and that's been proven, and in a couple of years you're gonna have Texas and Oklahoma join that conference and you're gonna have national champion after national champion coming from that conference."
---
Bryant is the first class of 2023 commitment for Kentucky and an important one at that. Securing the homegrown talent has been one of the coaching staff's strengths over the years and they wasted no time doing so with a big-name legacy recruit. Now it's time to build the momentum.