Friday afternoon UK Football recruiting notes, plus weekend visitor list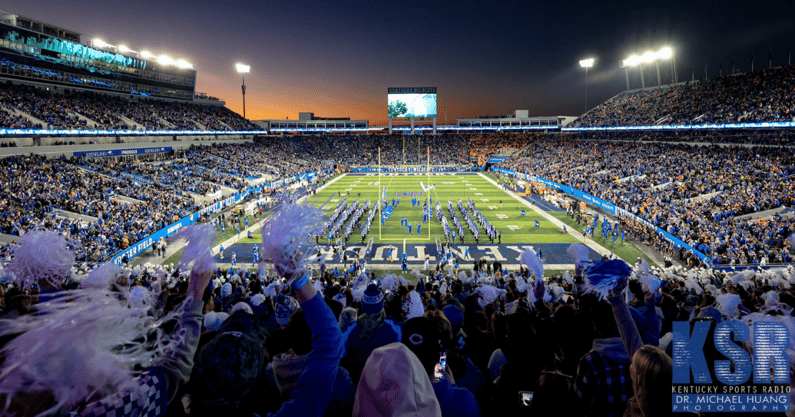 This weekend is going to be loaded with non-stop Kentucky sports action. From games across all sports to a couple of big potential commitments, there should be no shortage of news over the next few days.
But we're here to focus on the gridiron. Kentucky will look for win No. 8 of the 2021 season on Saturday against New Mexico State, and a couple of key recruits will be in Lexington to watch the action. Not only that, the UK coaching staff has extended a handful of scholarship offers this past week. Most notably, however, is the possibility that five-star wide receiver Barion Brown could make his college decision sometime Saturday. Kentucky is currently the presumed leader to snag the Tennessee product.
Let's start there, actually.
Barion Brown (5-star WR) 6-1, 175 pounds – Pearl-Cohn High School (TN)
While there has been no confirmed announcement from Brown at this time, speculation is pointing toward a decision coming on Saturday. The high school senior said exactly three weeks ago that he could decide in "two, three weeks" time. The timing lines up.
But as has been the case with most of Brown's recruitment, he isn't tipping his hat all that much. The No. 14 ranked class of 2022 prospect by On3 is down to the likes of UK, Alabama, Ole Miss, and TCU. He's been trending toward picking the 'Cats for about a month now.
If Brown were to choose Kentucky (on Saturday or in the near future), he would become the highest-rated skill player that the program has ever received a commitment from. He's a back-to-back Tennessee state champion in both the 100- and 200-meter dash, holding school records in those events.
Come on down…
New offers from this week
Courtland Simmons (NR ATH) 5-10, 185 pounds – Davidson Academy (TN) class of 2023
Courtland Simmons now holds four Divison I offers after Kentucky reached out on Wednesday. The other three being Vanderbilt, Toldeo, and Eastern Kentucky. All four offers have come since the end of October, so Simmons is still a relatively new commodity. The high school junior splits time at wide receiver and running back for Davidson Academy. Simmons tagged offensive line coach Eric Wolford and assistant wide recievers coach Scott Woodward in his offer tweet.
Liam Andrews (NR OT) 6-5, 270 pounds – Dexter School (MA) class of 2024
Just a high school sophomore, Liam Andrews is on the path to being a valuable recruit in the near future. The mountain-like offensve tackle has already taken game visits this season to Boston College and Notre Dame while also holding an offer from Virginia. Kentucky, once again led by Wolford and Woodward, became Andrews' second Divison I offer on Wednesday. His recruitment will pick up sooner rather than later.
NMSU-UK visitor list
Considering this Saturday's opponent is against 1-9 New Mexico State, the list of visiting recruits isn't as glamorous as it has been in recent games this season. That being said, there are still a handful of recruits we should mention as Kroger Field visitors this weekend.
DeCarlos Nicholson (3-star CB) 6-3, 200 pounds – Mississippi State Gulf Coast Community College (MS) class of 2022 [COMMITTED]
Top-ranked JUCO cornerback DeCarlos Nicholson decommitted from Mississippi State in August and chose Kentucky less than a month later. But as we inch closer and closer to National Signing Day, he's no lock to sign on the dotted line. Nicholson was at Florida State last weekend and is still publicly stating his interest in Mississippi State and Ole Miss. Getting him on campus this weekend should be a big help in fending off those other programs.
Logan Frazier (NR RB) 5-10, 170 pounds – Franklin Classical School (TN) class of 2023
Tayvion Galloway (NR TE) 6-6, 215 pounds – Unioto High School (OH) class of 2024
The top ranked sophomore tight end in all of Ohio, Tayvion Galloway figures to be a high-profile recruit over the next few years. His offer sheet is growing as he's been already to places such as Notre Dame, Cincinnati, Michigan State, and Ohio State this season. Galloway's current scholarships are from Vanderbilt, Cincinnati, Purdue, and a few other non-Power 5 schools. Kentucky has yet to extend an offer, but one could be on the way this weekend.
Jak Lindsey (NR OT) 6-5, 280 pounds – Owensboro High School (KY) class of 2024
UK in McElderry's Top 5
One SEC school is about to receive a commitment from a top-ranked football player out of Alabama. Ryqueze McElderry announced on Wednesday night that he is down to just five schools and will make his decision on Nov. 30. The 6-4, 340-pound class of 2023 offensive lineman is down to South Carolina, Ole Miss, Georgia, Tennesse, and Kentucky.
McElderry will announce at Anniston High School (AL) at a time that is to be announced.
McElderry initially picked up his offer from Kentucky back in December, soon after Wildcat offensive line coach Eric Wolford joined the UK staff from South Carolina. The high school junior has taken game visits this season to Tennessee, Georgia, and Alabama.
Over the summer, he also made camp trips to Georgia and Alabama, along with Clemson and Auburn. He has not been to Lexington this season for a Kentucky visit.