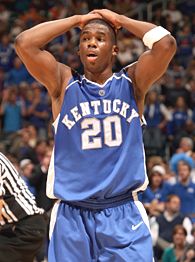 Couple of things for a traveling Friday morning….
— The Scotty Hopson saga is truly bizarre. The "will he or wont he" questiosn as to whether Coach Gillispie will recruit Hopson are beyond unbelievable. Every few days there is a report that UK has stepped up recruiting him and every few days, there is a story from someone that UK hasnt initiated contact. The latest twist comes from Jody Demling who had this conversation with Scotty's mother:
"No, no, no, no, no," she said. "Coach Gillispie has not called here. Not one time."
But Jeanette Hopson went on to explain that she has talked to UK assistant coaches on several occasions this week, the first on Monday (the day before UK played at Vanderbilt).
"The bottom line is on Monday night an assistant called me and said Gillispie was going to call me on Tuesday, but there was no call," the mother said. "Another coach called (Tuesday) afternoon and said he would call before the game and there was no call. Then they called and said he was going to show up at school on Wednesday on way back from the game. But I guess after they got beat so bad, he wanted to get back home. I have seen him three times (this season) and not one time has he come up and said anything. We haven't had any contact with him."
I honestly cant figure out where UK stands on this recruitment and to what extent they are serious about Scotty Hopson. We hope to do a recruiting reset this weekend to give an overview on how UK wants to fill the 2008 class, but to be honest it is still somewhat of a mystery. UK casts a wide net, but realizing where their focus is, can be beyond understanding. Whatever is going on behind the scenes, two things are clear. First, the Hopsons love Tennessee and Coach Pearl. Two, they are disappointed in the lack of attention from Kentucky. As for how it plays out….I guess we shall see.
— Jodie Meeks practiced today and is on the road to a full recovery….or at least the staff hopes. Gillispie today admitted that everyone is baffled as to why the injury has continued to come in the "on again/off again" variety and that they hope he is finally over it. IT seems that we will likely see Jodie some against the suddenly powerful LSU team on the road, but as for how many minutes and when they will begin, no one knows.
— Ramel Bradley said today "we are better than this" after the Vandy loss. The Cats had better be as they now face an LSU team that is following Bomani Jones's longtime belief that "you cant do worse than John Brady" in terms of coaching. Nearly beat Tennessee at home and whip Florida on the road. Nice two game stretch. As for the Cats, it will take 6-1 to get in the tournament in my view. 5-2 was a possibility before the blow out, now I think it tips the Cats out of the final tournament. But 6-1 is doable, beginning in Baton Rouge.
— Finally, if you havent read the Larry Vaught story on Billy Gillispie's latest good deed, then do so. Gillispie heard a woman ask for help to attend an out-of-state funeral and he then discretely sent the woman a check to cover the expenses. Great move by the coach and a feel-good story to get us into the weekend.
We learn about our enemy LSU later today and move towards a big game on Saturday…..