Friday night Kentucky Football recruiting notes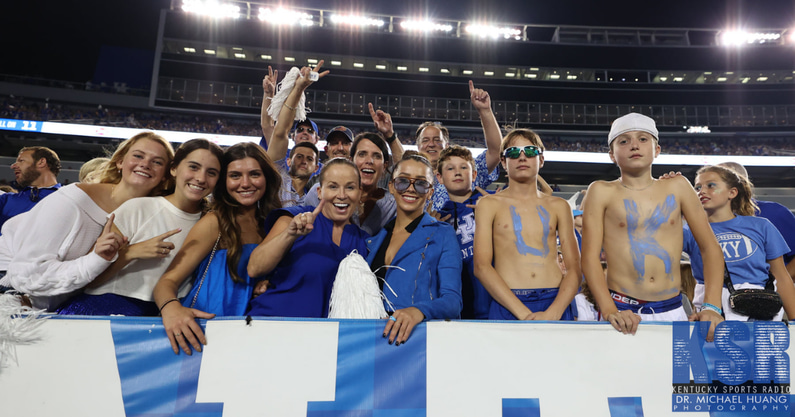 Good evening, folks! It was another busy week in the world of Kentucky Athletics and it won't slow down with the weekend on tap. A top 15 showdown between UK and Blue Blood rival Kansas will take place on the hardwood Saturday night, the latest in a string of ranked road outings for the basketball 'Cats this season.
But we're here to talk some football. Earlier today, we broke down the dozens of high school athletes that were extended offers from the Kentucky coaching staff over the previous seven days (more on that below). So now let's broaden our horizons and go a bit deeper into some newsy recruiting nuggets that will be of interest to the Big Blue Nation.
Kentucky making cuts
No, not budget cuts–Mark Stoops' recruiting money is safe. But Kentucky is making cuts when it comes to top school lists for a couple of high-profile recruits.
Luke Brown, a class of 2023 4-star offensive lineman out of Paris, TN included the 'Cats among his top eight schools on Friday. Joining UK were Michigan State, Virginia, Florida State, Missouri, Memphis, Auburn, and Vanderbilt. Kentucky initially offered him back in November, which came from offensive line coach Eric Wolford. The 6-foot-5, 310-pound Brown is considered a top 250 prospect in his class.
Chase Bisontis, a highly-rated 4-star offensive lineman out of Ramsey, NJ also included the 'Cats in his recent list cut, which he trimmed to 15 schools. The most notable competition for Kentucky will be all of the big names: Alabama, Ohio State, Clemson, Michigan, Penn State, Notre Dame, Michigan, and on and on and on. For UK to make the cut is no small thing though and a sign that the staff might actually be closer with Bisontis than initially thought. He's considered a top 50 player in his class, a top-five offensive lineman in the country, and the best player from the state of New Jersey.
Another big week for extended offers
With the 2021 season behind the coaching staff and members of the 2022 recruiting class all but locked up, Kentucky has been focusing its efforts on the future.
Over the last two weeks, UK has gone out and extended scholarships to at least 70 high schoolers across the country. The vast majority of them are located in the eastern half of the United States, ranging from budding freshmen to under-the-radar juniors. The staff is hitting its usual spots in Ohio and Tennessee, but is also dipping its toes into less familiar territories such as New Jersey and Massachusetts.
This past week, we were able to find nearly three dozen recruits who were offered by the Wildcats. Luckily for you, we put all of them into one convenient post, which you can check out right here, including brief notes on the need-to-know prospects.
Jalen Farmer earns Alabama offer
At one point, just a few days ahead of National Signing Day back in December, it felt like Jalen Farmer might wind up signing with the Wildcats. Currently committed to Florida, he was on serious flip watch leading into NSD, and UK was believed to be the one ready to make it happen. Farmer took a visit to Lexington the weekend before NSD, but he ultimately decided to hold off on a final decision.
Unfortunately, that might not have worked in Kentucky's favor. On Thursday, Farmer received an offer from Alabama and will take an official visit to Tuscaloosa this weekend. He recently took January visits to Florida (Jan. 14) and Auburn (Jan. 21), as well, and doesn't appear to have plans of coming back to check out UK, at least at the moment.
A 6-foot-4, 300-pound offensive lineman from the class of 2022, Farmer is considered a low- to mid-level 3-star prospect by most recruiting services, but Alabama likes what it sees. That might be enough to knock UK out of the running entirely. Farmer plans to announce his decision during the next National Signing Day, which is Wednesday, Feb. 2.
Louisville recruiting building momentum
Scott Satterfield is actually doing something good with Louisville Football right now. I know, I know. We're just as shocked as you are.
On Friday, the Cards picked up a MASSIVE commitment from arguably the top dual-threat quarterback prospect from the class of 2023 in Pierce Clarkson. Clocking in at 6-0, 195 pounds, the Bellflower, CA product is a highly-rated 4-star recruit who will move across the country to play for UL. The On3 Consensus has Clarkson ranked as the 10th best QB in his class and No. 163 overall. He chose Louisville over the likes of Arkansas, Michigan State, Ole Miss, Oregon, and even Kentucky, among several other Division I suitors.
Clarkson is a program-changing type pickup for Scott's Tots and a top 10 commit of all-time.
But he's not done building his recruiting momentum. Louisville expects to host a slew of big-name recruits this weekend, including a few that are of interest to Kentucky fans. In-state UK targets Jeremiah Collins (Male, 2023) and Micah Carter (St. Xavier, 2023) will be on campus for visits, as will former Kentucky commit Jeremiah Caldwell, who hails from Michigan. Great Crossing's Oryend Fisher, another high-priority in-state recruit for the 'Cats, will also visit UL.
Other Friday recruiting notes
The biggest news of the day was obviously the surprise commitment of 4-star WR Shamar Porter, who is a borderline top 150 recruit in the country and an immediate weapon for Kentucky's new pass-happy offense. Check out Adam Luckett's Film Room breakdown on Porter right here.
Two former Kentucky targets of interest recently found new homes. Once an actual UK commit, WR Taj Harris ultimately decided to look elsewhere and eventually landed with Rutgers on Friday. Initially a standout at Syracuse, Harris put his name in the transfer portal and chose UK first, but the marriage quickly didn't pan out. The next player to find a new home was Ka'Marii Landers, who committed to Akron on Thursday. At one point in early 2021, Landers was down to UK and Michigan State, but as the process continued to play out, both teams decided to look elsewhere.
Kentucky will host a under-the-radar class of 2022 defensive lineman this weekend when Delaware native Noah Matthews comes to Lexington. Checking in at 6-foot-5, 250 pounds, Matthews is a former Weber State commit who is now down to UK and Illinois. Do we smell another Josh Allen situation in the works?