Kentucky Volleyball sweeps LSU for easy road series win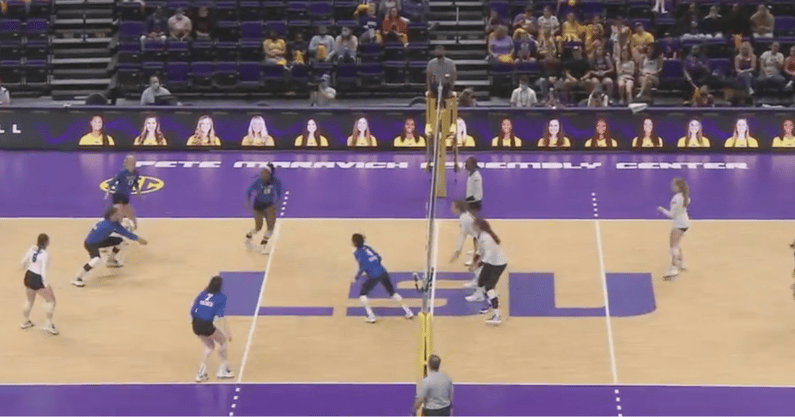 Friday night, the no. 5 Kentucky Volleyball team swept LSU in dominating fashion after struggling in the first match on Thursday. Behind another terrific performance by Madi Skinner, the 'Cats overpowered the Tigers to win in a three-set sweep.
Here's how it went down:
First Set
In each of Thursday's first three sets, Kentucky let the Tigers take the early lead. But not on Friday. The 'Cats began the set with a 6-1 advantage powered by a pair of kills and a block by Azhani Tealer.
Consecutive aces by Tealer a few moments later helped spark another run of five straight points as Kentucky extended the lead to eight in a hurry at 12-4. Kentucky held the lead at or around eight the rest of the way and won by that exact margin in the first, 25-17.
Second Set
This time, LSU had the upper hand at the start of the set as Tiger attacker Kylie Deberg found her groove early in the second. However, with two kills each from Madi Skinner and Bella Bell, Kentucky was able to tie the game up at seven pretty quick.
The two teams remained neck-and-neck throughout the rest of the set as LSU held a slight lead for most of it. But Alli Stumler came through with a massive kill to break a 17-17 tie and give Kentucky its first lead of the set. Madi Skinner added three more kills down the stretch of the second to make UK's lead permanent and secure a 2-0 lead over the Tigers, 25-23.
Third Set
Both teams were even through their first six points until Kentucky pulled away with a 4-0 run behind Emma Grome's serves. In an odd swing of events, Kentucky and LSU took turns exchanging runs as the 'Cats jumped out to a 10-6 lead before relinquishing it with a 5-0 LSU run. Then, Kentucky responded with a second 4-0 run to get back on top 14-11.
And a few minutes later, LSU evened things up with another 4-0 run to tie it at 16. Yet again the 'Cats responded with their own run. With Alli Stumler serving, Kentucky used a 5-0 run to take the lead for good, eventually winning the third by a score of 25-20.
Stats & Recap
Definitely a more controlling performance than Thursday's, although LSU played much better in the first match of the weekend. Nonetheless, Kentucky leaves Baton Rouge with two more victories and a 6-0 record in the SEC.
As a team, Kentucky hit below their average at .241% but had an improved defensive performance, limiting LSU to just .147%. For the 'Cats, Madi Skinner eclipsed the .300% mark and led the team with 16 kills. Heck of a weekend for the sophomore hitter.
Azhani Tealer added nine kills and four blocks as Stumler finished with eight kills. Bella Bell led the team in blocks with five and added six kills on just nine attacks as she's come on strong so far in SEC play.
Kentucky's key freshman — libero Eleanor Beavin and setter Emma Grome — also had nice performances. Beavin dug 10 balls and Grome was right behind with nine while also racking up 34 assists and four blocks.
The fifth-ranked 'Cats now move to 13-3 and 6-0 in the SEC as they return home for a pair of matches vs. Arkansas next Thursday and Friday.