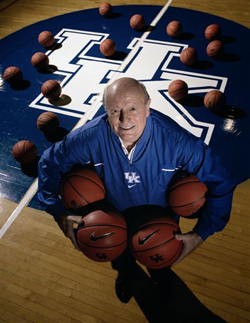 A few notes on a Friday morning....
(1)
: Lots going on this weekend around UK basketball, as the Cats play two games this weekend. The second of those on Sunday will feature an important ceremony as
Bill Keightley will be honored one final time in Rupp Arena.
While Keightley has had his jersey retired before, there will be a ceremony again that honors his legacy at the school and his family will be there as they unveil his jersey once again. This will be a big ceremony for all involved and I would not be surprised if there is some special surprise that will be unveiled that will be part of the tribute. Either way, it is a must attend event if you have the ability to be there for the game. In addition, there are still tickets available for that game and (amazingly) the game against Miami (Fl).
(2)
:
Ramon Harris is out of the hospital
and doing well after the scare on Wednesday night. He was released early on Thursday afternoon and has been cleared of all serious medical injuries. He is listed as day-to-day (as is Michael Porter) and is likely not to play this weekend. However he is expected to make a full recovery and got to visit with all of his teammates today. For anyone who saw Harris carried out on Wednesday night, or heard the pain he was in at the game, this news is a welcome relief.
(3)
: It hasnt been discussed a great deal, but when Mississippi Valley State comes to town on Sunday,
they will be coached by UK's own Sean Woods.
Woods is the often forgotten part of the UK coaching tree and he took over one of the hardest jobs in Division I. Mississippi Valley State does not have a history of success and they may very well be the weakest team that UK will play this season. But one hopes that the fans will give credit to Sean and give him a warm welcome into Rupp on Sunday.
(4)
: How about another edition of "A Name from the Not-So-Distant Past." Tonight, USC and Oklahoma played a great game that showcased the skills of Blake Griffin and the potential of both teams. It also showcased the
thuggishness of one-time UK recruit Leonard Washington.
Washington was a favorite of some in the UK recruiting guru field and was trumpeted as the answer to all of UK's problems. However he had a reputation for thuggishness, including a famous video in which he hit a player in an AAU game. Some of the gurus suggested that these criticisms were unfair and that Washington would be a perfect fit at UK. Fast forward to Thursday night, when Washington takes an elbow and intentionally hits a player in the private area, leading to him being ejected from the game. Whether it was an intentional decision, or good fortune, missing Leonard Washington was a blessing.
(5)
: Finally tonight, a
tough loss for the Kentucky women's volleyball team.
as they went down to Michigan in five sets, losing the last set 15-13. By all accounts, it was a classic game and obviously came down to the very end. It was a tough ending to what was a great season for the Lady Cats and I am told that the crowd in Memorial was great. Members of the UK football and basketball team were there and it is clear that the team got the attention it deserved. We wish they could have moved on, but we congratulate the ladies on a great performance. If you were part of the live blog tonight, thanks. It was another great time and we had a great crowd. We will have more all day as Mosley teaches us about Miami (Fl), we have some news on the goings on in Knoxville and we look at Sean Woods' greatest hits. Stay tuned......